Workshop & Seminar by Prof. Dr. Ronald Miller
Call for Participation
The UTM Centre for Engineering Education will be organizing a Workshop that will help educators assess students' understanding of concepts by developing and using concept inventories, and how to help them learn using this assessment by Prof. Ronald Miller, Director of the Centre for Engineering Educataion from the Colorado School of Mines, USA.  A seminar on the direction on engineering education will also be held.  Information on the workshop and seminar is as follows:
1. Workshop on Concept Inventory: What is it and how do I write one?
Date: Friday, Oct 4 from 8:30 am to 5:00pm
Location: Pusat Latihan UTM (PULAU), UTM Johor Bahru
At the end of the workshop, participants should be able to:
Describe key concepts and common misconceptions in your discipline
Explain the process of developing concept questions and concept inventories
Write reliable and valid concept questions and distractors
Use concept inventory data to improve student learning
2. Seminar on Engineering Education Research: Where have we come from? Where are we going?
Date: Thursday, Oct 3 from 2:30 to 5:00 pm
Location: Dewan CTL, UTM Johor Bahru
A brief bio of Prof. Ronald Miller:
Dr. Ronald L. Miller is professor of chemical engineering and Director of the Center for Engineering Education at the Colorado School of Mines where he has taught chemical engineering and interdisciplinary courses (including a course for PhD students on how to teach at the college level) and conducted engineering education research for the past 28 years.
Dr. Miller has received 14 university-wide and departmental teaching awards and has held a Jenni teaching fellowship at CSM. In 2011, he received the Lifetime Achievement Award in Chemical Engineering Pedagogy from the American Society for Engineering Education (ASEE) Chemical Engineering Division and in 2013 he received the inaugural American Institute of Chemical Engineers (AIChE) Education Division Award for Excellence in Engineering Education Research. In 2012 he delivered the 45th ConocoPhillips Lecture in Chemical Engineering Education at Oklahoma State University. He has received grant awards for education research from the National Science Foundation, the U.S.
Department of Education FIPSE program, the National Endowment for the Humanities, and the Colorado Commission on Higher Education and has published widely in the engineering education literature. His research interests include measuring and repairing engineering student misconceptions in thermal and transport science.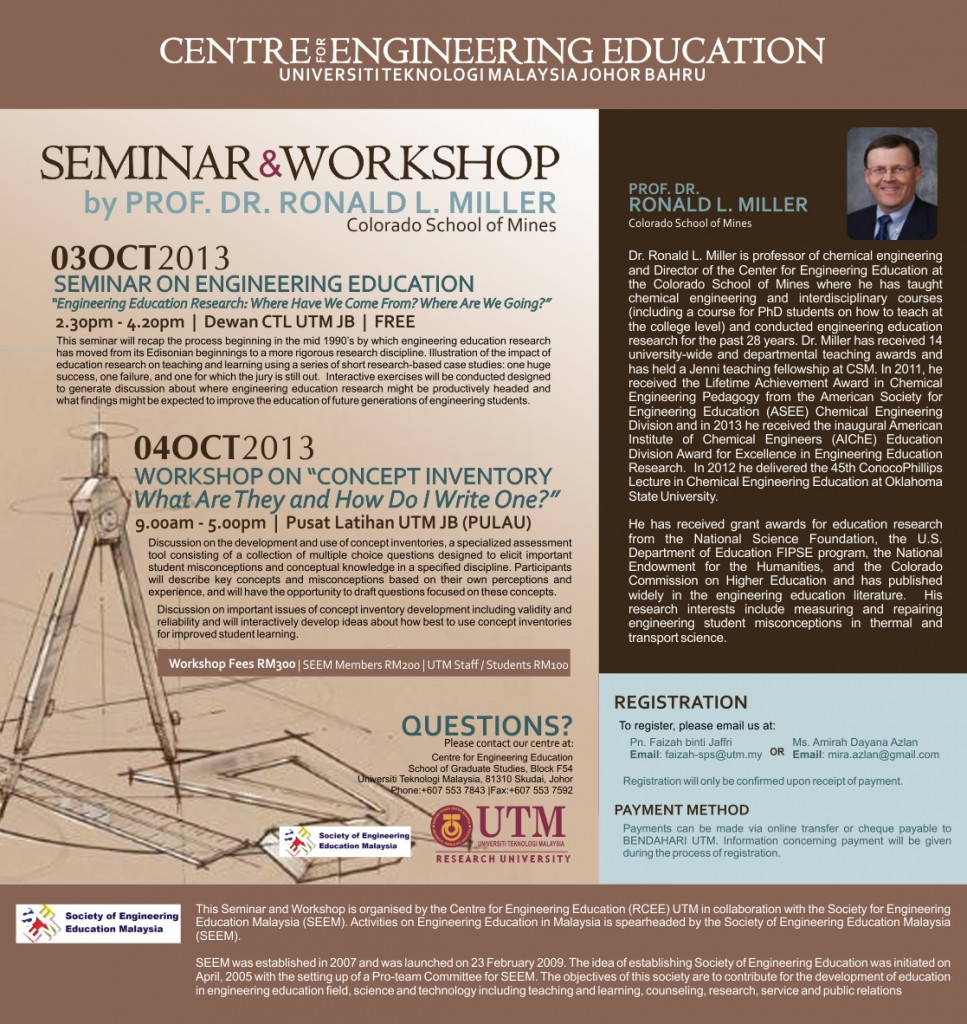 Those who are interested to attend, please register by sending an email to Ms Faizah at faizah-sps@utm.my or Ms Amirah at mira.azlan@gmail.com, or call us at 07-553 7843.  More info can be obtained from the attached brochure.