The organizing committee of the 2nd International Conference on Environmental Sustainability and Resource Security (IC-ENSURES 2022) are pleased to announce that the above-mentioned conference will be held FULLY VIRTUAL from 8th to 9th of March 2022. The IC-ENSURES 2022 theme is "Green Solution for Sustainable Future: The Next Step".
All paper submitted will be pre screen by the committee. The decision of full paper acceptance are prior to Review Procedures similar to other conferences. Therefore, we recommend to all authors to maintain the quality of manuscript submitted
Format in accordance to template

Meticulous in content

Content alligned with the Theme and have not been published elsewhere

Have been proof read

Selected Manuscripts will be considered for a peer reviewed Journal. (Subjected to acceptance and additional publication payment)
Publication Opportunities
1. All accepted paper will be published in IOP Conference Series: Earth and Environmental Science index by Scopus and Web of Science (WoS)

This conference series also indexed by:
i.  Conference Proceedings Citation Index—Science (CPCI-S) (Clarivate, Web of Science)
ii.  CABI
iii.  CNKI
iv.  Ei Compendex
v.  GEOBASE
vi.  GeoRef
vii.  Inspec
viii.  J-Gate
ix.  JST
x.  NASA Astrophysics Data System
xi.  Naver Academic
xii.  Scite
xiii.  WTI Frankfurt
xiv.  Yewno
xv.  OCLC Worldcat
xvi.  EX Libris Primo
xvii.  EBSCO Discovery Service
xviii.  British Library Services
xix.  Google Scholar
xx.  Serial Solutions
xxi.  TDNET
2. Authors of accepted paper will be offered the opportunity to submit a full paper to be published in International Journal of Built Environment and Sustainability (IJBES), which strictly subjected to peer review.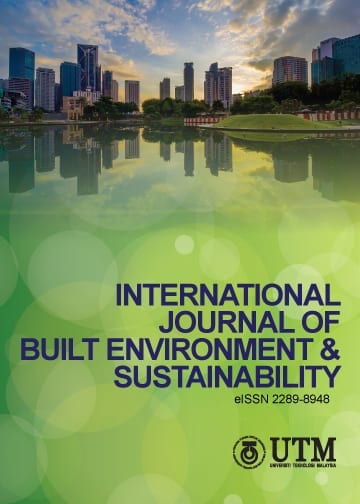 International Journal of Built Environment and Sustainability (IJBES)
Index by : Web of Science (WoS)
Malaysian Journal of Civil Engineering (MJCE)
Index by: UDLedge Science Citation Index (SciCL), Focus (Journals and Conference Proceedings), Malaysian Citation Center (MCC), Islamic World Science Citation Center (ISC), Google Scholar