Welcome to the August 2020 issue of UTMNexus!
UTM NEXUS is published by Office of Deputy Vice Chancellor (Research and Innovation) in partnership with UTM Corporate Office, Sultan Ibrahim Chancellery Building, Jalan Iman 81310, Skudai Johor.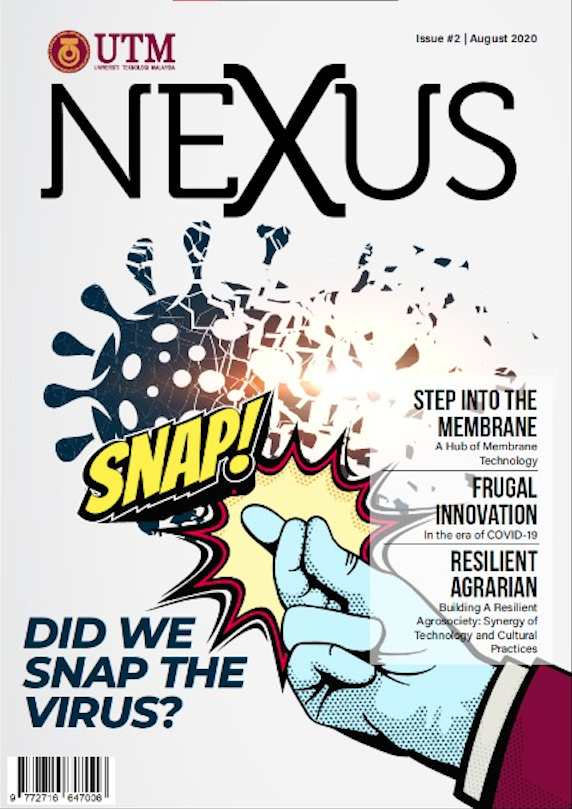 Welcome to the first issue of UTM Nexus!
What is UTM Nexus?
"A connection or series of connections linking two or more things, a central of focal points. It is also can be determined as a link to connect groups together through NEXUS"
UTM Nexus marks the first time in UTM history in which we planned to publish a research & innovation centric stories, magazine style. Our vision is to share our stories to everyone, in a true spirit of "Kerana Tuhan untuk Manusia" (In the Name of God for Mankind). We are excited to share what's going on within our campus. What are the insights discovered by our researchers? What kind of innovations have we introduced to the community at large?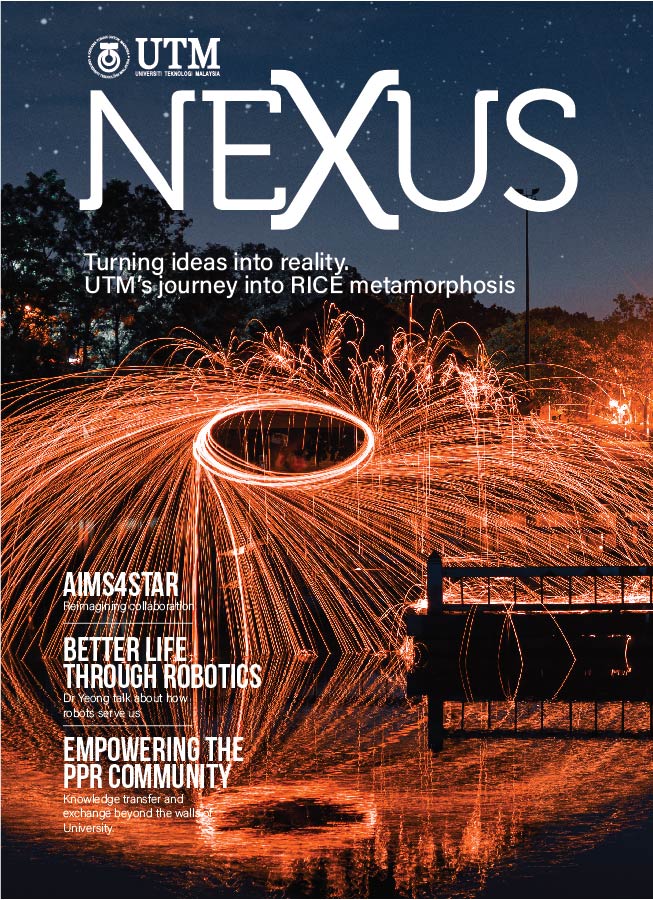 Among the highlights in this issue:
COVID-19 pandemic has taken over the World. While we are still adhering to the Movement Control Order in our attempt to flatten the curve, join us on page #39 to find us how we leverage our expertise to help hospitals and frontliners in combating this deadly virus.
Do Androids Dream of Electric Sheep? Well, we are not entirely sure about that but we encourage you to flip to page #16 on one of our robotic engineers' quest to take over the World by rolling out his own fleet of robots. P/S: best read together with the novel by Philip K. Dick.
Community is the heart of the society and there is nothing better to empower them with skills and knowledge towards a more sustainable and better well-being. We manage to mobilize a group of researchers and students from all walks of life to help rejuvenate one of the low cost housing area. Partially sponsored by our private collaborators, the best gifts we received from the commmunity is the smiling faces of the youngs and olds. More on page #28.
See you next issue!
Join us and let's work together towards the greater good of humanity. Please feel free to get back to us for any potential collaboration and we will be more that happy to initiate discussion to move things forward.