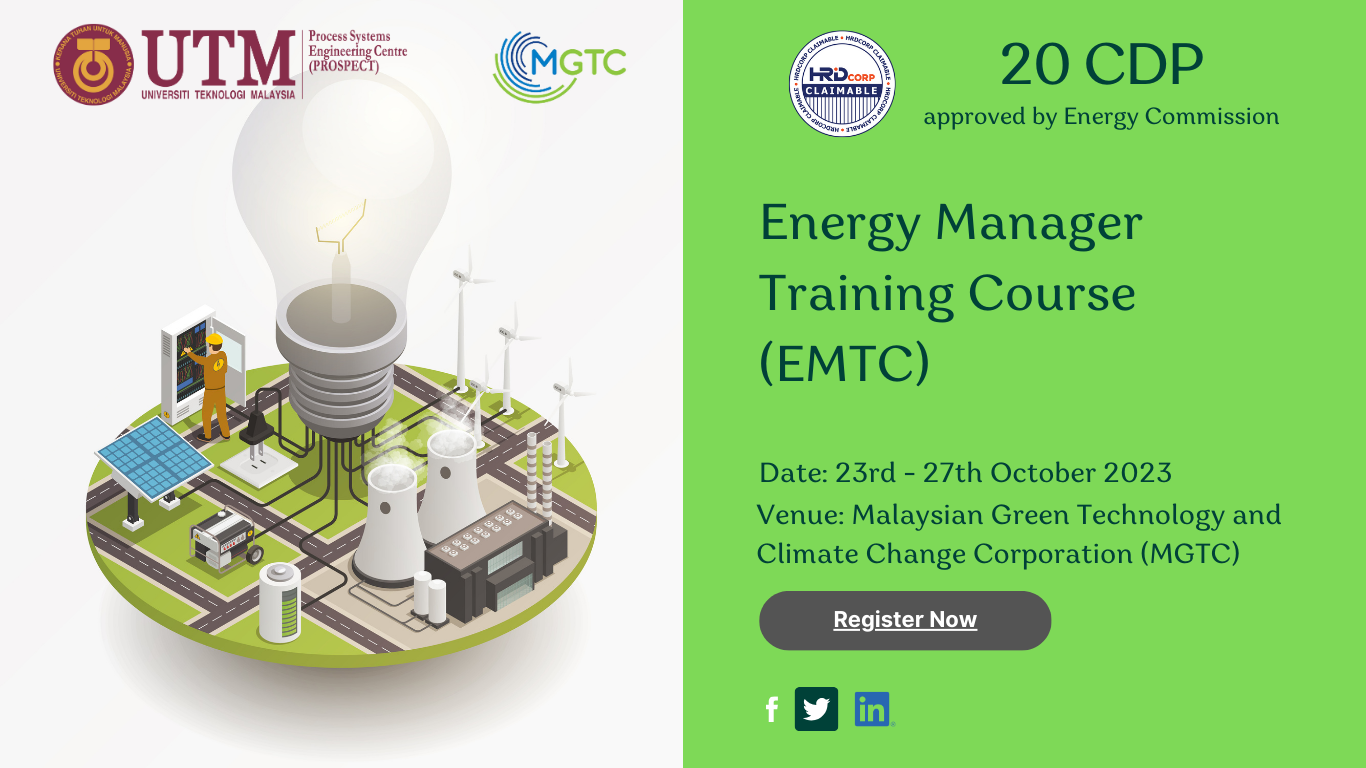 🌟 Elevate Your Career with the Energy Manager Training Course (EMTC)
📅 Date: October 23 – 27, 2023
📍 Venue: Malaysian Green Technology And Climate Change Corporation (MGTC)
🔗 Registration Link: Click Here
Unlock the Power of Sustainable Energy Management Systems (SEMS) with EMTC!
🌐 About EMTC: Prepare yourself for a transformative experience in energy management at the Energy Manager Training Course. From October 23 to 27, join us at the Malaysian Green Technology And Climate Change Corporation (MGTC) for a comprehensive program designed to equip you with the skills and knowledge needed to excel in Sustainable Energy Management.
📚 Course Highlights:
In-Depth Learning: Gain profound insights into sustainable energy management, energy efficiency, and cost reduction.
Industry-Expert Trainers: Learn from certified energy managers and trainers, including those recognized by the Asean Energy Management System (AEMAS).
Success Stories: Hear firsthand from the winners of the 'ASEAN Energy Award 2012,' pioneers in energy management, with achievements like the 1st, 2nd, and 3rd Star Energy Management Gold Standard.
🎓 Who Should Attend?
Future Energy Managers
Professionals from Any Discipline
Facility / Maintenance Managers or Engineers
Industry Personnel
Malaysian Energy Professional Association (MEPA) Members
💼 What's Included:
Training Notes
Meals
Certificate
🤔 What Will You Learn?
Comprehensive Sustainable Energy Management
Skills to Establish and Sustain Energy Efficiency
Preparation for ISO 50001 Standard and Energy Management Gold Standard Certification
🌍 How You and Your Business Will Benefit: For Energy Manager Trainees:
Understand Global and Local Energy Trends
Establish Sustainable Energy Management Systems
Improve Professional Standing with ASEAN-Validated Certification
For Businesses:
Systematic Energy Use
Economic Competitiveness through Energy Cost Savings
Ease of Application for ISO 50001 and TPM
International Recognition in 10 ASEAN Countries
💰 Course Fees: RM 4,300
📋 Course Outline:
Day 1-2: AEMAS Introduction, Global & Local Energy Trends, Energy Efficiency Standards, Sustainable Energy Management Setup
Day 3: Managing Activities, Group Project Discussion
Day 4: Electrical System Fundamentals, Energy Pricing, Energy Audit
Day 5: Theoretical Test, Team Project Presentation
Seize this opportunity to lead in sustainable energy management! Reserve your spot now here and be a catalyst for change in the energy landscape!
📞 Contact Us: For inquiries, call [Your Contact Number] or email [Your Email Address].
🌿 Empower Yourself. Energize Your Future. EMTC – Where Sustainability Meets Excellence. 🌿 #EMTC2023 #SustainableEnergy #EnergyManagementTraining