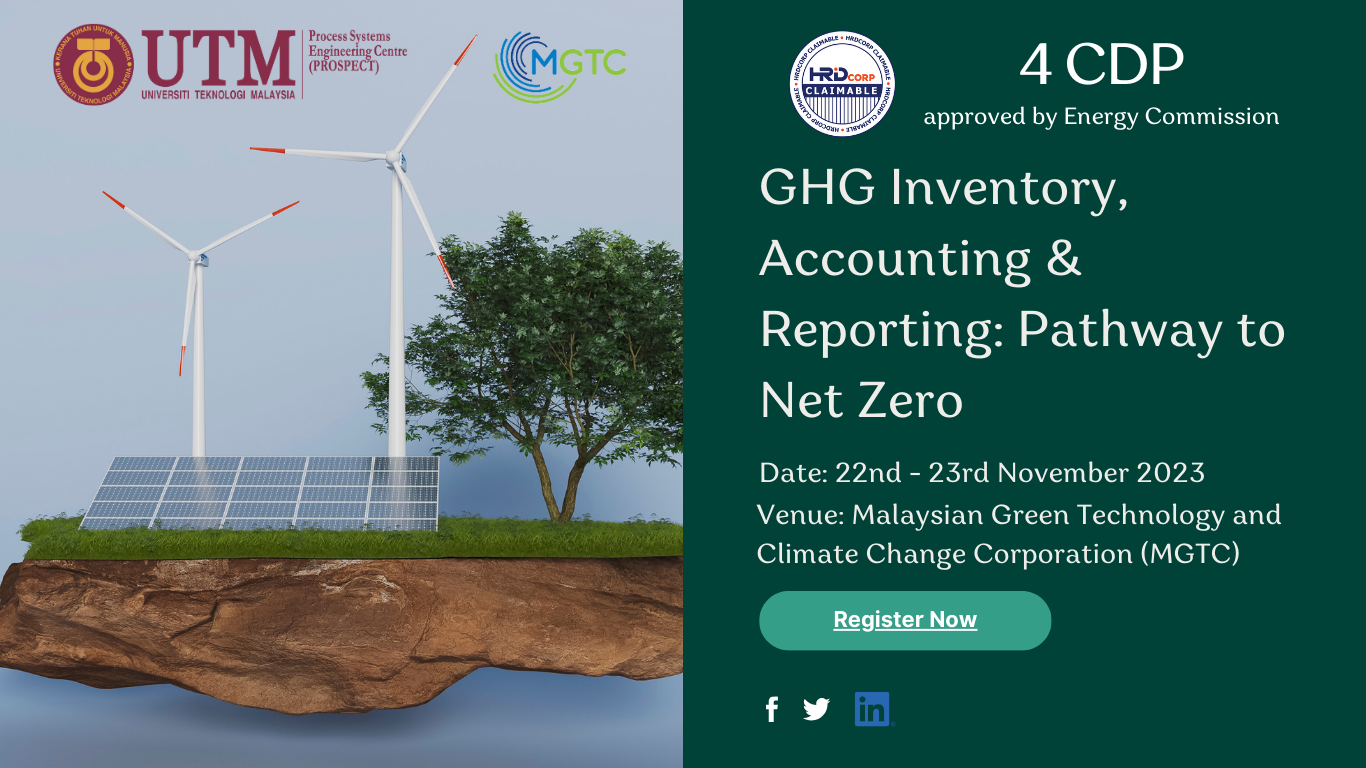 GHG Inventory, Accounting & Reporting : Pathway to Net Zero
🌍 Unlock the Pathway to Net Zero: GHG Inventory, Accounting & Reporting Course 🌍
Join us on November 22nd-23rd, 2023, at the forefront of sustainable practices, hosted at the prestigious Malaysian Green Technology And Climate Change Corporation (MGTC).
🔍 Course Overview: Embark on a transformative journey with our comprehensive GHG Inventory, Accounting & Reporting course. This immersive experience is designed to equip you with the knowledge and skills essential for navigating the complexities of greenhouse gas management.
✨ Key Learning Objectives:
1️⃣ International Best Practices: Acquire insights into global standards, methodologies, and best practices governing GHG inventory and assessment.
2️⃣ GHG Accounting Mastery: Dive deep into the art of greenhouse gas accounting and performance monitoring, aligning with ISO 14064:2018.
3️⃣ Hands-On Training: Explore the practical side of GHG assessment using cutting-edge, in-house tools, ensuring you're ready to implement your knowledge in real-world scenarios.
4️⃣ Crafting GHG Reduction Proposals: Develop a bespoke GHG reduction proposal for your organization, complete with mitigation strategies and carbon offsetting, positioning your business as a sustainability leader.
🚀 Why Enroll? In an era where environmental responsibility is paramount, this course serves as your compass towards net-zero ambitions. By participating, you're not just gaining knowledge; you're contributing to a sustainable future.
👥 Who Should Attend? This course is tailored for forward-thinking professionals from businesses, industries, and organizations eager to lead in sustainability. Whether you're a seasoned environmentalist or just starting your sustainability journey, this course is your catalyst.
🎓 Certification: Upon completion, receive a prestigious certification validating your expertise in GHG inventory, accounting, and reporting, adding unparalleled value to your professional profile.
🌟 Additional Benefits:
📈 CDP Points: Participants will earn 4 CDP points from the Malaysian Energy Commission, showcasing your commitment to environmental stewardship.
🏢 HRDC Claimable: Maximize your professional development budget! This course is HRDC claimable.
🔗 Reserve Your Spot: Seize the opportunity to make a tangible impact. Limited seats available. Click here to secure your place and be part of the green revolution!
📞 Contact Us: For inquiries, call 019-7357878 or email prospect@utm.my.
🌿 Embrace sustainability. Master GHG management. Secure your future. 🌿 #GHGTraining #SustainabilityLeadership #NetZeroJourney
Fees: Only RM 2,200 per pax, inclusive of course materials, meals, and certificates!