Vision
To be recognized as a world-class centre of excellence in technology and lifelong learning in Process Systems Engineering for sustainable development
Mission
To lead in the development of human capital and innovative Process and Systems Engineering solutions to contribute towards universal sustainability and prosperity
Theme
"SUSTAINABLE SYSTEMS PLANNING AND ENGINEERING"
About PROSPECT
"The 2013 Elsevier Scival Spotlight has ranked UTM-PROSPECT globally as the top organisation (first) under the distinguished competency of resource optimisation, costs and water "
Process Systems Engineering Centre (PROSPECT) is a centre of excellence within the Faculty of Chemical & Energy Engineering, Universiti Teknologi Malaysia. PROSPECT specialises in aspects of planning, design and creation of sustainable and innovative process and product supply chain as well as optimal and efficient operation of process systems. More than 20 years experience in Process Systems Engineering (PSE) R & D, software product development, consultancy services and training has positioned PROSPECT as one of the leading PSE centres of excellence in the region that specializes in process and product design and development with emphasis on conservation of natural resources; in particular, materials, energy and water.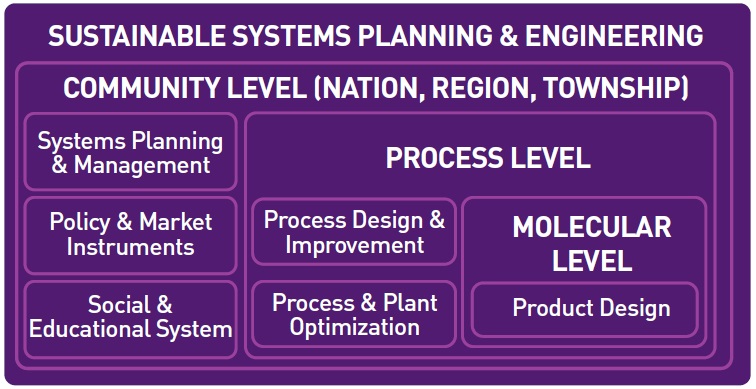 Molecular product design

– Design of tailor-made, marketable green products to meet customer requirements.

Facility design and operation

– Development of tools, techniques and products to design sustainable facilities and enterprises (process plants and buildings) that is cheaper, safer, cleaner, energy-efficient and operable.

Eco-community planning and management

– Development of business models for optimal planning and management of green and smart townships, regions and nations that cover technical and implementation solutions including development of policies and market instruments, educational systems and guidelines as well as development blueprints.
In meeting the modern-day process engineering challenges marked by volatile energy prices and rising concern on climate change, PROSPECT strives to engineer sustainability by providing comprehensive and innovative products and solutions through R & D, consultancy services and training. PROSPECT's ultimate aim is the creation of cleaner, safer, energy-efficient and cost-effective; i.e., sustainable process systems. PROSPECT's tagline, Engineering Sustainability reflects its core philosophy and expertise in the planning, creation and engineering of sustainable product and process systems.
To date, PROSPECT has successfully completed more than 80 research and consultancy projects related to sustainable development, planning and engineering of resources for various industrial sectors including palm oil and oleochemicals, agriculture, refinery and petrochemicals, bio-processes, fine chemicals, semi-conductor, pulp and paper, herbal and pharmaceuticals, food and drinks, cement industry as well as for building facilities. The accomplished project works have resulted in resource savings, best practices, software product solutions, publications in premiere international journals, presentation in conferences, prestigious awards and product patents.
History
UTM-PROSPECT was established on 12th January 2007 after it was approved by the Senate and University Board of Management. It was later approved by Ministry of Higher Education on 29 November 2007. UTM-PROSPECT is located at Block N29, Faculty of Chemical & Energy Engineering, UTM Johor Bahru, Malaysia. It was originally a small Process Systems Engineering Group which has since then grown into an established centre with 14 Faculty members and more than 40 postgraduate students.