In MIMMC2019 Grand Final, 5 selected teams will compete at UTM Johor Bahru to present their works in front of a panel of judges
Content – The problem description, the mathematical model, the solution are clearly explained and discussed; comprehensive presentation of the work
Slides preparation and presentation – Clear and structured presentation; well prepared and rehearsed, creativity; pictures, tables and diagrams (if used) are used intelligently
Overall understanding – Ability to answer questions, a good grasp of the work
Group dynamics – All presenters participated equally and helped each other as needed.
Each group will be given 15 minutes to present their works and 5 minutes for Q&A session.
Dress code: Formal attire
Tentative of MIMMC2019 Grand Final
18 March 2019 (Monday)
8:30 am – 2:00 pm
Banquet Hall, Sultan Ibrahim Chancellery Building, UTM Johor Bahru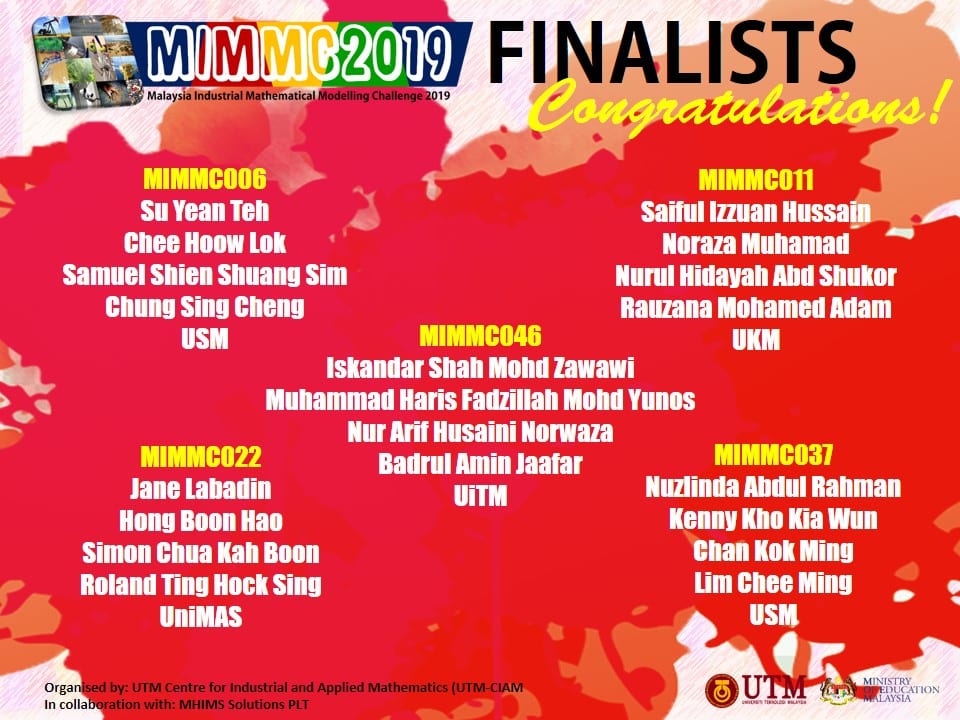 "Challenge Your knowledge here"
Congratulations to one and all!
We are looking forward to an amazing grand final on 18th March 2019 at UTM JB.
See you there!
Thank you.
Regards,
MIMMC2019 Secretariat
MIMMC is a team-based competition that offers experience and challenges that can enhance the participants' intellectual capacity, knowledge and skills in solving problems using mathematical modelling.
 Goals of MIMMC
To promote mathematical modelling for solving real life problems.
To provide a unique and lasting educational experience to the participants.
To recognize and reward mathematics talents from among the undergraduates in the local universities.
Rewards Through MIMMC
Monetary Rewards
Recognition through certificates
Improvement resume credential
A unique and lasting educational experience
| DETAILS | DATE |
| --- | --- |
| Last Registration | 7 January 2019 |
| Publish Online Questions | 27 January 2019 |
| Last Date Answer Submission | 20 February 2019 |
| First Evaluation | 24 - 28 February 2019 |
| Finalist Announcement | 3 March 2019 |
| MIMMC2019 Grand Final | 18 March 2019 |
REGISTRATION FEE: RM150/TEAM only!
A team consists of 1 mentor and 3 students.
PAYMENT METHODS:
Payment can be made through:
Vote transfer (UTM staff only, an invoice will be given by the secretariat)
Invoice (kindly notify the secretariat for an invoice)
Bank transfer to:
Account holder: BENDAHARI UTM
Bank name: CIMB Bank Berhad
Account no: 8006053536
 Kindly upload your proof of payment at registration form. 
Advisor
Dr Zaitul Marlizawati Zainuddin
Chair
Dr Nur Arina Bazilah Aziz
Secretary
Nor Liyana Sabari
Treasurer
Nadia Hartini Mohd Adzmi
Technical and Scientific Committee
Scientific
Prof Dr Zainal Abdul Aziz
Dr Zaitul Marlizawati Zainuddin
Dr Arifah Bahar
Dr Koh Meng Hock
Web
Dr Ahmad Razin Zainal Abidin @ Md Taib
Dr Nur Arina Bazilah Aziz
Announcement & Sponsorship
Dr Taufiq Khairi Ahmad Khairuddin
Dr Zuhaila Ismail
Dr Mohd Ridza Mohd Haniffah
Secretariat
Nurfarhani Mohd Shabri
Nadia Hartini Mohd Adzmi

Nor Liyana Sabari
Muhammad Saiful Adham Shukor
Event Management
Dr Mohd Ridza Mohd Haniffah
Muhammad Saiful Adham Shukor
Please read the rules and regulations of MIMMC2019 here
Please register and upload your proof of payment in the online form. Click here to register before 7 January 2018.
MALAYSIA INDUSTRIAL MATHEMATICAL MODELLING CHALLENGE 2019 (MIMMC2019) EVALUATION CRITERIA
– The MIMMC judges are primarily interested in the team's approach and methods.
– Abstract: The abstract is an essential part of your solution report. The judges place considerable weight on the abstract.
Your concise presentation in the abstract should inspire a reader to learn about the details of your work. Thus, an abstract should clearly describe the problem, outline of the model, the advantages of your approach and your conclusions. 
– Solution: The solution will be judged based on the following criteria:
Comprehensiveness of the abstract that include problem description, outline of the model, the advantages of the approach and the conclusion.
Conciseness and organization of the solution report.
Clear restatement of the problem, as appropriate.
Clear methodology in solving the problem including the motivation or justification for the model that is used.
Assumptions made with rationale are clearly stated.
Parameters used are well explained and justified.
Adequacy of the model in representing the real problem.
Discussion on how the model could be tested, including error analysis and stability (conditioning, sensitivity, etc.).
Discussion on any apparent strengths or weaknesses in your model or approach.
Proper source of references.
Secretariat
Malaysia Industrial mathematical Modelling Challenge 2019
UTM-Centre for Industrial and Applied Mathematics (UTM-CIAM)
Universiti Teknologi Malaysia
81310 UTM Johor Bahru, Johor
Tel: +607-553 2533/2715
Fax: +607-556 6162
Email: utmciam@utm.my