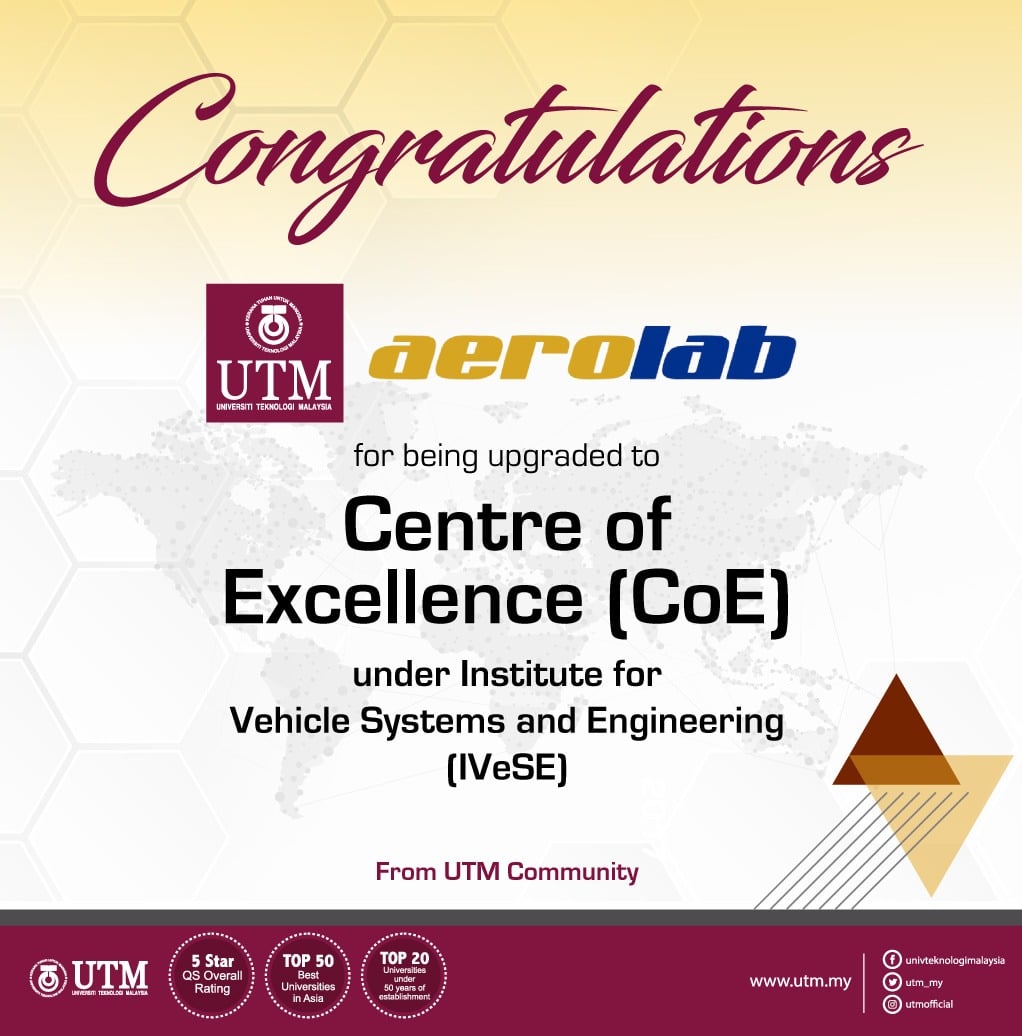 UTM AEROLAB UPGRADED TO CENTRE OF EXCELLENCE
Johor Bahru, 6 December 2020 – UTM Aeronautics Laboratory (UTM Aerolab) is now officially upgraded to University Centre of Excellence (Research Centre) status, after the approval by the Ministry of Higher Education, Malaysia, on 3 December 2020.
Thank you for the hard work of everyone involved, and the support of the School of Mechanical Engineering, the Faculty of Engineering, and the whole university management at large, as well as our industry and academic clients and collaborators.
As a Research Centre, Aerolab is now placed under Institute for Vehicle Systems and Engineering (IVeSE), UTM.
Head of Laboratory, Ir Dr Shabudin Mat said, UTM Aerolab, which has been operating since 2001, has achieved many successes in research, training and consultancy. According to him, Aerolab's initiative to become a member of Subsonic Aerodynamic Testing Association (SATA) in 2002 has become an important milestone in its efforts to being acknowledged internationally. SATA is an exclusive by-invitation-only club of about 80 renowned wind tunnels around the world, including NASA, Airbus, Boeing, BMW and JAXA (Japan) wind tunnels.
Aeronautical Laboratory or UTM Aerolab is a specialised research laboratory, set up mainly to meet the educational and research needs of Malaysia's developing aerospace industry. Among its objectives are to provide education and training of undergraduate engineers in a variety of aerospace fields, to provide facility to foster postgraduate and industrial research in aerospace and related fields and to offer aerodynamic testing services to industry.