ISET 2019 PRE CONFERENCE WORKSHOP
HIGH IMPACT PUBLICATION
WRITING WORKSHOP
Advanced Membrane Technology Research Centre (AMTEC) of Universiti Teknologi Malaysia also organizing a ISET2019 Pre-Conference Workshop  entitled
"High Impact Publication Writing Workshop". 
Date : 19th August 2019
Venue : School of Chemical and Energy Engineering, Universiti Teknologi Malaysia, Johor Bahru.
ISET2019 PRE-CONFERENCE REGISTRATION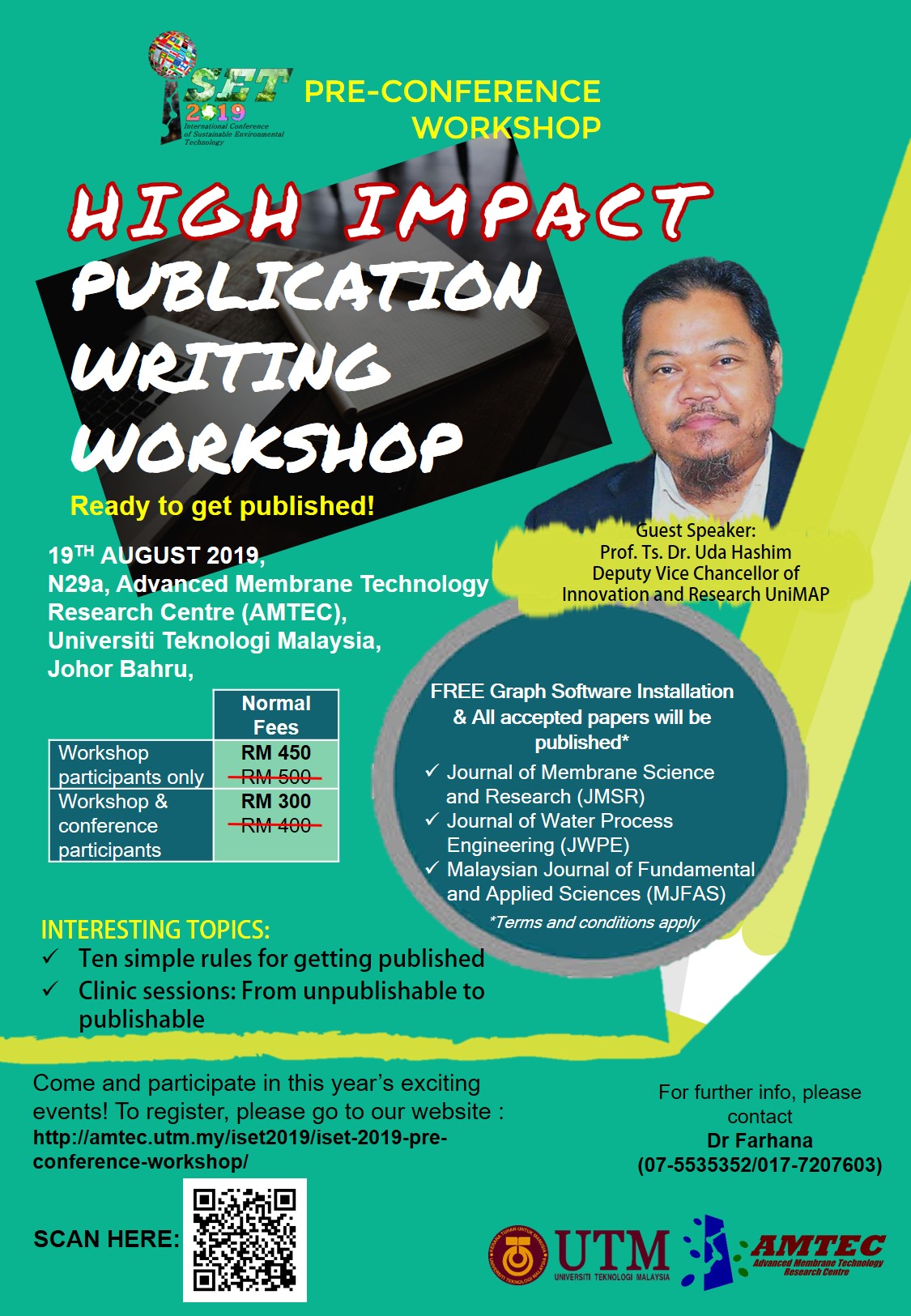 Normal

Fees

Workshop participants only

RM 450

RM 500

Workshop & conference participants

RM 300

RM 400
Payments should be made to "BENDAHARI UNIVERSITI TEKNOLOGI MALAYSIA" (CIMB Bank Berhad, Acc. No: 8006053536, Swift code: CIBBMYKL) by bank draft, money order or cash (MYR) and must reach the Conference Secretariat before or on the day of registration of the conference.
During the transaction, kindly state the following under the reference columns:
Ref: Pre-Conference ISET2019
Optional Ref:
CFee No Invoice (for conference fee)
WFee No Invoice (for workshop fee)
WCFee No Invoice (for workshop + conference fee)
Company's Name (for sponsorship)
Minimum requirement for workshop:
All accepted papers will published in Scopus Indexed and Clarivate Analytics Indexed/ISI Indexed:
1) Journal of Membrane Science and Research (Scopus Indexed)
2) Journal of Advanced Research in Fluid Mechanic and Thermal Sciences (Scopus Indexed/ISI indexed)
3) Malaysia Journal of Fundamental and Applied Sciences (Clarivate Analytics Indexed)
General requirements for manuscript submission. All manuscripts must be:
• Written in English
• Saved as a .doc file
• Double-spaced
• Times new romans, Font size 10
• Single column 
• All manuscripts should be in 9-10 pages, 3500-5000 words (including figures, captions, and references), with a minimum of 3 /maximum of 5 figures and tables combined.  Shorter papers may be rejected on the basis of length. 
• For all submissions, if figures exceed the numbers given above, extras may be included in supplementary information to be uploaded in a word document with other manuscript files. 
Manuscript submissions must include the following:
1. Title page with manuscript title, all authors' names and affiliations (including mailing addresses and postal codes)*, abstract, and name and institutional email address of the corresponding author.
*During submission, authors must enter all co-author names, addresses, and institutional email addresses.
2. Abstract, outlining all subjects related to the new information being presented, as well as conclusions and all numerical results of general interest. A list of experimental techniques used in the research is discouraged. The abstract must be adequate as an index and a summary.
      o Maximum 100-250 words
      o Avoid the use of jargon and other terminology that would render the abstract inaccessible to the non-specialist
      o Use past tense when referring to experiments but present tense when referring to scientific law
3. Highlights, bullet points that convey the core findings of the article. Please use 'Highlights' in the file name and include 3 to 5 bullet points (maximum 85 characters, including spaces, per bullet point).
4. Five keywords. These keywords are used to facilitate topical searches.
5. High resolution figures. The preferred format for figure submission is .tif or .eps format. PDF and jpg figures may be acceptable. Please note that the system has a 60 MB upload limit. 
6. References, minimum of 15 references. 
7.     Please submit the manuscript as one single file.
8.30 am – 9.00 am
: Participant Registration
9.00 am – 10.00 am

: Motivation For Publication/ Writing Research Paper

  The Purpose of Publication and Responsibilities for Sharing

10.00 am – 10.30 am
: Coffee break
10.30 am – 11.30 am
: Ten Simple Rules For Getting Published
11.30 pm – 1.00 pm

: From Unpublishable To Publishable (Clinic sessions)

Clinic sessions with facilitators (divide into groups)

a) Free software for drawing (figures/graphical abstract)

b) Free online graph and chart maker

1.00 pm – 2.15 pm
: Lunch break
2.15 pm – 4.30 pm
: Clinic sessions with facilitators
4.30 pm – 5.00 pm
: Adjourn and tea-break
AMTEC Website by Web Team AMTEC
2018 - 2019 Copyright © All Rights Reserved.