Electrospinning Workshop 2021 : 
Research Development and
Commercialization of Nanofibers
ABOUT ELECTROSPINNING WORKSHOP 2021
Electrospinning Workshop 2021: Research & Development & Commercialization of Nanofibers is one of the Workshop Series under HICOE Program of AMTEC. The main target of this workshop is firstly to disseminate the recent activities in nanofibers R&D&C carried out by researchers in AMTEC, secondly to provide the platform of knowledge and technology sharing from the industries towards commercialization of nanofibers products, and thirdly to create and enhance the professional networking among academia and industries. With such great opportunities and benefits provided, you are cordially invited to join us this coming January 2021 in Kuala Lumpur!
Date : 18th January 2021
Venue : Kuala Lumpur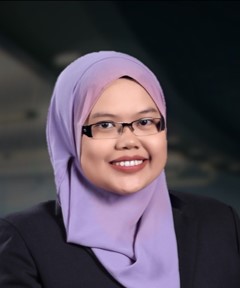 Dr. Norhaniza Yusof (AMTEC, UTM)
Title : Activated Carbon Nanofibers for Gas Adsorption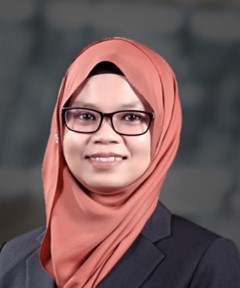 Dr. Wan Norharyati Wan Salleh (AMTEC, UTM)
Title : Electrospun Nanofibrous Membrane For Photocatalytic Water Treatment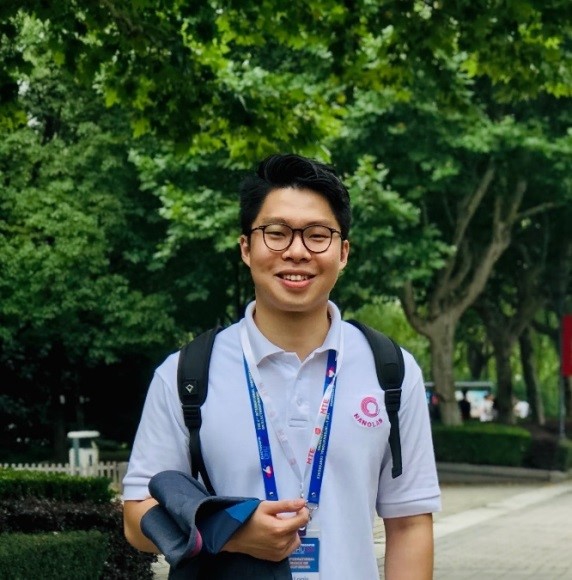 Mr. Joko Logis (Progene Link Sdn Bhd)
Title : Upscaling Your Electrospinning Output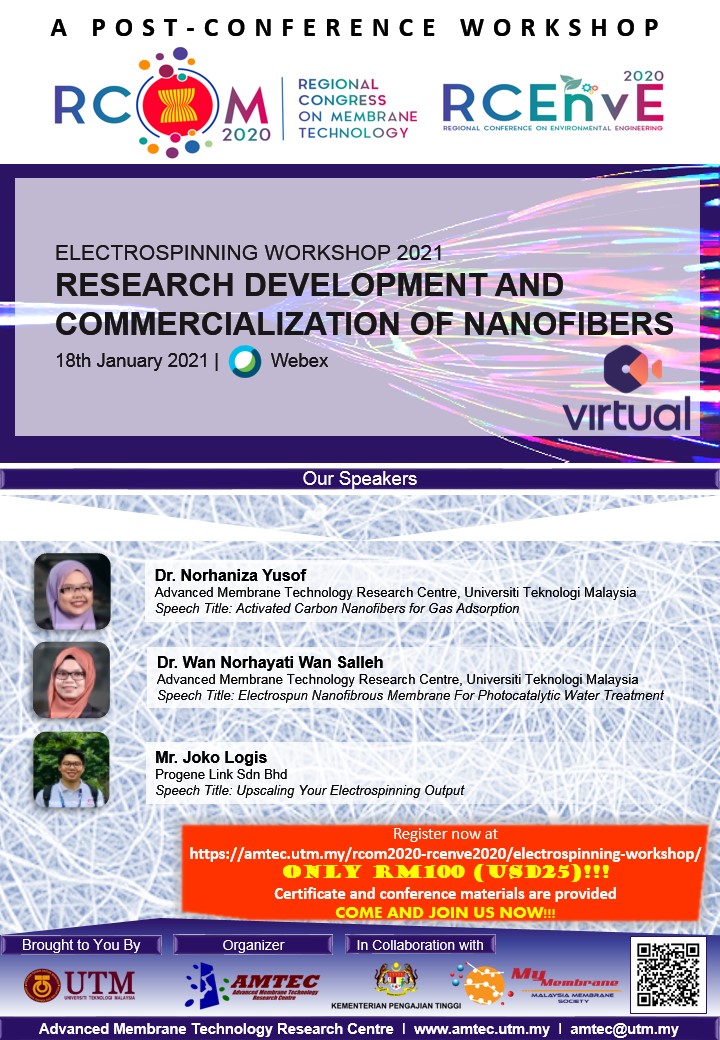 Time (Malaysia Time)
18th January 2021 (Monday)
14.00-14.30 pm
Registration (QR code will be shared upon registration)
14.30-14.40 pm
Opening speech by the Director of Advanced Membrane Technology Research Centre (AMTEC)
14.45-15.15 pm

Invited Talk 1 : Activated Carbon Nanofibers for Gas Adsorption

Dr. Norhaniza binti Yusof (AMTEC, UTM)

15.20-15.50 pm

Invited Talk 2 : Upscaling Your Electrospinning Output

Mr. Joko Logis (Progene Link Sdn Bhd)

15.55-16.25 pm

Invited Talk 3 : Electrospun Nanofibrous Membrane for Photocatalytic Water Treatment

Dr. Wan Norhayati binti Wan Salleh (AMTEC, UTM)

16.30 pm
Closing
Location
GPS : 1°34'01.4″N 103°38'24.7″E
Higher Institution Centre of Excellence (HICoE)
Block N29a, Advanced Membrane Technology Research Centre (AMTEC)
School of Chemical & Energy Engineering (SCEE),
Faculty of Engineering
Universiti Teknologi Malaysia, 81310 Skudai Johor
AMTEC Website by Web Team AMTEC
2018-2020 Copyright © All Rights Reserved