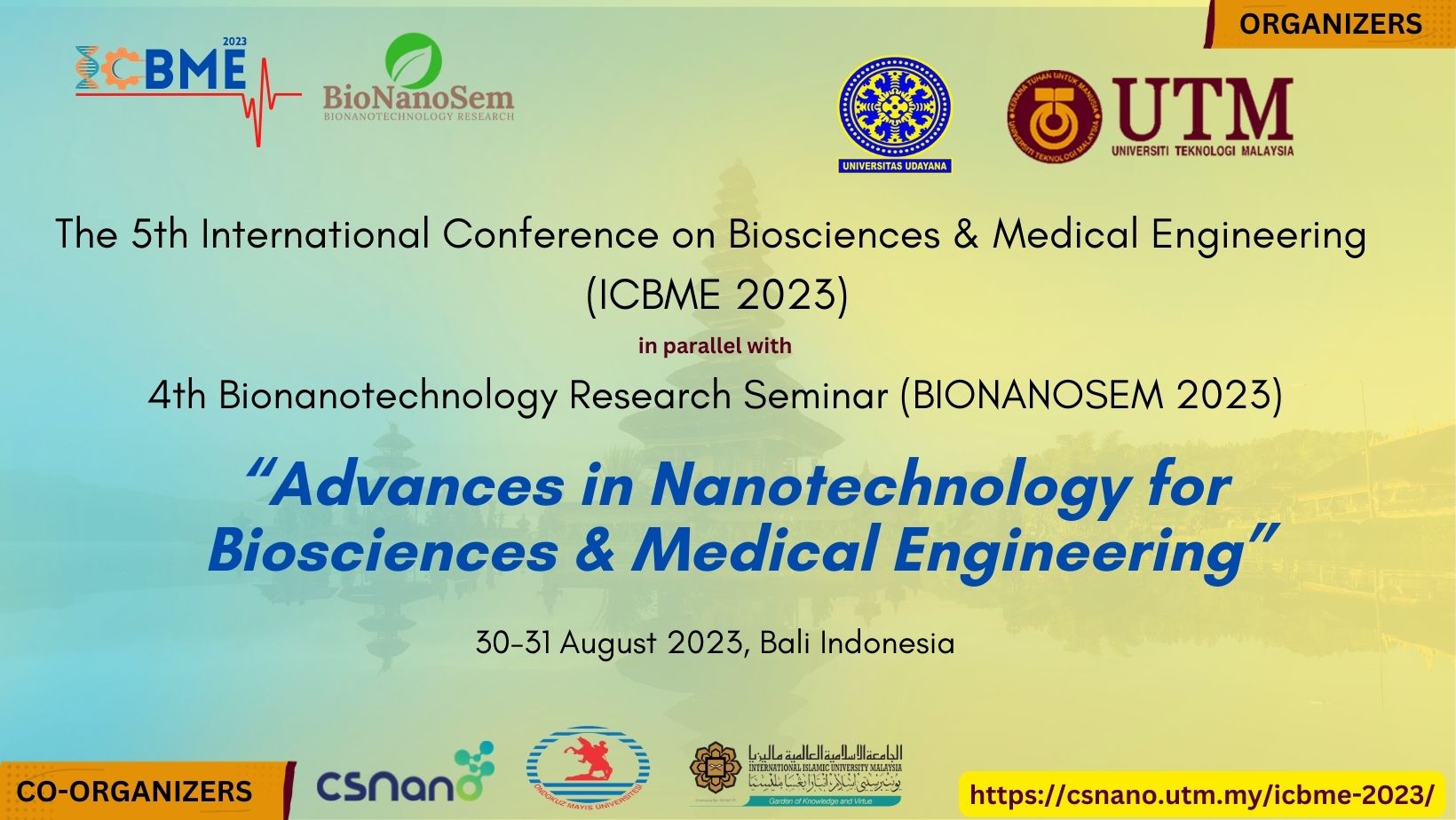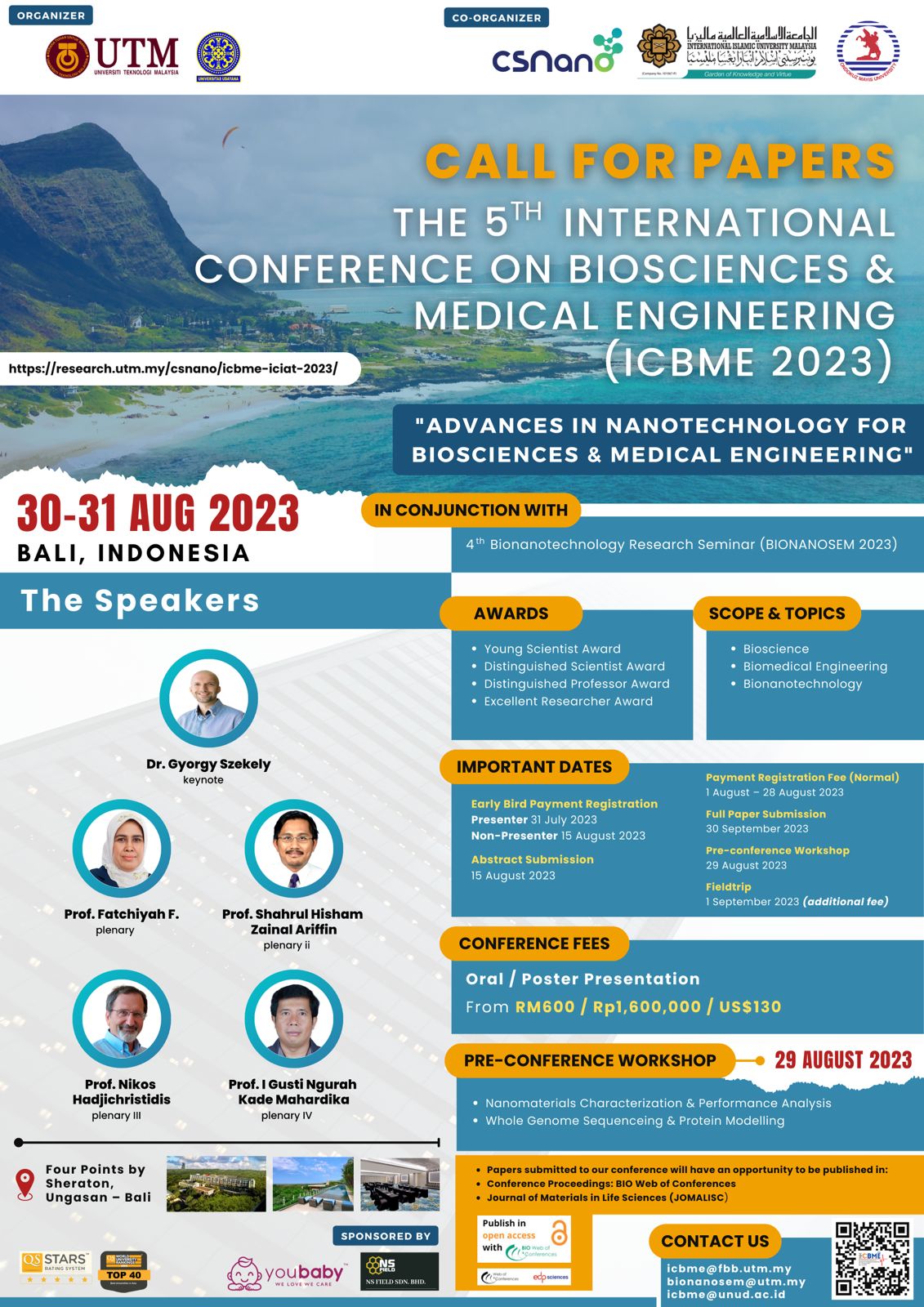 Call for Papers
We are pleased to invite you to attend our 5th International Conference on Biosciences & Medical Engineering 2023 (ICBME 2023) hosted by Biosciences Department, UTM and Udayana University in Tropical Island of Bali, Indonesia.
🏨 Venue: Four Points by Sheraton, Ungasan – Bali
⏰ Date: 30th – 31st August 2023
🧬 Theme: "Advances in Nanotechnology for Biosciences and Medical Engineering"
Early Bird Registration
Presenter 31 May 2023
Non-Presenter 15 August 2023
Registration Link: https://sites.google.com/utm.my/icbme-2023/home
Registration fee starts from RM 600/ Rp 1.600.000/ US$ 130
The full board fees includes food and lodging for 3 days 2 nights at this wonderful hotel.
For more information, please visit our website: https://research.utm.my/csnano/icbme-iciat-2023/
ICBME 2023 Facebook: 5th International Conference on Biosciences and Medical Engineering
All abstracts accepted by the ICBME 2023 will be compiled in the Abstract and Programme Book. The accepted full manuscripts will be published in the special issue of Proceedings Science and Mathematics (eISSN: 2756-8857) https://science.utm.my/procscimath/
Upon discretion to be exercised by the relevant committees, authors of selected high-quality manuscripts will be invited by the conference secretariat (via email) to submit their manuscripts to one of these journals:
Journal of Materials in Life Sciences (JOMALISC)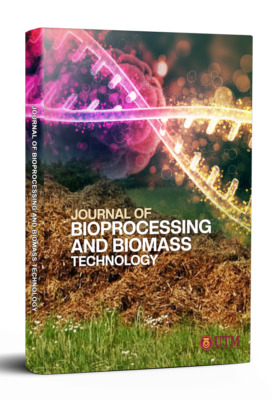 Journal of Bioprocessing and Biomass Technology (BBT)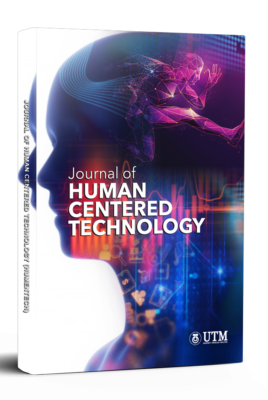 Journal of Human Centered Technology (HumEnTech)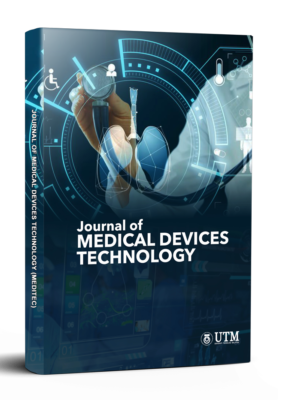 Journal of Medical Device Technology (JMEDITEC)
Although no article publication fee is imposed, each submission will be evaluated according to the guideline, term and regulation of each journal. The decision to accept (or otherwise) the manuscript is the prerogative of the editor of the journal.
Programme Background
We are pleased to invite you to attend the 5th International Conference on Biosciences and Medical Engineering (ICBME) on 30th-31st August, jointly organize by Faculty of Agricultural Technology (Udayana University) & Department of Biosciences (Universiti Teknologi Malaysia), and co-organize with Biotechnology Department (International Islamic University), Department of Agricultural Biotechnology (Ondokuz Mayis University) and Centre for Sustainable Nanomaterials (Universiti Teknologi Malaysia). This prestigious event hosted by Faculty of Agricultural Technology, Udayana University in Bali.
The conference offers an amazing scientific programme, led by renowned invited speakers, researchers, scientists, academicians, engineers, nanotechnologists, healthcare professionals and industry spokesperson. We hope that the scientific programme meets your expectations. Your present allows you to networking with colleagues and recognised experts across the globe. This is a fantastic opportunity to present your findings to a large audience, foster information sharing, and networking.
The current theme was selected because nanotechnology consist both of science and engineering that resulted in nanotechnology-based applications. Advances in Nanotechnology is expanding from agriculture to healthcare, nano-magnetism to molecule computation, microbiology to medicine, food processing to functional food development, food pathogens to food safety. Nowdays, everyone encounters nanotechnology for example, antimicrobial properties of silver nanoparticles. Nanotechnology's application is in medicine that has big potential for enhancing drug administration and providing novel diagnostic procedures.
Apart from the meetings and discussion, the participants are highly encouraging to publish their work in the official Journal of the conference "Journal of Materials in Life Sciences (JOMALISC) by Penerbit UTM Press that will be reviewed by our selected scientific committee. We are confident that The 5th ICBME2023 will be an exceptional platform for exchanging the prospective ideas and views by global experts and prominent researchers, scientists and research scholars.
Scope and Topics
Bioscience
Life Science

Botany

Biochemistry

Biophysics

Microbiology

Anatomy

Zoology

Environment
Biomedical Engineering
Bioinformatics

Biomechanics

Biomaterial

Tissue Engineering

Genetic Engineering

Neural Engineering

Pharmaceutical Engineering

Medical Imaging

Clinical Engineering

Biomedical
Bionanotechnology
DNA

Nanotechnology

Biomaterials

Nanobiocatalysts

NanoTechnopreneur
How to Join
Step 1
Download the abstract template from the link below. Prepare the abstract using the ICBME ABSTRACT TEMPLATE.
Step 2
Fill out the REGISTRATION FORM and submit. Wait for an email confirmation that registration is successful.
Step 3
Abstract will be reviewed. Once approved you will receive Letter of Acceptance and Invoice for payment process.
Step 4
Reserve the participation slot by making the full registration fee. Send a copy of the payment proof using PROOF OF PAYMENT FORM.
Step 5
Wait for an email confirmation that your payment was received.
Step 6
Download and prepare the manuscript using the ICBME 2023 FULL MANUSCRIPT TEMPLATE in the Microsoft Word (doc) format.
Step 7
Submit the manuscript using FULL PAPER SUBMISSION FORM. Book of abstract and presentation scheduled will be posted on the conference website later.
Guidelines
ORAL PRESENTERS:

Before Presentation: ALL presenters must send a slide presentation. Click here for submission.
During presentation: ALL presenters must be ready for Q&A.
INSTRUCTIONS:
Oral Presentation
The time allocated for your presentation is as follows. We would really appreciate if you could adhere strictly to the time allocated.
Poster Presentation
Your poster will be presented throughout the conference days.
• You need to prepare your own poster and poster display with stands as shown.
• The size of the poster should not be more than 80cm wide x 100cm long.
• The contents of the poster should include the title of the research, authors list, introduction and objectives, materials and methods, results and discussion, conclusion, references, and acknowledgments.

Example :-