ILATOS 2022
INTERNATIONAL Laser Technology
and Optics Symposium 
 2022
21 – 22 Sept 2022
UTM Johor Bahru
CISCO WEBEX PLATFORM
About the Conference
ILATOS 2022 is an international forum for researchers, academicians, engineers and industry players from various fields of laser & electro-optics with different experiences and backgrounds. ILATOS 2022 creates opportunities to present research results, discuss current issues and exchange views that may create mutual interest.
It is a bridge to transfer research & development output to the applications which match the industrial requirements as well as user' expectations.
Come and Join Us!
ILATOS 2022 offers a comprehensive view of theoretical and experimental laser research and applications. Articles cover every aspect of modern laser physics and quantum electronics, emphasizing physical effects in various media (solid, gaseous, and liquid) leading to the generation of laser radiation; peculiarities of propagation of laser radiation, problems involving impact of laser radiation on various substances and the emerging physical effects, including coherent ones; the applied use of lasers and laser spectroscopy; the processing and storage of information.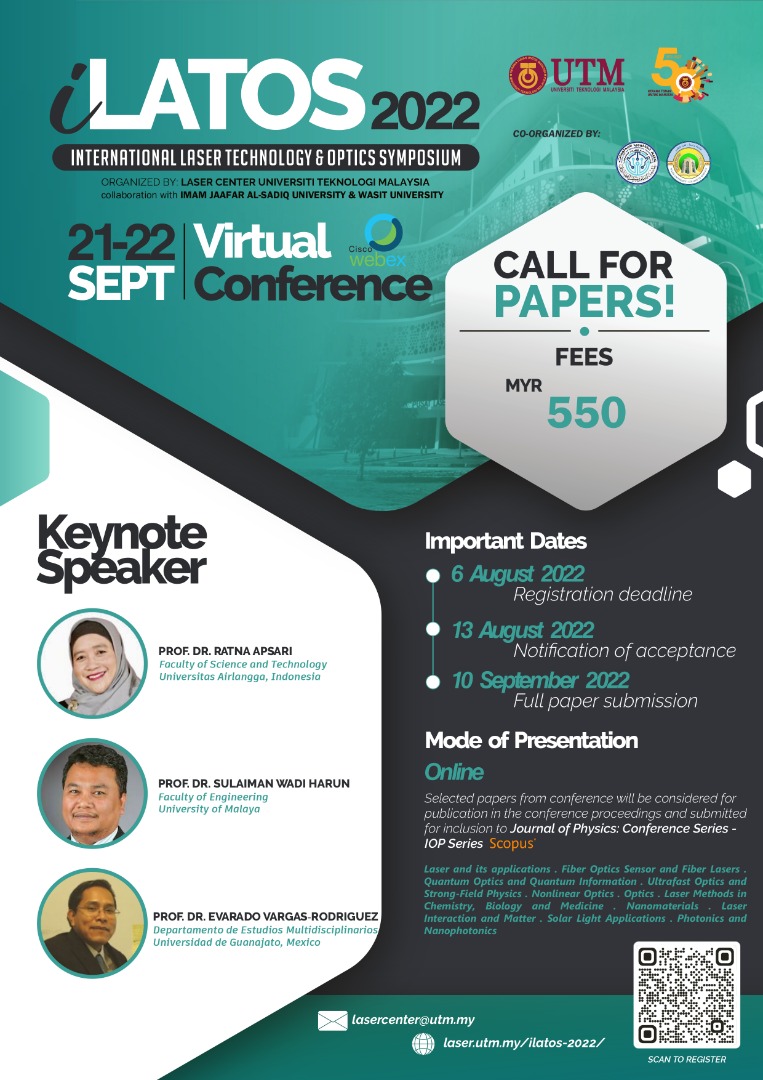 Our Speakers
Here is our proposed keynote speaker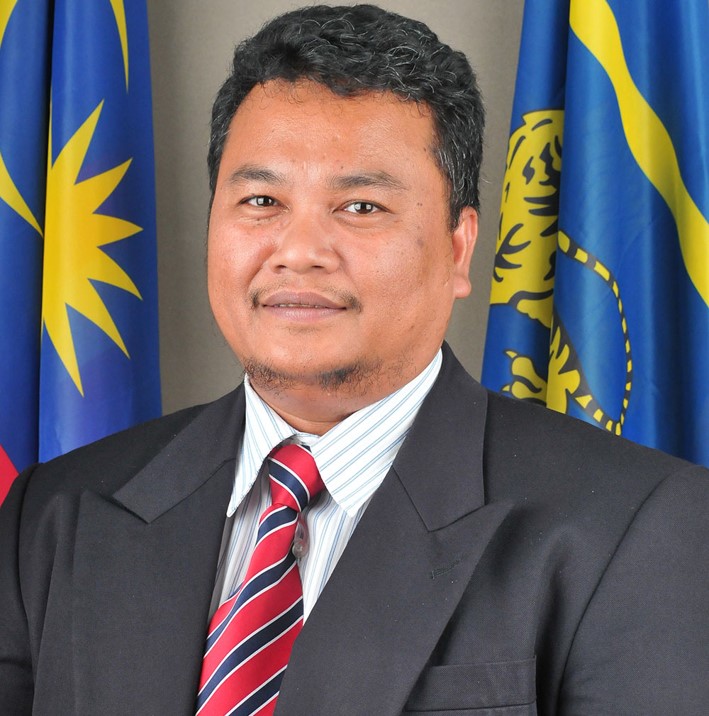 Prof. Dr. Sulaiman Wadi Harun
University of Malaya (UM), Malaysia
Prof. Sulaiman Wadi Harun received the B.E degree in Electrical and Electronics System Engineering from Nagaoka University of Technology, Japan in 1996, and M.Sc. and Ph.D. degrees in Photonics Technology from University of Malaya in 2001 and 2004, respectively. He has nearly 20 years of research experiences on the development of optical fiber devices including fiber amplifiers, fiber lasers, and fiber optic sensors. He also involved in exploiting new nanomaterials such as graphene, carbon nanotubes, black phosphorous, topological insulators for various fiber lasers and sensors applications. He has received about 10 research grants of value over RM4M from the Ministry of Education and the Ministry of Science, Technology, and Innovation. Prof. Harun has published more than 700 articles in ISI journals and his papers have been cited more than 7000 times with an h-index of 37, showing the impact on the community. Prof. Harun also worked as an adjunct Professor at Airlangga University, Indonesia and Ton Duc Thang University, Vietnam. He received a prestigious award of Malaysian Rising Star 2016 from the Ministry of Higher Education for his contribution in international collaboration. He is the Fellow of Malaysian Academic of Science, and also the founder and honorary advisor for the Optical Society of Malaysia.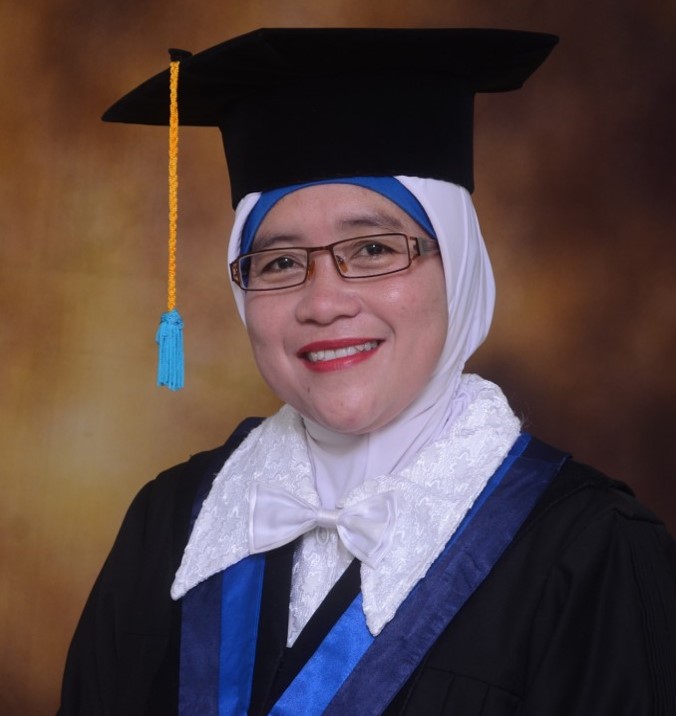 Prof. Dr. Retna Apsari
Airlanggar University, Indonesia
Prof. Dr. Retna Apsai is a professor in the Faculty of Sciences and Technology, Retna Apsari has conducted studies in the field of bio-optics and laser application. Studies in the fields are believed to have many advantages for industrial application, diagnosis, and body treatment. Optics is an analysis study of light propagation or photon when it passes through a medium. Optics, in particular bio-optics (Photonics), is a field of study which requires integration between theoretical fields (of physics and mathematics), computation and applications (optical, information technology, electro-optic), intelligent systems and optical imaging. Laser can be used to perform cancer treatment with minimum side effect. This is because the ray can selectively and more accurately scan cancer cells with some interaction mechanisms. Laser can also be used to grind dental caries. It can also be used for thermal therapy applied in the field of physiotherapy as one of bio-stimulation media. The ray even has the potential to be applied in the field of animal husbandry, for example, using laser ray in stimulation technique, which can accelerate cattle and other farm animals fattening. The main point is that knowledge in laser is extensive and continuously developing. Indeed, it takes many steps to reach excellence.
Prof. Dr. Everardo Vargas Rodriguez
Universidad de Guanajuato , Mexico
Prof. Dr. Everardo Vargas-Rodriguez completed a MSci in Electronics at the Universidad de Guanajuato, Mexico. Afterwards, he received a PhD in Optoelectronics at the University of Southampton of the United Kingdom in 2007. He joined the University of Guanajuato since 2007, and later he was appointed as a Director of the Department for Multidisciplinary Studies were he served from 2008-2016. Currently, he is a professor and additionally is serving as Academic Editor of the Journal of Sensors. His research interest is focused on the design of optoelectronics sensors and fiber lasers.
RM 550
Local and International Participants
1. CASH/ Electronic Fund Transfer to UTM bank account
Beneficiary Name : BENDAHARI UTM
Address : Pejabat bendahari, Universiti Teknologi Malaysia, Skudai, Johor.
Bank Name : CIMB BANK
Bank Address : CIMB UTM Branch, Universiti Teknologi Malaysia, Skudai, Johor
Account no. : 8006053536
Kindly send proof of payment to yahjin@utm.my or lasercenter@utm.my
2. INVOICE
Please give the information below for us to issue invoice:
i. Name
ii. Contact No
iii Address


2020 | Universiti Teknologi Malaysia Copyright © All Rights Reserved