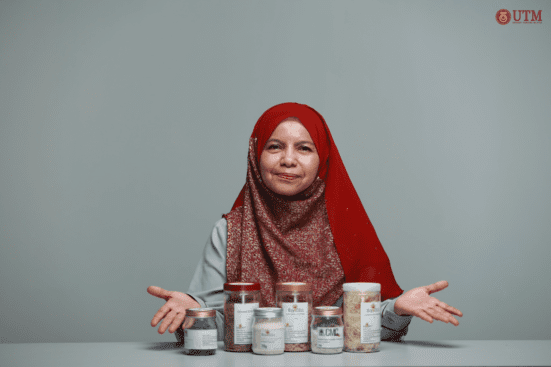 Celebrate the remarkable achievements of Universiti Teknologi Malaysia (UTM) as we present a remarkable collection of innovations in conjunction with World Intellectual Property Day 2023, which has the theme "Women and IP: Accelerating Innovation and Creativity!" Our showcase highlights the diverse range of groundbreaking inventions and research conducted by UTM's exceptional academics.
Discover how our experts are transforming the world with their creations, from sustainable solutions for managing oil palm waste to high-quality, natural skin care products. These innovations are not only cutting-edge but also have the potential to make a significant impact on society. Get to know the brilliant minds behind these inventions, including Prof. Nor Aishah, Dr. Hau Yuan Wen, Dr. Tan Joo Siang, Dr. Siti Hamidah, and Dr. Nurul Aini binti Bani, as they share their inspiration and drive for creating these life-changing products. Join us as we celebrate the extraordinary contributions of these remarkable innovators.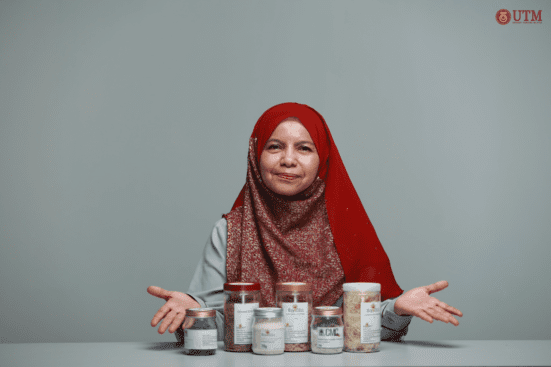 Prof. Ir. Dr. Nor Aishah binti Saidina Amin from the Faculty of Chemical and Energy Engineering needs no introduction among the UTM academic fraternity.
Prof. "NASA", as most call her, is the inventor of OzBioNY, a ground-breaking invention that utilises ozonolysis pre-treatment to extract crude cellulose, Ozy-CELL, from empty fruit bunch waste. This specially designed mixed-reactor with ribbon mixer has been granted UTM IP and copyright, and for good reason. The process is more efficient than traditional methods, requiring less chemicals and time to degrade lignin and increase cellulose yield. The resulting Ozy-CELL is a key ingredient in the production of specialised bio-based chemicals in the construction, pharmaceutical, food and beverage, and energy industries.
The inspiration behind this invention was due to the abundance of oil palm biomass waste in Malaysia and the need for sustainable solutions to manage it. By integrating the OzBioNY process with palm oil mills, Prof. Nor Aishah hopes to pave the way for a circular economy and a more sustainable future.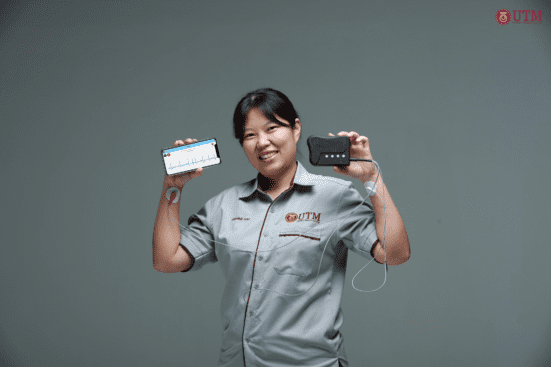 Meet Dr. Hau Yuan Wen, the inventor behind myThrob, a portable intelligent heart rhythm monitoring device that offers early detection and prevention of potential heart diseases.
With the integration of four state-of-the-art technologies—machine learning, System-on-Chip, Field-Programmable-Gate-Array, and Internet-of-Medical-Thing (IoMT) – myThrob provides complex irregular heart rhythm (arrhythmia) self-detection with high accuracy, real-time processing speed, and reprogrammable and reconfigurable system upgrades. It also supports the uploading of users ECG data and classification results to a cloud database, allowing clinicians to access patient records for further clinical validation.
Dr. Hau Yuan Wen, an academic from the Faculty of Electrical Engineering observed that those requiring frequent heart monitoring is challenged to so do due to long-distance travelling or waiting time at hospitals. Hence, myThrob was invented as an innovative and an intelligent home-based solution that enables the public to monitor their heart rhythm anytime and anywhere.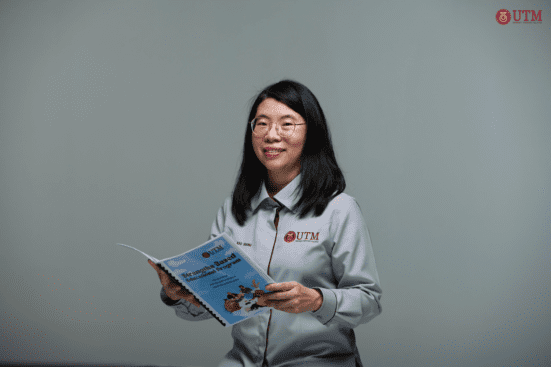 Introducing Dr. Tan Joo Siang, the researcher behind an innovative new module designed to help students with low self-esteem. This module is based on Solution-Focused Brief Therapy and strengths-based education and consists of eight structured group sessions that are perfect for school counsellors, educators, or community volunteers.
With easy-to-follow activities, children can identify their goals, discover their strengths, and develop the steps needed to achieve success. The module has been granted UTM IP and copyright, and it's easy to see why. It has the potential to improve academic performance, reduce dropout rates, and promote mental well-being.
Dr. Tan Joo Siang who is from the Faculty of Social Sciences and Humanities, was inspired to seek innovative solutions to overcome the alarming rate of low self-esteem among students in Malaysia and the negative impact it has on their lives. By developing this practical and effective module, Dr. Tan Joo Siang hopes to empower students and unlock their true potential.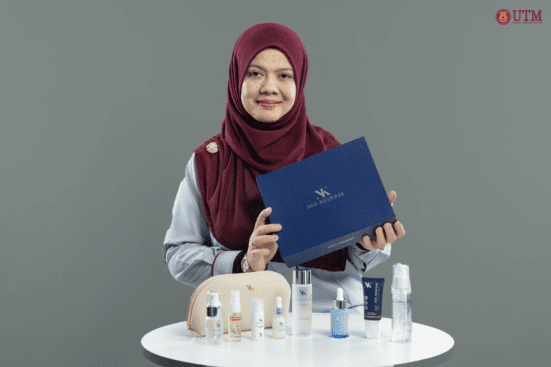 Associate Professor Dr. Siti Hamidah's personal struggle with poor skin care after returning to Malaysia from her studies in the UK inspired her to create her own high-quality, natural skin care products.
With over 20 years of experience in green extraction technology and micellar nanotechnology, she started extracting bio-compound actives from local plants and applying them to cosmetic formulations, resulting in the launch of her first product, a lip moisturiser with natural pigment extracted from Roselle calyces.
Dr. Siti Hamidah later applied her nanotechnology knowledge to create a range of micellar skin care products containing a unique ingredient, BeuT-Complex, which incorporates nano-micellar technology to improve the effectiveness and absorption rate of the formulations.
Her efforts resulted in the creation of NK Age-Reverse, a line of high-quality skin care products marketed by the UTM spin-off company SHE Empire. An academic at the Malaysia-Japan Institute of Technology, Dr. Siti Hamidah's innovation has won over 60 awards in local and international competitions, including the Industry Excellence Award in 2022 and the Best Outstanding Innovation Award in 2021.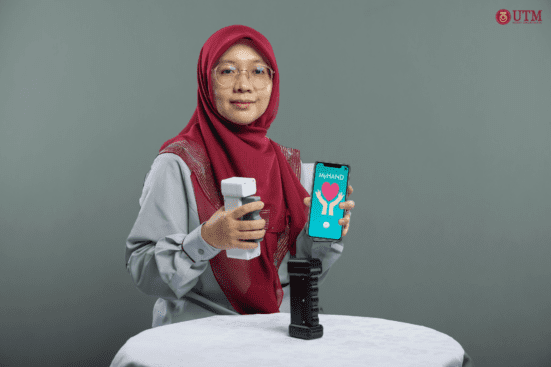 Dr. Nurul Aini binti Bani from the UTM Razak Faculty of Technology and Engineering is the inventor of MyHAND, a mobile healthcare app and hand gripping device that's revolutionising home-based rehabilitation for post-stroke patients. MyHAND offers fun and engaging interactive games to help patients achieve their health goals while meeting their rehabilitation therapy requirements.
The app's unique feature is that it records patients' hand strength and pinch grip, which can be remotely accessed by doctors and therapists for evaluation. MyHAND has been granted UTM IP and copyright, and it contributes to the 17 Sustainable Development Goals.
The inspiration behind MyHAND came from a successful NBOS Community Project in Beranang, Selangor, which led to the development of a Physiotherapy Centre for elderly patients. The creators collaborated with a rehabilitation hospital in Kuala Lumpur to develop an IoT-based home rehabilitation app that could monitor the progress of patients and motivate them to perform continuous rehab exercises at home.
MyHAND is an innovative and significant invention that makes rehabilitation at home easier for everyone.
/ Department of Chancellery
Source: UTM NewsHub