Chemical Register & Chemical Inventory
Chemical inventory : The list of all chemicals used in the laboratories
Chemical Register : The list of all chemicals hazardous to health used in the laboratories.
Chemical hazardous to health : chemical or preparation which –
(a) is listed in Schedule I or II;
(b) possess any of the properties categorised in Part B of Schedule I of the Occupational Safety and Health (Classification, Packaging and Labeling of Hazardous Chemicals) Regulations 1997 [P.U. (A) 143/97];
(c) comes within the definition of "pesticide" under the Pesticides Act 1974 [Act 149]; or
(d) is listed in the First Schedule of the Environmental Quality (Schedule Wastes) Regulations 1989 [P.U. (A) 139/89];
– UTM Chemical Inventory Format
– UTM Chemical Register Format
– How to fill the Chemical Register?
– USECHH 2000 (Please click to refer the Schedule I or II)
Labeling & Relabeling
Label should following the latest hazard pictograms format :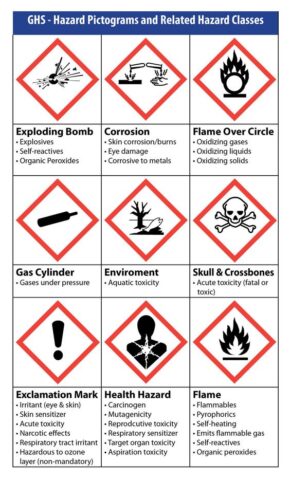 For a container of 125 ml and below, the packaging shall be labelled legibly and indelibly containing the following information :
Download template here
Chemical Spillage
STANDARD OPERATING PROCEDURES ON HANDLING SPILLS OF HAZARDOUS CHEMICALS BY CHEMICAL MANAGEMENT CENTRE (CMC) UTM
GUIDELINES ON MERCURY SPILLAGE
Safe Storage of Chemicals
GUIDELINES ON STORAGE OF HAZARDOUS CHEMICALS
Schedule Waste
Download related form:
Waste Label -Latest labeling format for chemical disposal.