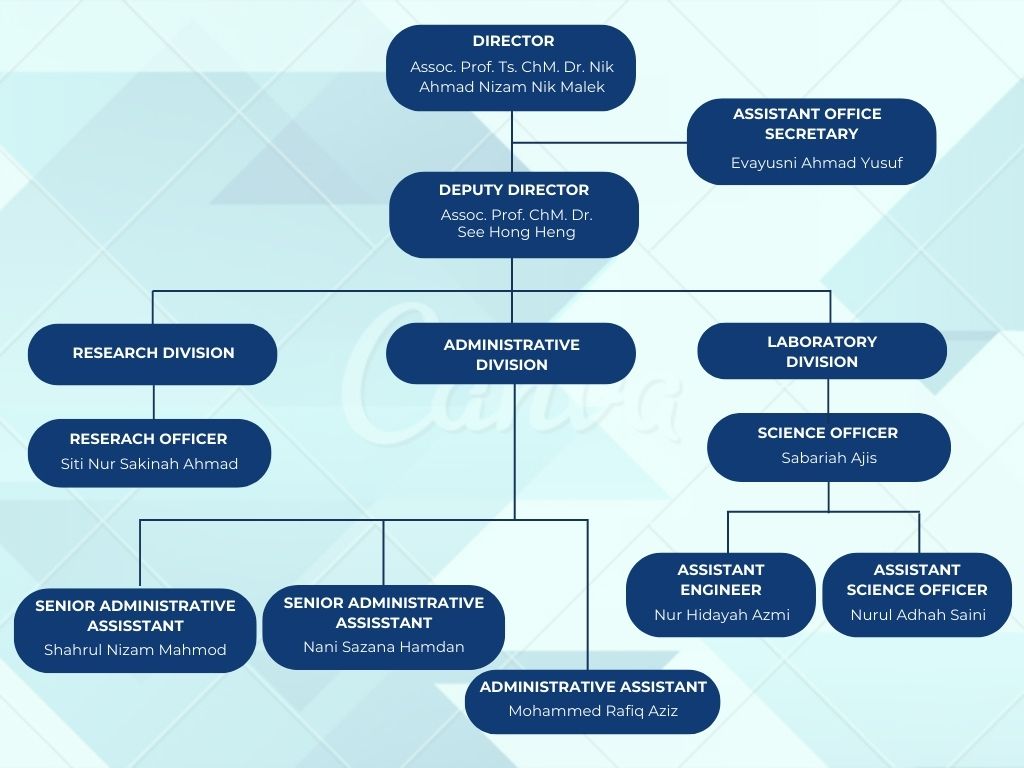 Research Division is a research unit of CSNano that focus on: developing new research or recent development in nanomaterials; secure and obtain research grants from national, international and industries; aim to publish in well-known research journal paper with high impact journal, book chapters and others publication; create a commercialized product, patents and intellectual property; and produce postgraduate students with available to fit in work environment.

Administrative Division is for administrative purpose such as financial management include distribute allocation for maintenance and services, payments, procurement, asset and inventories, and other administrative management.

Laboratory Division provides a condusive and safe working laboratories for researcher and students which follow the Occupational Safety and Health Act and CSNano's Laboratory Safety Manual. It also perform analysis for services in generating income and also consultancies for industries and other institutions.

FACTS AND FIGURES FOR STAFF

*data as of 1st October 2022
| | | | |
| --- | --- | --- | --- |
| Name | Member | Email | Expertise |
| Assoc. Prof. Ts. ChM. Dr. Nik Ahmad Nizam bin Nik Malek | Full Member | niknizam@utm.my | Applied Materials Science, Adsorption, Controlled Release System, Zeolites, Clays, Bionanotechnology |
| Assoc. Prof. ChM. Dr. See Hong Heng  | Full Member | hhsee@utm.my | Separation Sciences, Sample Pretreatment |
| Assoc. Prof. ChM. Dr. Lee Siew Ling | Full Member | lsling@utm.my | Catalysis, Advanced Materials, Nanotechnology, Mesoporous Materials, Adsorption, Carbon Nanotubes, Materials Chemistry |
| Ts. Dr. Naji Arafat bin Mahat | Full Member | naji.arafat@utm.my | Forensic Sciences, Forensic Biology, Forensic Entomology, Biomedical Sciences, Biotechnology |
| Dr. Alireza Samavati | Full Member | salireza@utm.my | Thin Film, Optical Fiber Sensor, Solar Cell, Semiconductor Nanostructure |
| Prof. Dr. Suhairul bin Hashim | Associate Member | suhairul@utm.my | Medical/Health Physics, Nuclear Science & Technology, Radiation Dosimetry |
| Dr. Ezza Syuhada binti Sazali | Associate Member | ezzasyuhada@utm.my | Materials Physics, Amorphous, Nanoparticles, Bioglass |
| Dr. Yap Yung Szen | Associate Member | yungszen@utm.my | Quantum Computing Microwave Systems |
| ChM. Dr. Sheela Chandren | Associate Member | sheela@utm.my | Catalytic Chemistry, Photocatalysis, Inorganic Chemistry, Nanotechnology, Water Treatment |
| ChM. Dr. Aemi Syazwani binti Abdul Keyon | Associate Member | aemi@utm.my | Electrophoresis and Chromatography |
| Dr. Fazira Ilyana binti Abdul Razak | Associate Member | fazirailyana@utm.my | Computational Chemistry, Organometallic Chemistry, Inorganic Chemistry, Non-linear Optics Materials |
| Ts. ChM. Dr. Faizuan bin Abdullah | Associate Member | faizuan@utm.my | Environmental Chemistry, Electrochemistry, Spectroscopy, Water Quality, Air Pollution Study, Sensor Development |
| Dr. Juan bin Matmin | Associate Member | juanmatmin@utm.my | Nanomaterials from Polymer Engineering and Advanced Materials |
| Dr. Siti Salwa binti Alias | Associate Member | siti.salwa@utm.my | Synthesis Nano Metal-oxide, Membrane, Photocatalysis, Solar Cell, Batteries |
| Dr. Rosnani bte Hasham @ Hisam | Associate Member | r-rosnani@utm.my | Skin Barrier Function, Stratum Corneum Lipid, Anti-ageing, Phytochemical and Aromatherapy, Wound Healing |
| | | |
| --- | --- | --- |
| Name | Position | Email |
| Siti Nur Sakinah binti Ahmad | Research Officer (Q41) | snsakinah@utm.my |
| Shahrul Nizam bin Mahmod | Senior Administrative Assistant (N22) | s-snizam@utm.my |
| Nani Sazana binti Hamdan | Senior Administrative Assistant – Finance (N22) | nanisazana@utm.my |
| Evayusni binti Ahmad Yusuf | Assistant Office Secretary (N19) | evayusni@utm.my |
| Mohammed Rafiq bin Aziz | Operations Assistant (N11) | mohdrafiq@utm.my |
| | | |
| --- | --- | --- |
| Name | Position | Email |
| Sabariah binti Ajis | Science Officer (C41/44) | sabariahajis@utm.my |
| Nurul Adhah binti Saini | Assistant Science Officer (C29) | nuruladhah@utm.my |
| Nur Hidayah binti Azmi | Assistant Engineer (J29) | a.nurhidayah@utm.my |
Copyright © 2021 | Centre for Sustainable Nanomaterials