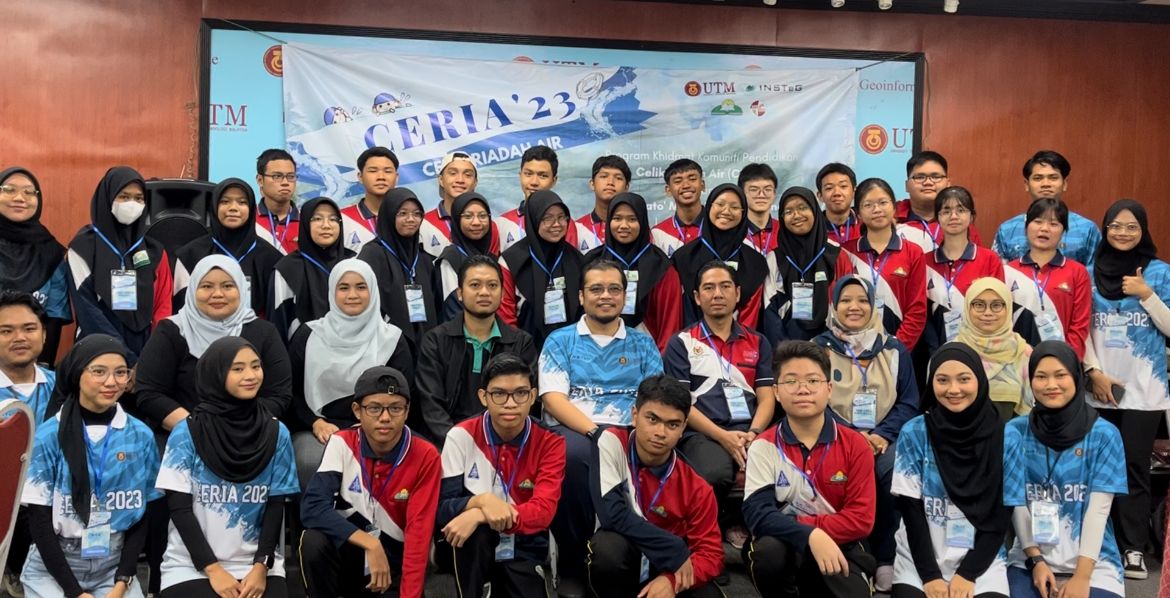 24 October 2023 – Geoscience and Digital Earth Science (INSTeG), Research Institute for Sustainability and Environment (RISE), Universiti Teknologi Malaysia has organized the Program Khidmat Komuniti Pendidikan Celik Riadah Air (CERIA)  at the Faculty of Architecture and Surveying (FABU). This program was led by Dr. Mohd Rizaludin bin Mahmud as INSTeG research fellow, INSTeG staff namely Puan Nurul Nadiah binti Yahya and Mr Mohd Taufik bin Razali and students under the Bachelor of Geoinformatics program as facilitators. This program was attended by 25 students from form four students from SMK Dato' Yunos Sulaiman, Pontian, Johor and was officiated by the Director of INSTEG, Prof. Assoc. Ts. Mr. Dr. Mohd Nadzri Md Reba.
One of the latest focuses of INSTeG is towards the education community service for the target group. This CERIA program aims to provide education to the main target group which is school students who are exposed to the risk of disasters in water recreation areas including waterfalls, rivers and beaches. In this program, school students have been given a specially designed module for safe water leisure education covering knowledge about disaster risk phenomena in water leisure areas, safety measures, as well as the latest technology involved in monitoring, observation, and forecasting.
The participants were also visit several places around campus accompanied by facilitators such as Chancellery building, Sultanah Zanariah Library and FABU gallery. At the end of the program, students have acquired knowledge about geospatial technology involved in detecting, monitoring, and predicting extreme phenomena. INSTeG also hopes that educational community service programs like this can be carried out in the future.