The Centre for Sustainable Nanomaterials (CSNano) is one of the Centres of Excellence (COE) under Ibnu Sina Institute for Scientific and Industrial Research (ISI-SIR), Universiti Teknologi Malaysia. CSNano is an interdisciplinary research and educational centre focused on fostering the advancement of materials science at ISI-SIR, UTM. CSNano fosters the scientific and technical breadth of materials science, which spans research areas including inorganic antimicrobial materials, heterogeneous catalysts, porous nanomaterials, nano/molecular photochemistry, analytical science, separation chemistry, and quantum chemistry.


Laser Center, Ibnu Sina Institute for Scientific & Industrial Research (ISI-SIR) at the Universiti Teknologi Malaysia. Laser Center is driven by excellence in research with research expertise in the particular areas of Lasers, Photonics, Plasma Physics and Fusion, and Nano-materials & structures. Laser Center is the first centre in the Malaysia to provide facilities and expertise for postgraduate research in field of Laser Technology and we continue this today through our constantly evolving latest research activates and facilities and delivered by world-leading experts.


UTM-CIAM is a research centre specializes in application of mathematical techniques in solving industrial problems. It was established on  12 December 2012 in the presence of the Malaysian Minister for Higher Education at St. Anne College, University of Oxford. With the vision of becoming a top global centre for industrial and applied mathematics, UTM-CIAM extends its network both locally and internationally via strategic cooperation with Oxford Centre for Industrial and Applied Mathematics (OCIAM), Asia Pacific Consortium of Mathematics for Industry (APCMfI), universities and industries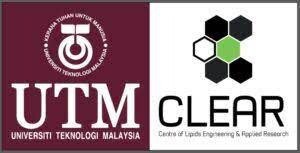 CLEAR was previously established in 1987 as LASER (Lipid Applied Centre and Engineering Research) to undertake researches in the Engineering and technology of palm oil and oleo-chemical processing. In 1995, CLEAR has signed an MOU with Guthrie Berhad to conduct a research on palm oil processing engineering and design. Then in 2009, CLEAR was appointed as a Centre of Excellence under Research Alliance of Biotechnology. Currently, CLEAR is operating efficiently with 13 active academic staff with 6 research fellows, total equipment (pilot plant, analysis and chemical process) worth RM 3 million and total research grant of about RM 5millions throughout 2008-2012. Our research activities are actively operating in two branches of laboratory which is in UTM Johor Bahru and UTM International Campus, Kuala Lumpur. CLEAR also has been appointed as Associate Kohzas by Malaysia-Japan International Institute of Technology (MJIIT), UTM.


Utm Big Data Centre Is Established To Achieve These Objectives; To Intersect The Core Of Big Data Analytics Into Big Data Science, Big Data Computing And Big Data Engineering, As Well As To Provide The Right Information At The Right Time, Which Enables Data Analysts, Data Scientist, Data Engineers Or Managers To Make Informed Business Decisions. Our Centre Gives The Taste Of The Breadth And Depth Of Data-Driven Research Currently Being Carried Out At Utm Big Data Centre And The Faculty Of Computing Universiti Teknologi Malaysia.