Welcome from Senior Director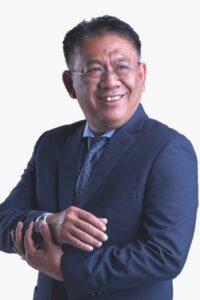 Institute for Smart Infrastructure and Innovative Construction (ISIIC) was established in February 2015.  Lead by Senior Director, Prof. Ts. Dr. Edy Tonnizam Bin Mohamad, ISIIC is a strong combination of existing established research centers, wide experienced with young and fresh researchers within UTM. Comprising of 5 research centers namely; 1) UTM Construction Research Centre, 2) Center for Forensic Engineering, 3) The Center of Built Environment in the Malay World, 4) Centre for Real Estate Studies,   5) Center of Tropical Geoengineering. ISIIC is looking forward to be a world class center of research in smart infrastructure and innovative construction. Furthermore, the vision of ISIIC is for being a forefront excellence in research.
ISIIC  was then entrusted with the role of coordinating and establishing the whole value chain of research and consultation activities. By optimizing and restructuring human resources and equipment for research and consultation, ISIIC will create a clear direction on the related key research area. Therefore this will enhance the research output and competitiveness involving expertise and other resources within ISIIC.
Generally, ISIIC has a wide array of key research area related to civil engineering, architecture and real estate. The research area includes Materials Engineering, Construction Management, Structural Analysis, Engineering Geology, Slope Assessment, Ground Improvement, Geotechnical, Landscape Heritage Studies, Heritage & Building Science, Real Estate Industry, etc.
Research Area
¨ Materials Engineering
¨ Construction Management
¨ Structural Analysis, Design, Construction
¨ Structural Assessment, Rehabilitation
¨ Engineering Geology, Slope Assessment, Ground Improvement, Geotechnical
¨ Photogrammetry, Surveying, Monitoring, Geodetics Engineering
¨ Heritage, Education &  Community Studies

¨ Landscape Heritage Studies
¨ Heritage Humanities & Social Science
¨ Heritage & Building Science
¨ Architecture & Urban Heritage
¨ Real Estate
¨ Asset & Facilities Management
¨ Land Administration & Development
Collaboration and Membership
 University Srivijaya (Link), Yonsei University (Link), and Hanyang University (Link), Institute of Material and Energy (MERC),Malaysian Highway Authority (LLM), American Society of Civil Engineering-Construction Institute (ASCE-CI)-USA,  Association of Researchers in Construction Management (ARCOM)-UK,  International Hydropower Association (IHA)-UK, International Initiative for Sustainable Built Environment (iiSBE)-Canada, and  International Federation of Inventors' Associations (IFIA)-Swiss.