21 December 2021 – The First Session of Virtual STEM Workshop: Harvesting Ocean Thermal Energy & Build Your Own Seawater Fuel Cell! has been successfully completed with the participation of Eight (8) students consisting of 4 primary school students as well as 4 secondary school students.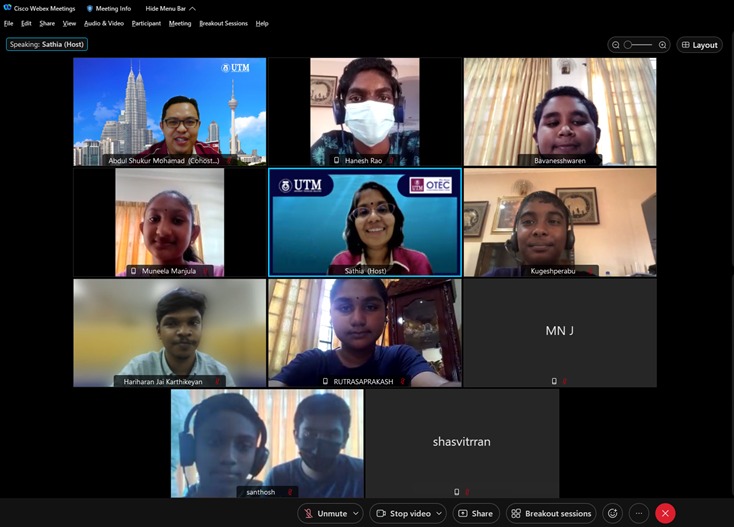 The session was conducted using Cisco Webex Meeting with Ts. Dr. Sathiabama T. Thirugnana as Speaker explained about Ocean Thermal Energy Conversion (OTEC) Technology; its chemical processes, working principle and images of actual OTEC plants in the world. Then, the students were exposed to OTEC VR Tour using our own Mini OTEC Plant Simulator by accessing the site https://otec.streetview.my/ with the guidance from two Facilitators, Mr. Hariharan Jai Karthikeyan and Mr. Abdul Shukur Mohamad. The students were later assessed with 10 questions using Quizizz platform.
After that, the session was resumed by Dr. Sathiabama on the topic Seawater Fuel Cell; its science and principle, tools and method for hands-on experiment. Each participant was given a set of seawater Fuel Cell kit, prepared and posted by BRAINet (M) Sdn. Bhd. to work with at their home.
The session was ended with conclusion and remark by Dr. Sathiabama. Then, the students were asked to fill in feedback form to improve the content and methodology of this workshop in the future. The next workshop will be conducted on 15 January 2022.