Training Course: Assessment of OTEC Potential Sites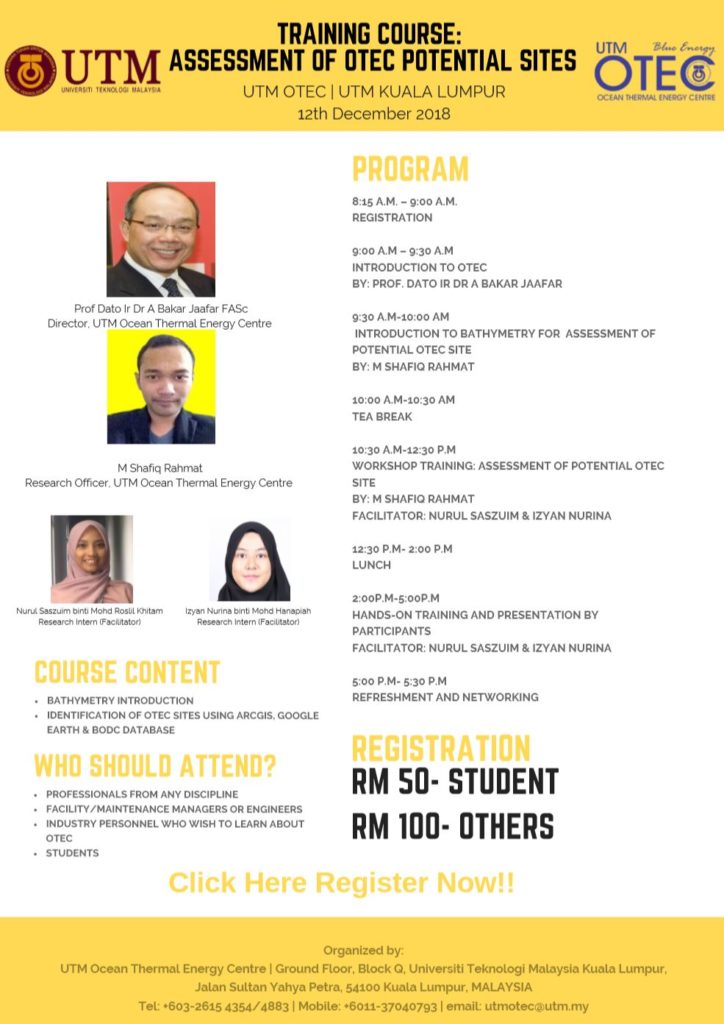 Dear UTM OTEC members, student, alumni,
We, would like to invite all of you to our Training Course: ASSESSMENT OF OTEC POTENTIAL SITES 2018. Mark your calendar as this event will be held on 10th December 2018 at UTM Ocean Thermal Energy Centre-UTM OTEC, Universiti Teknologi Malaysia Kuala Lumpur.
Register Now to book your attendance via the link provided as follow: https://docs.google.com/…/1FAIpQLScHITbVqsolAM71DX…/viewform

6th International OTEC Symposium
The International OTEC Symposium is the world's largest international conference on Ocean Thermal Energy Conversion (OTEC). Since the first conference in Hawaii in 2013, it has been held annually in Korea, Malaysia, The Netherlands, and France. Two days of unique and interactive sessions provides the framework for networking and collaboration among the wide variety of international speakers and participants. Key players in the OTEC industry, and energy markets, finance, and government representatives from all over the world will have the opportunity to share the latest in this accelerating industry.
In addition, we offer sponsors the opportunity to exhibit projects, companies, and products at this year's beautiful venue at the Okinawa Institute of Science and Technology. We will also offer an optional tour to Kumejima, home to Okinawa's OTEC demonstration facility, which has been in operation since 2013, and other deep seawater related industries.
Details
The 6th International OTEC Symposium will be held on September 26-27, 2018. The optional tour to the Okinawa OTEC Demonstration Facility and Deep Seawater Industries on Kumejima, Okinawa will be on September 28.
Early registration and discount ends July 15, 2018. Those wishing to take advantage of the discounted hotel and flight pack to Kumejima for the OTEC Demonstration Facility Tour or the symposium below must register for the hotel pack by July 19th.
The 9th Okinawa Hawaii Ocean Energy and Economic Development Symposium and Workshop and 2018 Kumejima Hawaii Festival will also be held on Kumejima September 28-29, 2018. This event is free to attend, but registration is required via the homepage.

Link for this post : http://otecsymposium.okinawa/en/

5th International OTEC Symposium
7-9 November 2017
Reunion Island
The symposium will take place from November the 7th to the 9th at the IUT de Saint-Pierre, in Reunion Island.
Important dates
Deadline for abstract submission: 07th July (Extended deadline)
Deadline for full paper submission: 15th September
Registration: From 15th June to 30th September
For more details : Kindly please click this link.
3rd National Workshop & Training Courses on Ocean Energy
VENUE : UNIVERSITY TEKNOLOGI MALAYSIA
DATE : 17TH MAY 2017