On 24 Aug 2022, representatives from Ubiquitous Broadband Access Networks (U-BAN) research group and also a spin-off company of Universiti Teknologi Malaysia, ATES Sdn. Bhd. paid a visit to Wildlife Conservation Centre Sungai Dusun, Selangor Darul Ehsan for a collaboration project of the Real-Time Tapir Tracking and Monitoring System. This project led by Dr. Rudzidatul Akmam Dziyauddin managed to secure a Prototype Research Grant Scheme from UTM Innovation and Commercialisation Center (ICC).
The project invented a new Self-Power Global Positioning System (SP-GPS) tracker device that essentially produced an intellectual property and a graduated Doctor of Philosophy, Dr. Mohd Ismifaizul Mohd Ismail, for the human capital output. We then upscaled the SP-GPS device for Tapir collar and real-time tracking via Long Range (Lora) and Wireless Fidelity (WiFi) or General Packet Radio Services (GPRS) communication technologies. The project fulfilled the criteria of the quadruple helix as Visinergy Sdn Bhd, the CEO Mr. Shazlan Anwar is a part of the project team.
Recently, the project has won three Industrial Art and Technology Exhibition (INATEX 2022) awards, which are Best of the Best Award, Final Award for Community and Gold Award. The current Tapir collar is innovated to support our electronic devices and also power module, and a dashboard is then developed for the real-time tracking.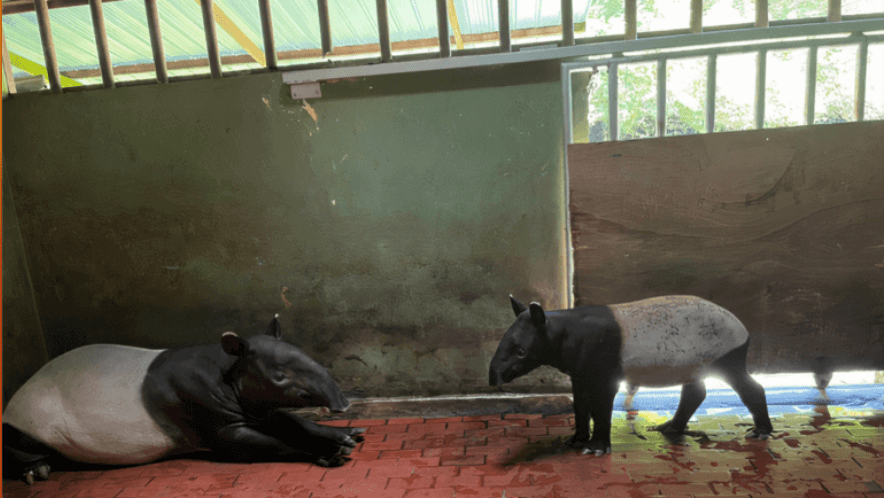 One of the team members, Assoc. Prof. Dr. Robiah Ahmad, an expert in renewable energy, suggested conducting a battery lifetime test of the invented collar with one of the tapirs in the cage. The tapirs movements, particularly during daytime, can measure the efficiency of the energy harvesting feature supported by the new collar.
Meanwhile, Dr. Rudzidatul and Dr. Norulhusna Ahmad, experts in wireless communication, are keen in testing the real-time Tapir tracking via LoRA coverage and either WiFi or GPRS module. The testing is significant in quantifying how LoRA can complement the satellite communication, which is run by the existing Tapir collar.
This testing can be done for the Tapirs that are in the stage of rewilding. At the moment, there is a pair of Tapir in such stage located at the 10-hectare conservation forest before they are released to the actual jungle. The success of the Tapir collar and tracking is a stepping stone to the next project of 'Save Malayan Tiger'.