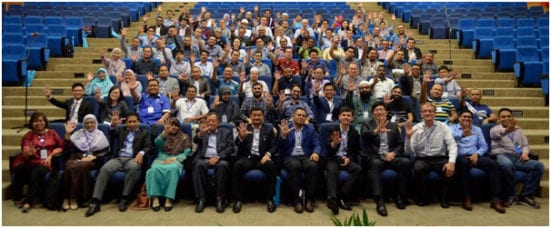 KUALA LUMPUR, 23 Oct. – Wireless Communication Centre (WCC) of Universiti Teknologi Malaysia (UTM) hosted the inaugural IEEE 5G Learning Series- Kuala Lumpur Edition,  together with the IEEE Malaysia Section, IEEE Malaysia Communication Society and Vehicular Technology Society Joint Chapter with the aim to demystify 5G.
This is a global event by IEEE Future Networks, organized throughout the year at various cities around the world such as New Jersey, Shanghai, Bangalore, Trento.
This is the first event to be held in Malaysia, as well as the first time to be organised in South East Asia region.
Over 100 participants from industry, academia and government body attended the tutorial presented by 5G experts from UTM, Ericsson and TM R&D.
The participants also visited the UTM-Ericsson Innovation Centre for 5G to experience the enhanced mobile broadband, massive internet of things and ultra reliable low latency applications.
"5G is open for business, " remarked by Mr. Afrizal Abdul Rahim, Head of Consumer and Industry Research, Ericsson South East Asia, Oceania and India, in the sponsor's keynote. Globally, the telecommunication industry is gearing up to launch the commercial 5G service.
The event was officiated by the representative of MCMC Chairman, Dr. Ahmad Nasruddin 'Atiqullah Fakrullah, Director of MCMC Academy.
IEEE stands for Institute of Electrical and Electronics Engineers. It is an association dedicated to advancing innovation and technological excellence for the benefit of humanity, is the world's largest technical professional society.
It is designed to serve professionals involved in all aspects of the electrical, electronic, and computing fields and related areas of science and technology that underlie modern civilization. / Section of Corporate Affairs