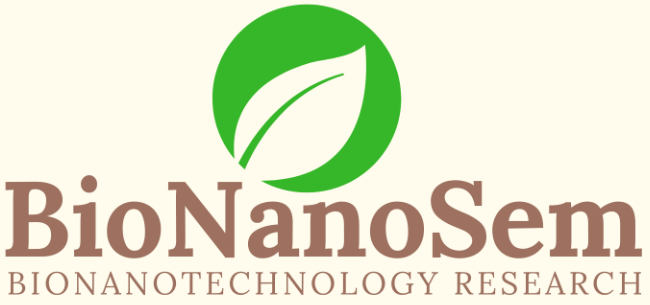 Fees
The fees are categorized according to the type of participation. 
| | |
| --- | --- |
| Categories | Fees (RM) |
| Oral Presentation | 200.00 |
| Video Presentation | 150.00 |
| Poster Presentation | 150.00 |
How to pay
All payments should be made payable to the following account:
Bank Account Name  : BENDAHARI UTM
Bank Name                  : CIMB Bank
Account Number        : 8006053536
Forms
Advisor
Assoc. Prof. Ts. ChM. Dr. Nik Ahmad Nizam Nik Malek
Chairman
Dr. Juan bin Matmin
Deputy Chairman (Technical & Program)
Dr. Farizal Kamaroddin
Deputy Chairman (Scientific)

Dr. Mohd Zul Hilmi bin Mayzan

Dr. Hanis binti Mohd Yusoff

Secretariat

Siti Nur Sakinah binti Ahmad

Nani Sazana binti Hamdan

Evayusni binti Mohd Yusuf

Noranizam bin Haji Demin

Executive Chairman
Muhammad Hariz Asraf bin Hassan
Executive Deputy Chairman
Atieya binti Abdul Hadi
Executive Committee

Siti Nabihan binti Ishak

ChM Shahrulnizahana binti Mohammad Din

Muhammad Redza bin Mohd Radzi

Ibrahirul Qamil bin Ismail

Faridah binti Aminullah Lubis
1st step: Download abstract and biography template here, and submit through registration form.
2nd step: Fill in Registration Form & Payment Form.
3rd step: Prepare presentation materials and submit to the committee.
4th step: Download manuscript template, and prepare the manuscript.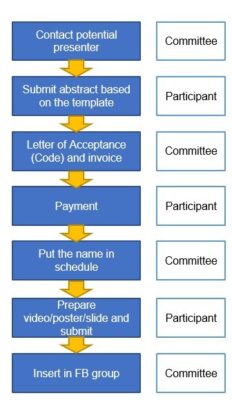 For further details, please click below:
Keynote Speaker 1
Dr. Juan bin Matmin (UTM)
Keynote Speaker 2
Dr. Mohd Zul Hilmi Mayzan (UTHM)
Keynote Speaker 3
Dr. Hanis Mohd Yusoff (UMT)
Keynote Speaker 4
Dr. Mohd Farizal Kamaroddin (UTM)
Keynote Speaker 5
Dr. Nur Fatiha Ghazalli (USM)
Keynote Speaker 6
Assoc. Prof. Ts. ChM. Dr. Nik Ahmad Nizam Nik Malek (UTM)
Invited Speaker 1
Assoc. Prof. Dr. Mohd Arif Agam (UTHM)
Invited Speaker 2
Dr. Mohd Lokman Ibrahim (UiTM)
Invited Speaker 3
Dr. Fazira Ilyana Abdul Razak (UTM)
Invited Speaker 4
Dr. Mohamad Shazwan Shah Jamil (UTM)
B21-OP1
Muhammad Redza Mohd Radzi (UTM)
B21-OP2
Siti Aisyah Rosli (UTHM)
B21-OP3
Muhammad Irfan Amiruddin (UiTM)
B21-OP4
Atieya Abd Hadi (UTM)
B21-OP5
Salma Izati Sinar Mashuri (UiTM)
Presentation during the seminar

10 mins: Presentation

5 mins: Q&A

English

There will be rubric for the

BEST ORAL PRESENTATION AWARD
B21-VP1
Manali Haniti Mohd Zahid (USM)
B21-VP2
Ts. ChM. Dr. Nor Suriani Sani (UTM)
B21-VP3
Mimi Suraya Mahadi(UTHM)
B21-VP4
Syed Asim Hussain Shah (UTHM)
B21-VP5
Nabill Afiff Abdul Samad (UTM)
Similar to Oral Presentation

Duration: Less than 10 mins

Video slide powerpoint

High quality of the video

Save to MPEG

Example here:

How to make a video from ppt
There will be rubric for the BEST VIDEO PRESENTATION AWARD
B21-PP1
Siti Aisyah Nadirah Ja'apar (IIUM)
B21-PP2
ChM. Shahrulnizahana Mohammad Din (UTM)
B21-PP3
Nur Zafirah Mohd. Izham (UMT)
B21-PP4
Siti Nur Sakinah Ahmad (UTM)
B21-PP5
Dr. Corriena Abdul Talib (UTM)
Prepare high quality of poster

Up to your creativity but follow the general format here

 

There will be rubric for the

BEST POSTER AWARD
Journal Publication
Papers submitted to our seminar will have an opportunity to be published in our journal, Journal  of Materials in Life Sciences (JOMALISC)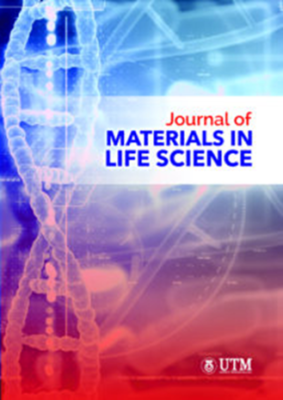 Award
Best oral presentation

Best poster

Best video oral presentation

Best project output (Oral)

Best project output (Poster)

Best project output (Video)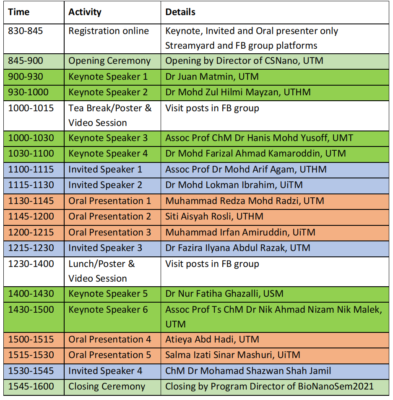 Details information
For further information, please contact the Secretariat at : csnano@utm.my
Alternatively, you may contact :
Dr. Juan bin Matmin (juanmatmin@utm.my)
Assoc. Prof Dr. Nik Ahmad Nizam bin Nik Malek (niknizam@utm.my)