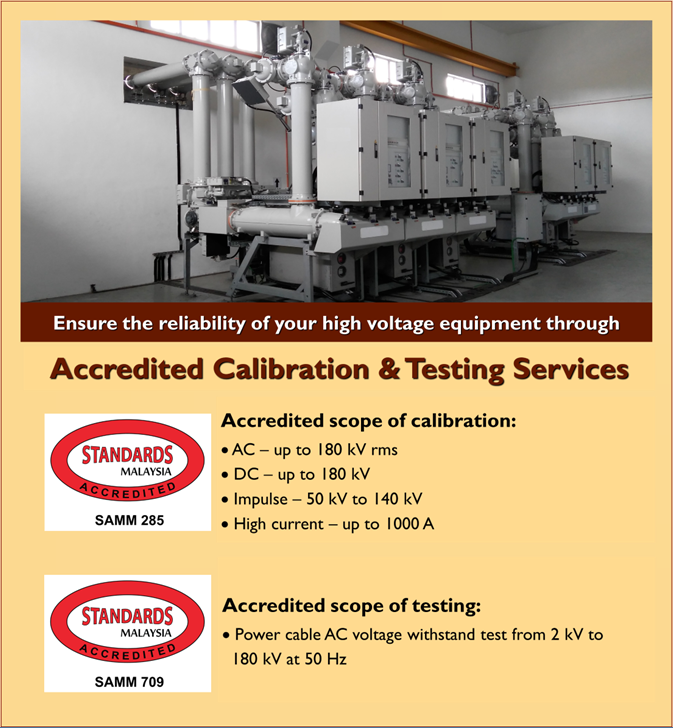 Quality Policy Statement of IVAT's Calibration Laboratory (SAMM 709)
IVAT shall maintain and continuously improve a Quality Management System to assure the quality of the testing results.
IVAT is committed to world class practices of quality in high voltage testing services.
IVAT is committed to provide customers with world class standard of services.
IVAT is committed to implement MS ISO/IEC 17025:2017 principles in its testing activities.
IVAT's management is committed to comply with the MS ISO/IEC 17025:2017 and to continually improve the effectiveness of the management system.
IVAT will assure all personnel who are involved with testing services are familiar with the quality documentation and implement all policies and procedures in their works.
IVAT does not provide any statement of conformity in its testing reports.
IVAT is committed to impartiality for its laboratory's activities and continuously assure the protection of customer's confidential information and propriety rights.
 Contact Person:
Ts. Dr.

Mohd Hafizi Ahmad


Quality Manager (Testing)

Email: mohdhafizi@utm.my

Tel: +60 7 553 5615

Norhidayu

Bakrin
Assistant Administrator

Email: hidayu@utm.my

Tel: +60 7 553 5615
Please fill in the Testing Request Form and email or fax to Ms. Norhidayu Bakrin.
Email: hidayu@utm.my
Link for Testing Request Form: High Voltage Testing Request Form (QF (T) – IVAT – 01)