Authored by: Shafishuhaza Sahlan, Yeong Che Fai
The beginning determines the end. How a researcher starts his/her journey on the expertise they covet, determines the expert he/she becomes. That is how CAIRO UTM's next researcher experienced when embarking on the path towards becoming a field expert. Meet CAIRO UTM's own computer vision expert, Associate Professor Ts. Dr. Mohd Ibrahim Shapiai @ Abdul Razak. This article will reveal Dr Ibrahim's tumultuous journey on being a NVIDIA ambassador, representing Universiti Teknologi Malaysia in the global level.
Dr Ibrahim Shapiai has had a colorful PhD journey. His involvement in an industrial project initiated with a collaboration between UTM and Intel Malaysia on 'Supervised Learning Utilizing Artificial Intelligent (AI)'. Dr Ibrahim had his first encounter on CAIRO UTM when the supervisory role was taken over by the late Almarhum Prof Marzuki Khalid, the founder of CAIRO UTM himself. Following the passing of Almarhum Prof Marzuki, Dr Ibrahim found himself under the supervision of Prof Datin Dr Rubiyah Yusof, then the Director of CAIRO UTM. The industrial collaboration with Intel Malaysia which involved a small data set problem, was a demanding research project which required weekly technical meetings with Intel Malaysia and Intel USA, for updates and any amendment to the project. It was during this project that Dr Ibrahim dealt with the constant demand and expectations from the industry in solving their numerous industrial problems related to AI. A challenging experience, Dr Ibrahim endured the persistent demand of the industry and successfully completed and delivered the project within two years. Which then came the next challenge of his PhD, i.e. to translate these outcomes into an academic dissertation, which is not easy as pie, while abiding with the Non-Disclosure Agreement (NDA) with Intel. However, Dr Ibrahim persevered and was awarded with a PhD degree a year later, in 2013 from Universiti Teknologi Malaysia. Kudos Dr Ibrahim!
The experience with Intel has made Dr Ibrahim more acutely aware of the powerful applications of deep learning algorithms. His initial step of building his research network was by attending a conference in Gajah Mada in Indonesia on Artificial Intelligence applications. There, he engaged himself with a research project there which was involved in convolution neural networks (CNN), a similar deep learning algorithm utilized during his project with Intel Malaysia. Eager to discover more, he found himself owning an RTX, a high-end professional visual computing platform by NVIDIA, and that was when everything fell into place. Dr Ibrahim knew then what he had to do. Dr Ibrahim then focused his research interest more on NVIDIA GTX and vision in 2017. Acknowledging his interest, CAIRO UTM put him in charge of the computer visualization projects in the Malaysia-Japan International Institute of Technology (MJIIT) in UTM KL, utilizing one of the top current graphic cards. This acknowledgment from CAIRO UTM has brought him directly to the coveted networking with NVIDIA, when their representatives visited MJIIT for that particular project. It was during this crucial meeting that Dr Ibrahim made an impression on NVIDIA, which led to a 200K-worth industrial research grant, a start of many collaborations between CAIRO UTM and NVIDIA.
Dr Ibrahim did not stop there. His involvement with NVIDIA has linked him with the NVIDIA ASEAN community in 2018, giving him access to the silicon valley, a global center for high technology and innovation. In the same year, followed by a stringent interview from the silicon valley, Dr Ibrahim was endorsed by NVIDIA as their ambassador. Meanwhile, in 2019, as icing on the cake, when NVIDIA hosted a Deep Learning Institute (DLI) session in Silicon Valley, USA, Dr Ibrahim was courteously invited as the technical assistant. From then on, the recognition from NVIDIA has led Dr Ibrahim to be involved with numerous industrial projects. With each involvement on NVIDIA's powerful global industrial linkages, Dr Ibrahim was constantly introduced as an NVIDIA technical expert. Not surprisingly, this led to Dr Ibrahim securing over RM 1.01 million of industrial grants, to date.
In addition to the industrial grants secured, Dr Ibrahim was also the principal researcher to several significant government-funded grants. Among others, in a KPT-funded MyLAB project entitled 'Defect Inspection Using Deep Learning Computer Vision for Software as a Service (SaaS)', Dr Ibrahim was granted an amount of RM1.04 million, for a duration of two years (2019-2021). The project revolved around developing an AI-Deep Learning for Semiconductor Defect Inspection on Secured environment for semiconductor Industry, under Semiconductor Fabrication Association of Malaysia (SFAM). In the project, Dr Ibrahim collaborated with Kolej Universiti Islam Antarabangsa Selangor (KUIS) as well as Universiti Malaysia Pahang (UniMAP). The pilot project for this development began in 2018 for one of the Germany Foundries, and the successful outcome offered an opportunity to work with other semiconductor fab under SFAM. Currently, the developed inspection system is based on computer vision for three semiconductor companies.
Following the MyLAB project, another significant government-funded grant secured gave Dr Ibrahim the opportunity to work with TNB Malaysia. The project, entitled "Development of Artificial Intelligent (AI) Inspection System on Thermography Images for 33kV switchgears", is aimed to develop an AI Inspection system for automated analysis which covers the analysis of the optical and thermal image in recognizing hotspot patterns. The research was completed in less than one year (14/10/2020 – 15/06/2021) which amounted to RM170K. All in all, as a principal investigator, Dr Ibrahim has been awarded a total of RM 2.53 million worth of research grants since 2009. Check this link for more info https://people.utm.my/ibrahim/project/.
On top of being an avid researcher, Dr Ibrahim prides himself as an NVIDIA DLI trainer and ambassador. The opportunity allowed Dr Ibrahim to train and meet individuals from various industries, which include Deloitte to power industry, among others. Passionate on being a trainer, Dr Ibrahim accepted a trainer position in 2018 for Malaysian Global Innovation and Creativity Center (MAGIC) Cyberjaya, on AI and computer vision. Since then, Dr Ibrahim has been their consultant. Dr Ibrahim's most recent consultation with MAGIC has provided him with the opportunity to develop an AI Inspection system for automated analysis for MAGIC, covering the analysis of optical and thermal image in recognizing hotspot patterns. Although Dr Ibrahim was given only eight months prior to production, Dr Ibrahim successfully delivered the project, anticipating more opportunities coming his way, for the next stage of development, related to AI computer vision.
The tumultuous path Dr Ibrahim took throughout his journey thus far, although met with several obstacles, has brought him to exactly where he envisioned himself to be. Perseverance and hard work are the main ingredients, with an abundance of focus with a side of modesty. The route is not yet terminal, yet expected to be more treacherous than ever. However, we truly believe that Dr Ibrahim is more than ready to face these challenges, and excel beyond anyone's expectations. All the best, Dr Ibrahim!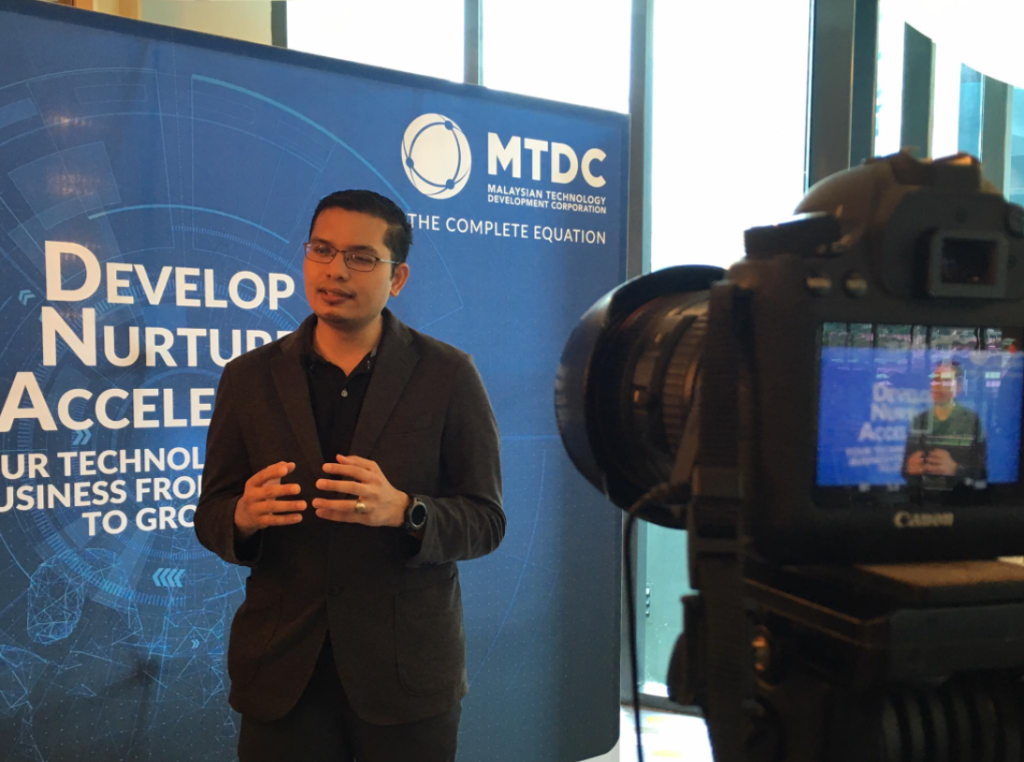 More about CAIRO UTM:
CAIRO UTM (Centre for Artificial Intelligence & Robotics) is one of the leading Centres of Excellence in Malaysia focusing on Artificial Intelligence, Robotics, Control and Automation. Established in 1997, CAIRO UTM has produced numerous talents and significant research outcomes on AI & Robotics. In 2018, CAIRO UTM was awarded as one of the Competence Centre by the Ministry of International Trade and Industry MITI. UTM has strong linkages and networking with academic institutions, government sectors and industrial sectors, on national and international level.