JOHOR BAHRU, 28 May 2022 – A team of undergraduate student from School of Electrical Engineering (SEE) has won the grand prize and best presenter award at The Great Lab Grand Design Challenge 2022.
The Great Lab Grand Design Challenge 2022 is a competition organised by Collaborative Research in Engineering, Science and Technology (CREST), that aims to encourage students to understand challenges in the industry and community, innovating ideas into workable solutions and convincing industry judges that could potentially be your partners, investors or even employers.
The competition began virtually in early May 2022, where 19 teams were shortlisted in the preliminary rounds from the CREST-Malaya Makerthon, TGL Summer Workshop and direct registration. Following that, the shortlisted participants were reduced to five teams in the semi finale, which was held on the 20th May, and finally, the finale, held on the 28th May saw the teams from Universiti Teknologi Malaysia won majority of the awards.
The winning team of the Great Lab Grand Design Challenge 2022 won the judges over with their product called "AGROBOT", an omnidirectional autonomous ARV for plant health monitoring. An Arm Robotic Vehicle, equipped with an AI-driven machine vision system wowed the judges, which landed them the coveted award. To help detect plant diseases in their early stages, the winning product utilizes Normalized Difference Vegetation (NDVI) technique. In addition, to assist farmers on overviewing the state of their farm, the product also comes with an online dashboard. On top of it all, AGROBOT aims to lessen farmers' workload in ensuring crop security, and thus ensuring high crop yield. With this product, the team aims to bring agriculture in Malaysia along on the Industrial Revolution 4.0 ride.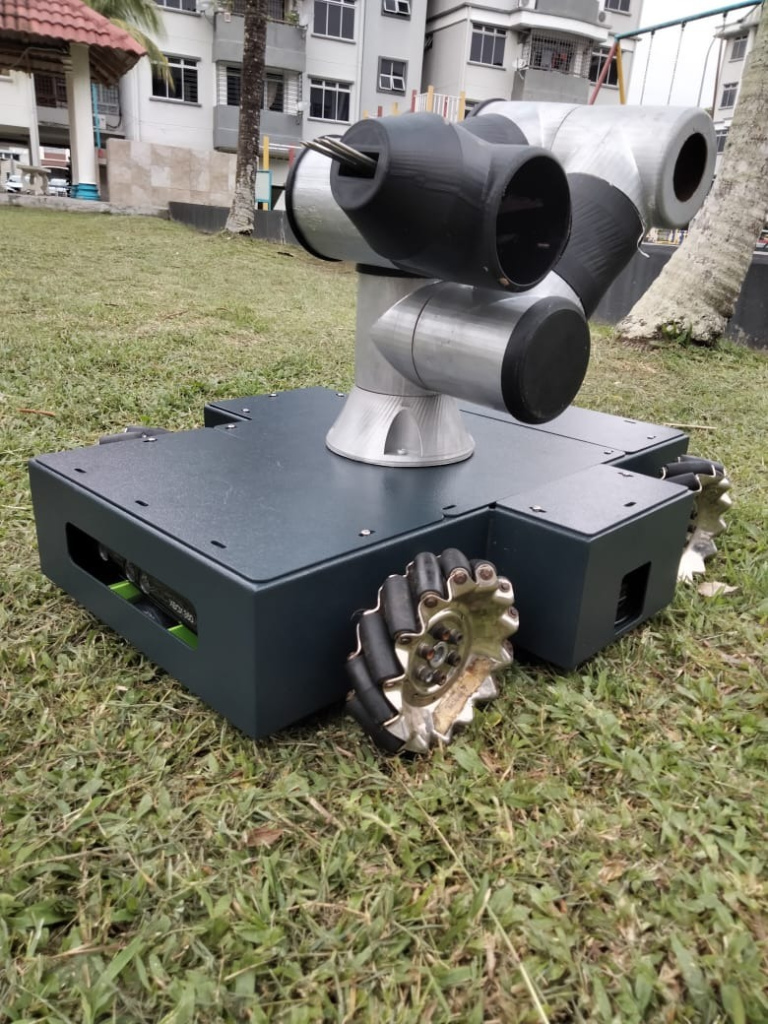 The team comprised of three SKE students, Ng Jia Sheng, Chobnaa Kanaseelanayagam and Anas Amer with Associate Professor Dr Yeong Che Fai (CAIRO UTM) as the team's advisor. The project leader, Ng Jia Sheng also won the best presenter award in this competition.
In completing the project, the team collaborated with PasarKita, a technology company supporting urban gardeners. The team was also supported by UTM Robocon, TSH Contact Manufacturing Sdn Bhd and Finetech Precision Sdn Bhd as patrons.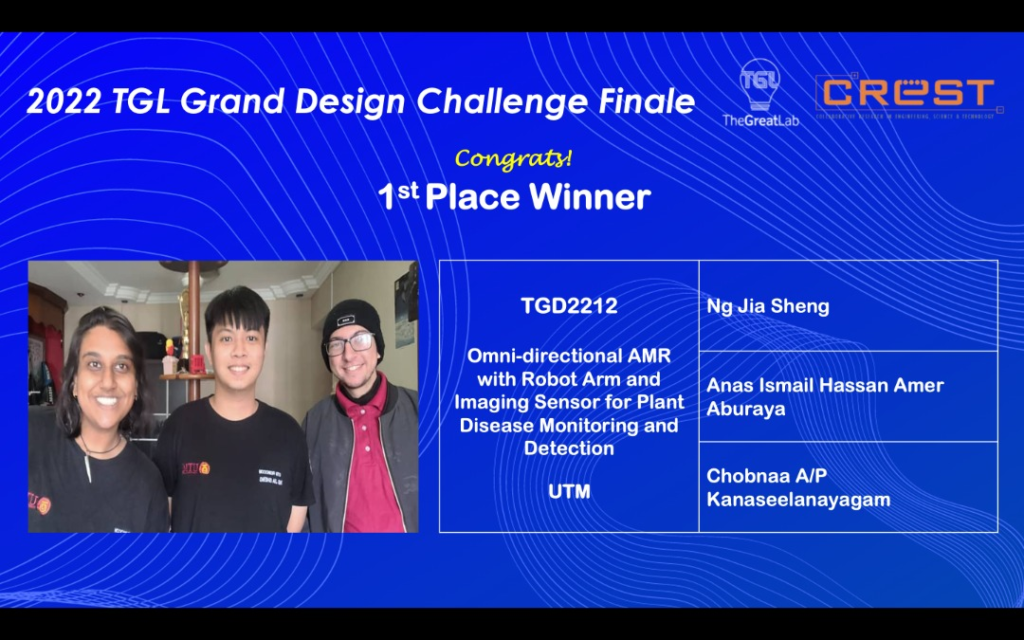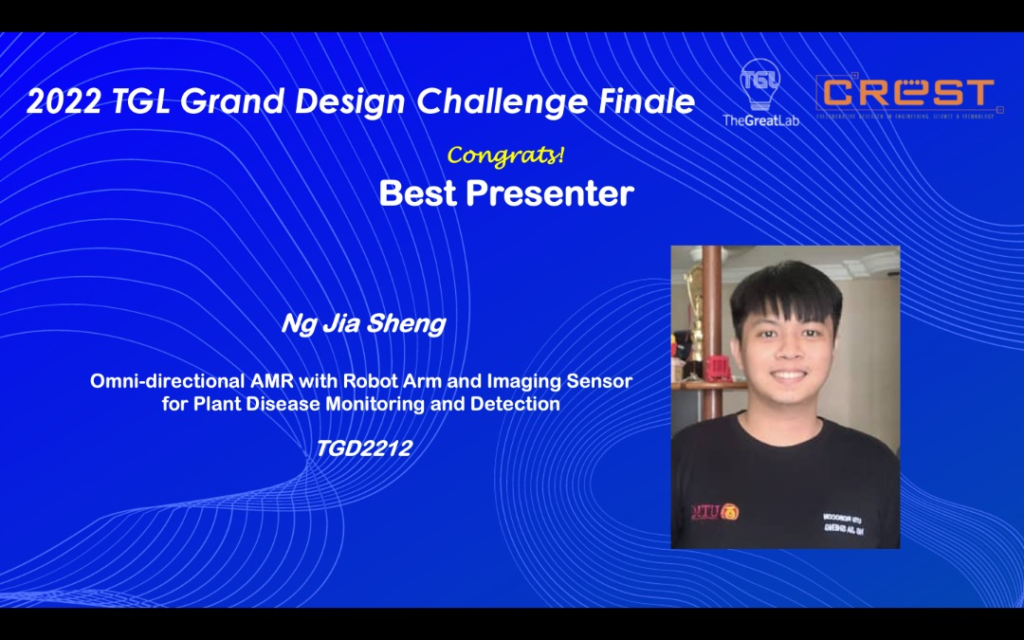 Another team from UTM also won the 3rd place with their product "Future Mobility Solution of Green Logistics". The team comprises of five students from School of Computing. They are Khor Hui Jing, Wong Xiang Yi, Kwek Yu Chen, Wong Yit Khee and Lim Xin Ying with Dr. Hang See Pheng and Dr. Chan Weng Howe as the team supervisor. The Best Video Award also goes to a team from UTM with their product "Forest Garden Planner". They comprise of students from SEE and School of Chemical and Energy Engineering (SCEE). They are Teoh Sun Yi, Wong Sui Jing and Wong Rui Fang with Dr. Nicole Leong Hong Yeng as the supervisor.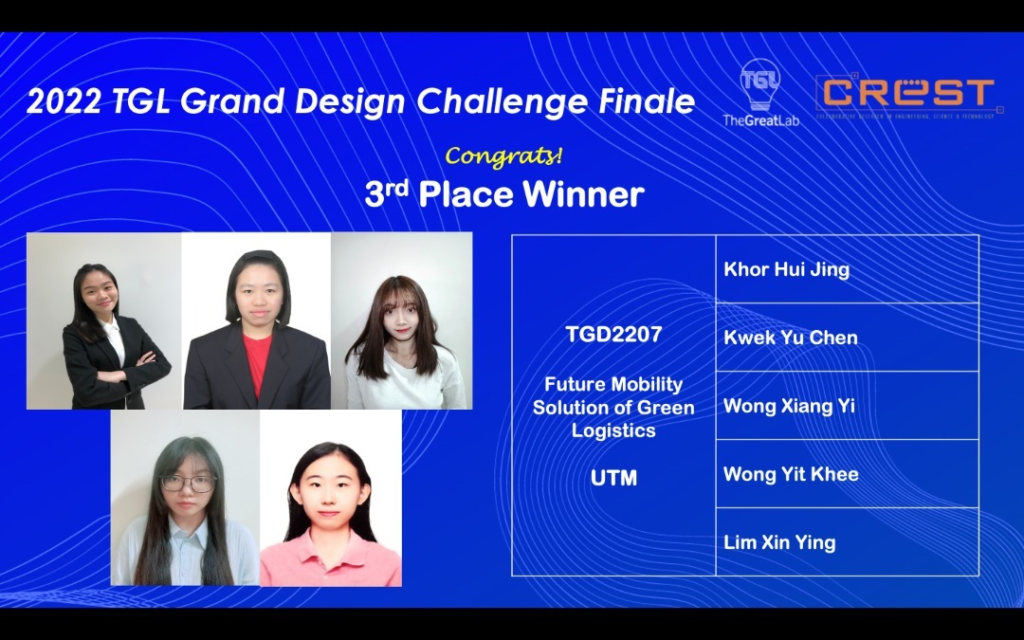 Congratulations again to the winning teams of The Great Lab Grand Design Challenge 2022. Hopefully the win will serve as an aspiration for other UTM students to never stop believing in themselves to achieve greatness during their studies. Kudos!
More about CAIRO UTM:
CAIRO UTM (Centre for Artificial Intelligence & Robotics) is one of the leading Centres of Excellence in Malaysia focusing on Artificial Intelligence, Robotics, Control and Automation. Established in 1997, CAIRO UTM has produced numerous talents and significant research outcomes on AI & Robotics. In 2018, CAIRO UTM was awarded as one of the Competence Centre by the Ministry of International Trade and Industry MITI. UTM has strong linkages and networking with academic institutions, government sectors and industrial sectors, on national and international level.