​7th Conference on Emerging Energy & Process Technology 2018
Thistle Hotel, Johor Bahru, MALAYSIA. | 27th – 28th November 2018
---
Invitation to the 7th Conference on Emerging Energy and Process Technology (CONCEPT 7 – 2018), 27-28 November 2018, Thistle Hotel, Johor Bahru, MALAYSIA.
---
Dear All,
You are cordially invited to submit your full paper(s) to the 7th Conference on Emerging Energy and Process Technology (CONCEPT 2018), 27-28 November 2018, Johor Bahru, Malaysia. The conference, which is held annually, provides a great platform for researchers, industrial players and policy makers in the region to share our latest findings, interests and concerns related to issues on energy, process technology and sustainable process development and operation.
We are calling for full paper submission of 6 pages only. The full papers will be peer-reviewed. Papers presented (oral or poster presentations) in the CONCEPT 2018 being considered for publications in the Scopus-indexed proceedings & non-indexed Journal of Energy and Safety Technology (JEST). Maximum 2 articles of the same first authors published in the proceedings. Additional publication fees (RM 350) will be charged to the second article.
Let us know should you have any inquiries regarding the conference event. We appreciate if you could disseminate CONCEPT 7 announcement to your contacts
Thank you!
Institute of Future Energy (IFE)
Tel: +607-5535809
Email: concept2018@utm.my
CONFERENCE OBJECTIVE
To bring together post-graduate students, researchers, academicians, relevant industrial players and government and private agencies to share their latest research interests and confer on the state-of-the-art and future development in the areas of sustainable energy and process technology.
PAPER SUBMISSION
Papers must be formatted according to the instructions in the Template for full papers CONCEPT 2018
Please read the template carefully. The template has instruction and details for writing the paper. You are recommended to submit the papers following the template of proceedings. Submit the paper now!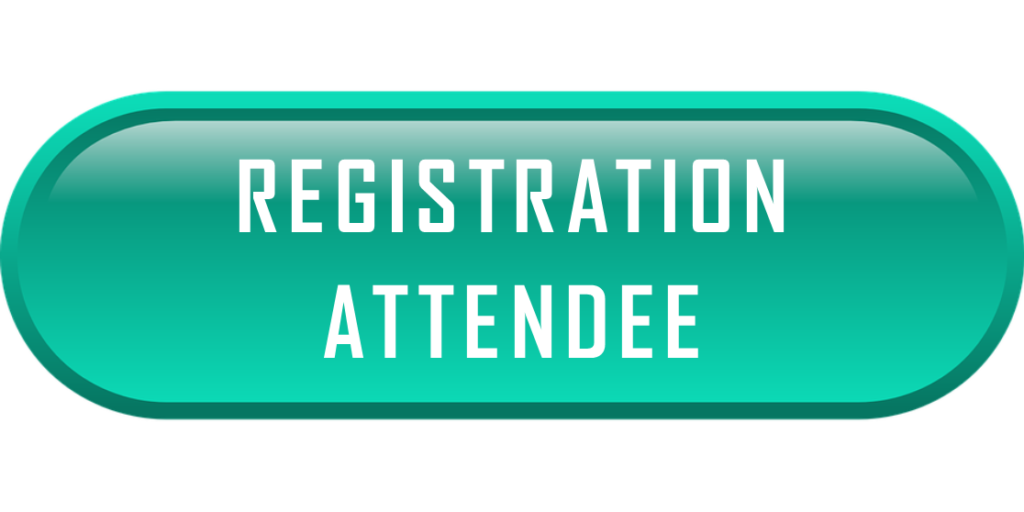 CONFERENCE ANNOUNCEMENT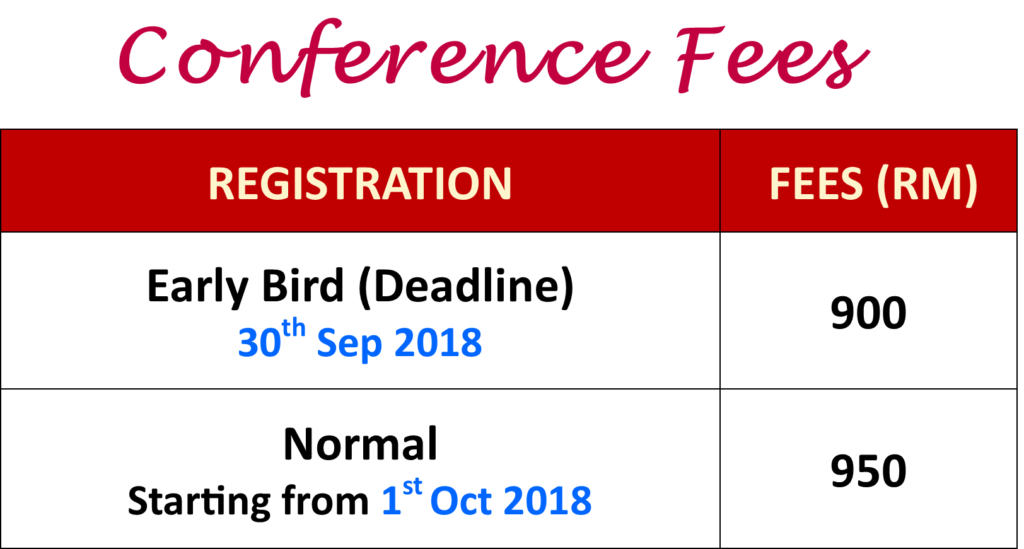 CONFERENCE THEMES



SUSTAINABLE ENERGY

PROCESS SYSTEM

SAFETY

Frontier Materials
Green Chemistry
Environmental Protection
Renewable Energy
Alternative Energy

Sustainable Process Operation
Power System
Process System Engineering

Industrial Hygiene
Occupational Safety and Health
Process Safety & Loss Prevention
Human Factors
CONFERENCE SCHEDULE
CONCEPT 7 SCHEDULE
CONFERENCE BROCHURE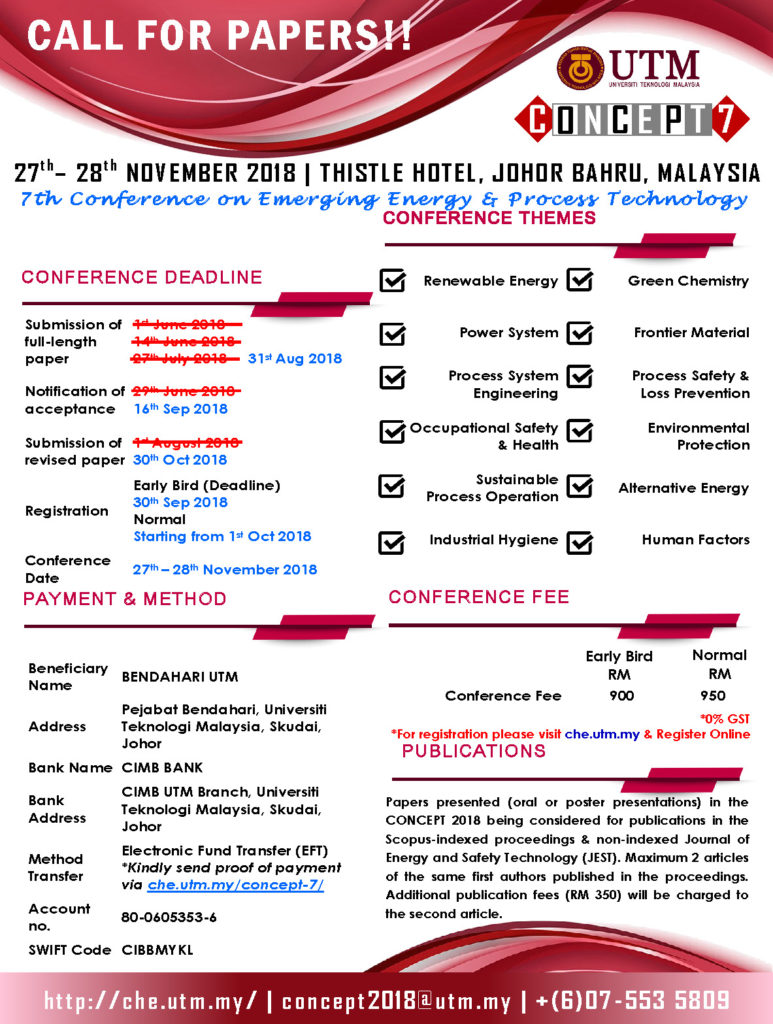 REGISTRATION

&

PAYMENT
Payment Method
Do not send any " CASH" to the secretariat.
The fees are not refundable.
Make a payment of your fees using:
Electronic Fund Transfer, Cash/Cheque Deposit and/or Bank Draft" to :
| | |
| --- | --- |
| Beneficiary Name | BENDAHARI UTM |
| Address | Pejabat Bendahari, Universiti Teknologi Malaysia, Skudai, Johor |
| Bank Name | CIMB BANK |
| Bank Address | CIMB UTM Branch, Universiti Teknologi Malaysia, Skudai, Johor |
| Method Transfer | Electronic Fund Transfer (EFT) |
| Account no. | 80-0605353-6 |
| SWIFT Code | CIBBMYKL |
PRESENTATION GUIDELINES
ORAL PRESENTATION
The time allocated for your presentation is as follows. We would really appreciate if you could adhere strictly to the time allocated.
Keynote Speaker
20-minute presentation and 10-minute Q&A session.
For the Oral Presentation
Laptop (Windows) and Projector will be prepared. Authors need to prepare their presentation as follows
Presentation time: 15 minutes (15 minutes for presentation, 5 minutes for Q & A)
Presentation material: PowerPoint file format (.ppt), (MS office PowerPoint format is recommended)
An LCD projector (using Microsoft Powerpoint 2010/XP/2000/98) will be provided to facilitate your presentation.
GALLERY
more photo at: https://photos.app.goo.gl/U5vMhd6KxMW6ioKVA