​6th Conference on Emerging Energy & Process Technology 2017
Double Tree by Hilton Hotel, Johor Bahru, MALAYSIA. | 27th – 28th November 2017
---
Invitation to the 6th Conference on Emerging Energy and Process Technology (CONCEPT 2017), 27-28 November 2017, Double Tree by Hilton Hotel, Johor Bahru, MALAYSIA.
---
Dear All,
You are cordially invited to submit your abstract(s) to the 6th Conference on Emerging Energy and Process Technology (CONCEPT 2017), 27-28 November 2017, Double Tree by Hilton Hotel, Johor Bahru, MALAYSIA. The conference, which is held annually, provides a great platform for researchers, industrial players and policy makers in the region to share our latest findings, interests and concerns related to issues on energy, process technology and sustainable process development and operation.
We are calling for abstract submission of not more than 500 words. Selected papers will be recommended for publication in the Clean Technologies and Environmental Policies (CTEP) (Springer – IF: 3.33), Process Safety and Environmental Protection (PSEP) journal (Elsevier – IF: 2.905), Process Integration and Optimization for Sustainability (by Springer) and Journal of Energy and Safety Technology (JEST) (non-indexed journal).
Kindly let us know should you have any inquiries regarding the conference event. We also would appreciate it so much if you could help to disseminate this 'call-for-abstract' announcement to your contacts.
See you in Johor Bahru in November 2017!
Thank you!
Institute of Future Energy (IFE)
Centre of Hydrogen Energy (CHE)
Level 2, Block N29, Universiti Teknologi Malaysia
81310 UTM Johor Bahru, Johor
Malaysia.
Tel: +607-5535809 (formerly contact number +607-5535868)
CONFERENCE ANNOUNCEMENT

Dear Participant,
Below are parking rate charge by hotel.
For any further info kindly contact CONCEPT 2017 secretariat or visit hotel webpage
Thank you.

REGISTRATION, PAYMENT & PAPER SUBMISSION


| | |
| --- | --- |
| for proof of payment form | for Exhibition Booth Registration |
| | |
| for Extended Abstract submission | for Full Paper submission |
| | |
INTRODUCTION


This year, once again, the Centre of Hydrogen Energy (CHE) of the Institute of Future Energy (IFE), Universiti Teknologi Malaysia (UTM) is organizing the 6h Conference on Emerging Energy and Process Technology (CONCEPT 2017). The conference will be held 27-28 November 2017 in Johor Bahru.
OBJECTIVE OF THE CONFERENCE

To bring together post-graduate students, researchers, academicians, relevant industrial players and government and private agencies to share their latest research interests and confer on the state-of-the-art and future development in the areas of sustainable energy and process technology.
CONFERENCE THEMES

Renewable Energy

Green Chemistry

Occupational Safety and Health

Environmental protection

Sustainable process operation

Frontier Material

Power system

Process Safety and Industrial Hygiene

Process System Engineering
CONFERENCE SCHEDULE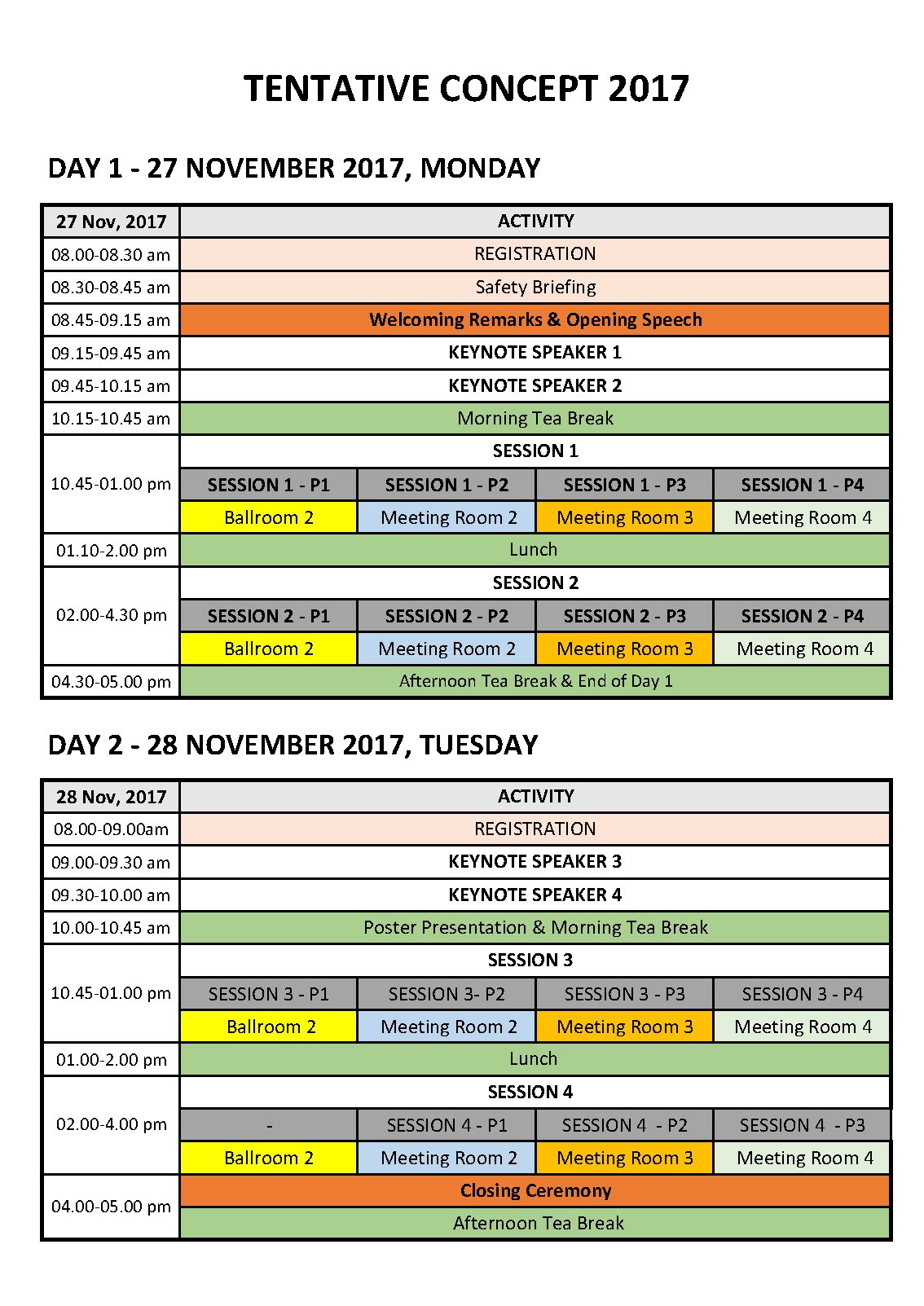 CONFERENCE BROCHURE

TEMPLATE EXTENDED ABSTRACT

CONCEPT 2017 – EXTENDED ABSTRACT TEMPLATE
PRESENTATION GUIDELINES


ORAL PRESENTATION
The time allocated for your presentation is as follows. We would really appreciate if you could adhere strictly to the time allocated.
Keynote Speaker
20-minute presentation and 5-minute Q&A session.
For the Oral Presentation
Laptop (Windows) and Projector will be prepared. Authors need to prepare their presentation as follows
Presentation time: 15 minutes (15 minutes for presentation, 5 minutes for end of session Q & A)
Presentation material: PowerPoint file format (.ppt), (MS office PowerPoint format is recommended)
An LCD projector (using Microsoft Powerpoint 2010/XP/2000/98) will be provided to facilitate your presentation.
For the Poster Presentation
The poster type will be BUNTING with size of 2.5 ft × 6.5 ft equipped with roller (diameter – 2cm), suggested material is canvas. Authors need to prepare their presentation as follows
Guideline to prepare poster

Prepare slide in Publisher,Project or Photoshop with page set up size of

width : 2.5'
height: 6.5'

Save slide as JPEG format.
Ready to print
Please do not forget to ask the printing company to provide the roller to your bunting

All poster presenters are requested to be at their poster panels for discussion with participants during the poster presentation time
IMPORTANT DATES

Abstract Deadline: 31st August 2017
Extended Abstract Deadline: 15th October 2017
Acceptance Notification: 15th September 2017
Registration Deadline: Early Bird | 30th September 2017 *** Regular/ Normal | 15th October 2017
Conference Date: 27– 28 November 2017
CONFERENCE FEES

Early Bird: RM600
Normal: RM 660
*All price are included GST
PAYMENT

Payment Method
Do not send any " CASH" to the secretariat.
The fees are not refundable.
Kindly send proof of payment to concept2017@utm.my
Make a payment of your fees using:
Electronic Fund Transfer, Cash/Cheque Deposit and/or Bank Draft" to :
| | |
| --- | --- |
| Beneficiary Name | BENDAHARI UTM |
| Address | Pejabat Bendahari, Universiti Teknologi Malaysia, Skudai, Johor |
| Bank Name | CIMB BANK |
| Bank Address | CIMB UTM Branch, Universiti Teknologi Malaysia, Skudai, Johor |
| Method Transfer | Electronic Fund Transfer (EFT) |
| Account no. | 80-0605353-6 |
| SWIFT Code | CIBBMYKL |
EXHIBITION (Business Product & Services)




Training and development of HIRARC / Risk Management with the application of Bowtie method and development of HSE cases applying the Hazard and Effects Management Process (HEMP).
Training and Development of Incident Investigation report with the application of Tripod Beta Analysis for companies and public for legal proceedings.
Local support for BowtieXP, Investigator 3 and Blackbox application software.
Professional service in the consultancy and development of Integrated Management System (ISO 9001, ISO 14001 & OHSAS 18001)
Our team members comprised of industry safety experts and we are local partner to CGE Risk Management Solutions from The Netherlands and our Investigators are accredited by Energy Institute UK.
Among Our Clients


---
Contact us

Lot 3.33 Tingkat 2,

Medan MARA, Jalan Raja Laut,

50350 Kuala Lumpur

Tel: 03- 2602 3690

Fax: 03-2602 2690

K 8133 / D2 Tingkat 1,

Bangunan MPK Kerteh

24300 Kemaman Terengganu

Tel / Fax : 09-826 4537

admin@khalilsafety.com

About Company
MIHA (Malaysian Industrial Hygiene Association) is non-profit professional organization founded in May 2003. It is amongst the pioneer of its kind in South East Asia. With more than 100 members within its first year, it is successfully serving the needs of its members in promoting the field of Industrial Hygiene, providing education and training, forums for the exchange of ideas and information plus representing the interests of Industrial Hygienists and those they provide service for. MIHA is also an affiliate member of the International Occupational Hygiene Association (IOHA) in pursuit of international recognition and standing.
Currently, MIHA members comprise of full, associate, organizational and student members with a good mix of experience and expertise. They are among the pioneers in Industrial Hygiene in Malaysia and are a much valued resource. These include:
Certified Industrial Hygienists
Industrial Hygienists
Local legislative representatives
Safety & Health Officers
Industrial hygiene & safety practitioner
Engineer
Chemist
Environment Scientist
Independent Organization
Local institution student
Mission & Strategic Objectives
Strengthen MIHA operation through structured organization & resource optimization
Enhance the IH knowledge through training, technical conferences and other platforms of sharing, interchanging and dissemination
Promote the IH profession through professional certification, recognition and collaboration with governmental, industrial, educational and other professional bodies
Continue to add value to MIHA stakeholders through structured engagement and communication program
Education Training & Development Courses
Signature Courses
PPE
IAQ
FIH
CIH
IH Knowledge Café
Advanced Courses
Noise
Ventilation
Ergonomics
Lab Design Workshop
Conferences
NIHS 2005
NIHS 2007
NIHC 2010
IOHA 2012
AIHA MIHA 2014
MIHA ICE 2016
---
Contact us
Company Name: Malaysian Industrial Hygiene Association
Address: No. 19A, 1st Floor, Jalan 2/14, Bandar Baru Selayang, 68100 Batu Caves, Selangor.
Contact Person: Suhaini Abdul Satar / Natasha Aziz
Tel No.: 03-6135 2990 / 019-331 2173
Fax No.: 03-6136 2990
Email: admin@miha2u.org
Website: www.miha2u.org

Company description
Selecting natural isn't a trend, it's a way of our life. Every of our products you will experience on this is toxin-free and 100% natural, which is no fluff, no parabens, No Sulphates, no synthetics and never tested on animals. That way there is no guesswork 'and you will shop with the freedom of knowing that everything we make is safe and good for you. Throughout the years, we have developed various ready to market our formulations based on our products.
Services/product provided:
We provide sereral natural products, such as:
GoatMilk, Oat & Honey Soap
Olive Soap
100% Olive Soap
Charcoal facial Soap
Rose ClaySoap
Beautiful Skin Balm
Natural Lip balm
Chest Rub

---
Contact us
Assoc. Prof Dr. Huda Abdullah
Faculty of Engineering and Build Environment
Universiti Kebangsaan Malaysia
Tel : 011 1052 8452
Email: huda_abdullah@yahoo.com
Intagram: Dr. Da's Beauty

NATUREL KISS is a new amazing cosmetics brand for women who desire beauty without concerns on the contents. It is all start with our 100% natural lip moisturizer. They are made from 100% plant-based ingredients and pure colour extract from roselle. It is all what your lips need – a natural product. The R&D team ensure that all ranges of product are NON-TOXIC. Our brand represents premium, exclusive and safe to use cosmetics, innovated from NATUREL KISS R&D laboratory located in Universiti Teknologi Malaysia, UTM. Thus, NATUREL KISS provide the best solutions to all women who in need of natural beauty and safe products. Kiss your beloved ones with NATUREL KISS.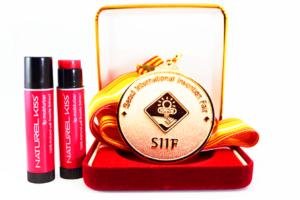 ---
Contact us
You may reach us :
Hotline : +6019-9009677
Email : info@naturelkiss.com
Address : No. 44, Jalan Pulai Ria 2,
Bandar Baru Kangkar Pulai,
81300 Skudai, Johor,
Malaysia.
PHOTO GALLERY