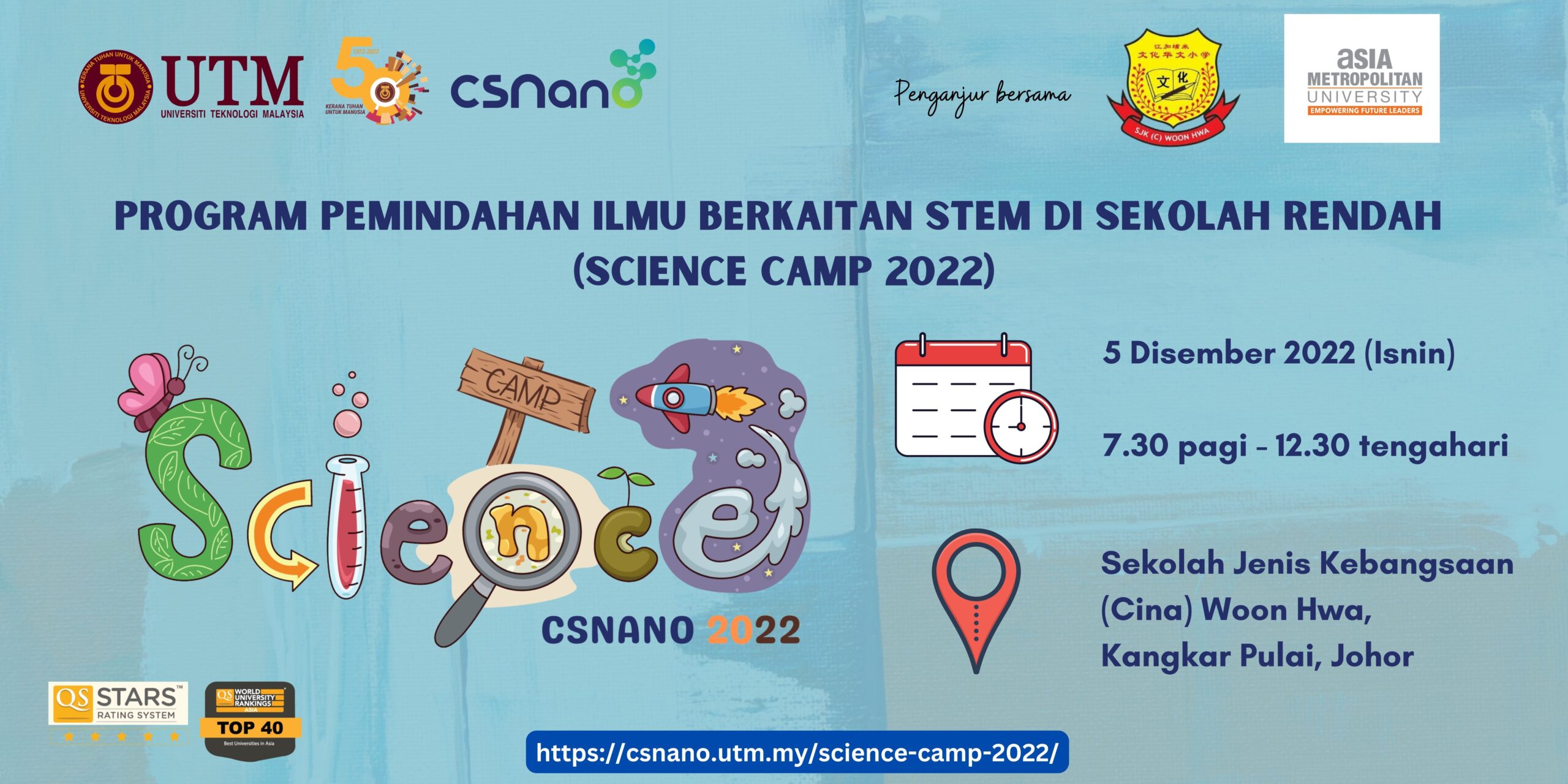 Science Camp 2022 had been jointly organized by Centre for Sustainable Nanomaterials (CSNano), Universiti Teknologi Malaysia (UTM), Asia Metropolitan University and Sekolah Jenis Kebangsaan (C) Woon Hwa, Kangkar Pulai on 5th December 2022 (Tuesday) from 7.30 am till 12.30 pm.
This program was officiated by Puan Hajah Zaidah binti Mohamad Yusof from Pejabat Pendidikan Daerah (PPD)Kulai. Science Camp 2022 was part of the corporate social responsibility (CSR) by CSNano to emphasize the importance and beauty of science to standard 6 school students and to cultivate their interest in learning science.
This event was led by Assoc. Prof. ChM. Dr. Lee Siew Ling and executed by the university committee comprised CSNano academic and supporting staff, Faculty of Science (FS) academic staff, postgraduate and undergraduate students from the FS, UTM, as well as science teachers from Jenis Kebangsaan (C) Woon Hwa.
Private companies including Bashob Analytical PLT, Santa Industry Supply, NS Field Sdn. Bhd., Southernlass, Hydroemissions (My) Sdn. Bhd. and Tunas Pelangi Sdn. Bhd. were the sponsors of the program.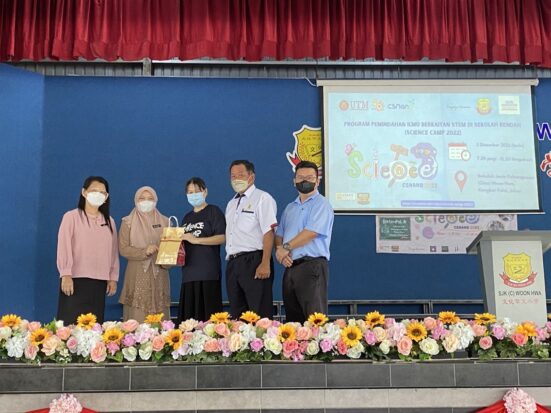 UTM Program Director giving token of appreciation to PPD Kulai
The involved UTM committee were Assoc. Prof. Ts. ChM. Dr. Nik Ahmad Nizam Nik Malek (Programme Advisor), Assoc. Prof. ChM. Dr. Lee Siew Ling (Programme Director), Assoc. Prof. ChM. Dr. See Hong Heng (Vice Programme Director), Dr. Koh Meng Hock (Head of Program Unit), Assoc. Prof. ChM. Dr. Roswanira Abd Wahab (Head of Sponsorship Unit), Ms. Siti Nur Sakinah Ahmad (Secretary), Ms. Evayusni Ahmad Yusuf (Vice-Secretary), Ms. Nani Sazana Hamdan (Treasurer), Ms. Sabariah Ajis (Head of Publicity Unit), Ms. Nur Hidayah Azmi (Publicity Unit), Ms. Nurul Adhah Saini (Publicity Unit) and Mr. Shahrul Nizam Mahmod (Head of Technical Unit).
Meanwhile, the involved undergraduate and postgraduate student as committees and facilitators were Lim Wei Wen (Program Chair), Ng Woon Shin (Vice Chairperson), Leong Cheng Yee, Ling Chui Min, Alice Sim Hui Li, Chew Yi Sheng, Lim Yi Xin, Chee Hui Wen, Eng Jia Jia, Lee Ching Shien, Loh Yian Zhi, Chew Yi Sheng, Loo Chai Wei, Roy Quah Zhi Ming, Ku Jia Sin, Bong Lai Zhi, Yap Zhi Shing, Lee Xuan Yin, Chong Siew Yin, Tai Xin Hong and Esther Sia Xi Yue.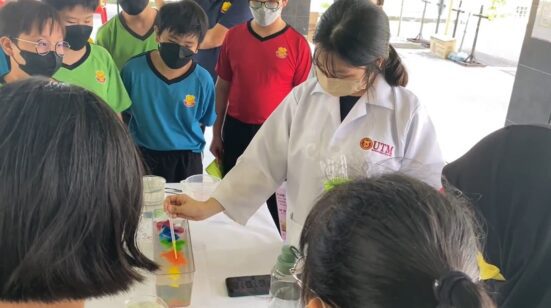 Program facilitator demonstrating interesting chemistry experiments for primary students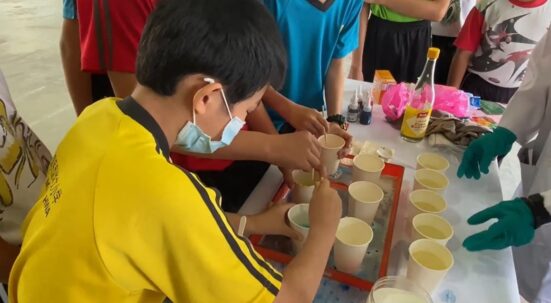 Participants conducting simple science experiments under guidance of UTM facilitators
There were 130 Standard 6 students participating in the program. The knowledge transfer program consisted of three parts. First, demonstration of interesting physics experiments was carried out by a Senior Lecturer of Physics Department, Dr. Koh Meng Hock, followed by chemistry experiments session which was conducted by the postgraduate and undergraduate students of FS, UTM.
The program participants were given opportunity to carry out simple science experiments under the guidance of the UTM students during the Science Camp 2022.  Lastly, there was a quiz and sharing session where a total of 15 science books were given away to the quiz winners.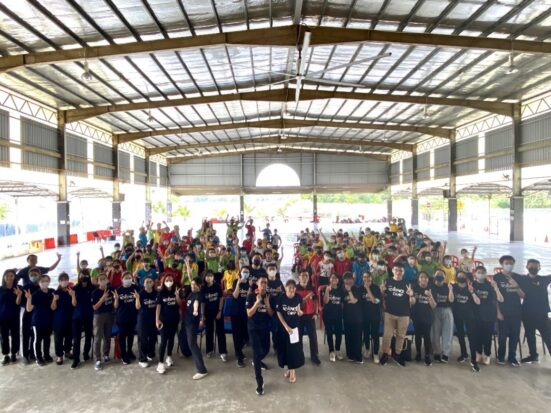 Science Camp 2022 program group photo
School and committee teams were both satisfied with the outcome and agreed that primary students should be exposed to more STEM related programs. As a result of the program, students were also motivated to learn science.
Program website: https://csnano.utm.my/science-camp-2022/