The iconic researchers around the world has confirmed to participate as plenary speakers in International Conference of Sustainable Environmental Technology (ISET2019) organized by  Advanced Membrane Technology Research Centre (AMTEC) of Universiti Teknologi Malaysia.
The conference, with the theme, "Advanced Research for Pollution Control, Energy and Biomedical applications" will be held at DoubleTree by Hilton, Johor Bahru from August 20th – 22th, 2019.
The conference featured our plenary speakers and their scope are:
Renewable Energy and Energy Efficiency (REE)
Biomaterials/Bioprocessing/Biotechnology (BIO) – Prof. Dr. Ng How Yong
Membrane Technology (MET) – Prof. Dr. Stephen Gray
Advanced Materials Processing and Technology (AMT) – Prof. Dr. Tanemura Masaki
Thin Film/Nanomaterials Fabrication and Application/Energy Efficiency (TFF/EE) – Prof. Ir. Dr. Abdul Latif Ahmad
Water and Waste Water Treatment (WWT) – Prof. Dato' Dr. Ir. Abdul Wahab Mohammad
Check our full list of keynote and invited speakers here
====
Did you know? We are also organizing an ISET 2019 pre-conference,
"High Impact Publication Writing Workshop"
( https://amtec.utm.my/iset2019/iset-2019-pre-conference-workshop/)
Date: 19 August 2019
Venue: School of Chemical and Energy Engineering, Universiti Teknologi Malaysia,
81310 Skudai, Johor Darul Ta'zim, MALAYSIA.
ALL ACCEPTED PAPERS will be published in SCOPUS & ISI INDEXED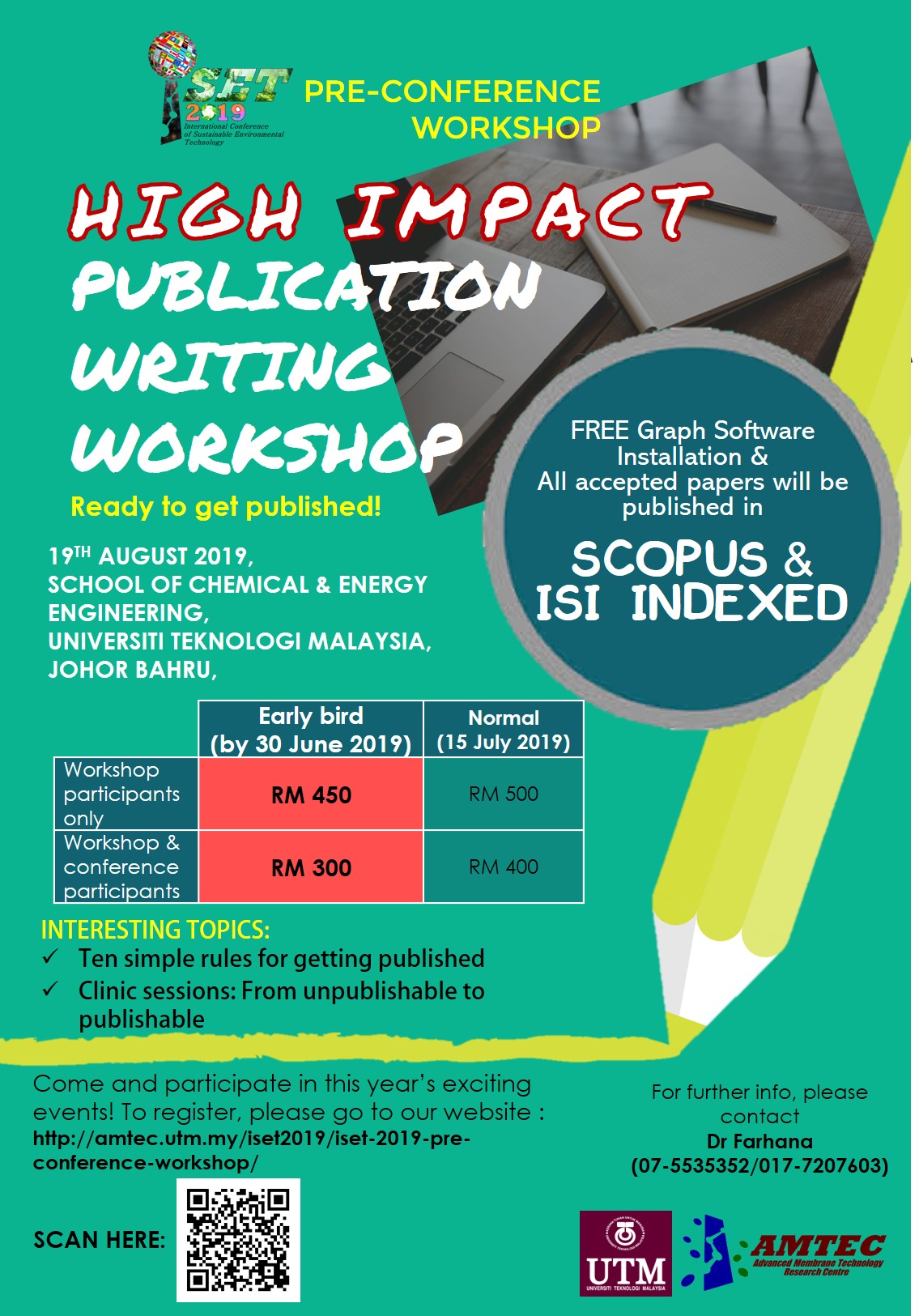 —
Register here for the conference here:
https://bit.ly/2LxBzes
Register here for the ISET 2019 pre-conference, "High Impact Publication Writing Workshop" here:
https://bit.ly/31qeldW
For more information, browse our websites: