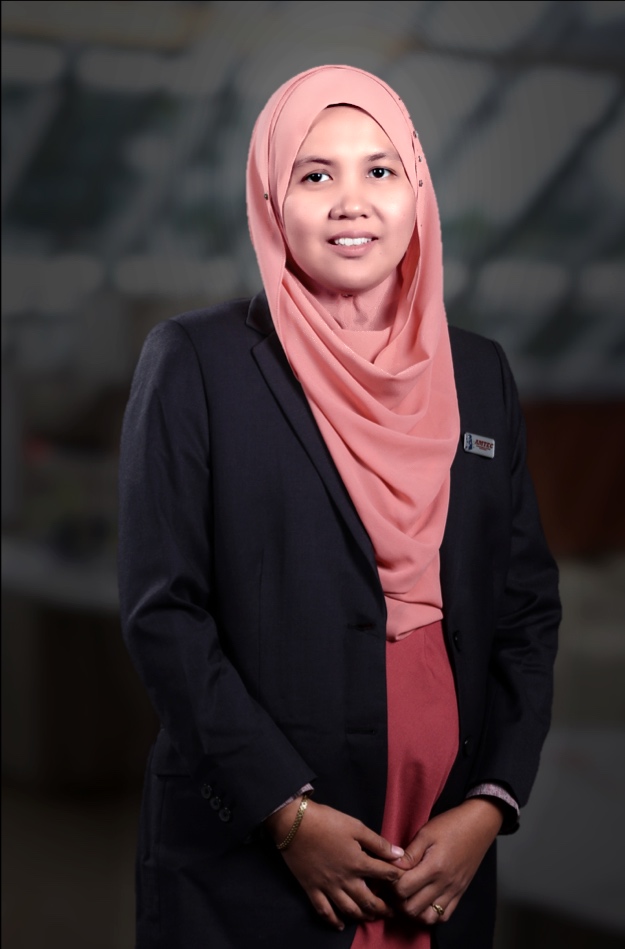 Dr. Farhana Aziz
BEng (Chemical Eng. UTM), M.Eng (Gas Eng. UTM), PhD (Gas Eng. UTM)
Farhana Azizis currently a Senior lecturer in Department of Energy Engineering, School of Chemical and Energy Engineering, and Research Fellow of Advanced Membrane Technology Research Center (AMTEC), Universiti Teknologi Malaysia (UTM). She graduated with B. Eng (Chemical Engineering), M.Eng (Gas Engineering), PhD (Gas Engineering) from Universiti Teknologi Malaysia (UTM) in 2007, 2010 and 2015, respectively. She started his academic career when she was appointed as Lecturer in 2010 in Faculty of Chemical and Natural Resources Engineering, Universiti Malaysia Pahang. Her passion and dedication towards her research are reflected in her numerous scientific publications in high impact international refereed journals and academic books. Until now, she already led 3 research grants and being member of more than 20 research projects. Her specialized research area includes nanomaterials synthesis and characterizations for gas separation, wastewater treatment and energy applications.  >>>
Recently, Dr.Farhana has received an Excellent Service Award (2017) from UTM for her enthusiasm and dedication towards her teaching and research activities. She also has obtained a fellowship from Japan International Cooperation Agency (JICA) under AUN/SEED-Net Short-Term Research Program in Japan in HokkaidoUniversity, Japan in 2017.
List of Top publications
Mutalib, M.A., Aziz, F., Jamaludin, N.A., Yahya, N. Ismail, A.F., Mohamed, M.A., MohdYusop, M.Z., Salleh, W.N.W., Jaafar, J., Yusof, N.,  Enhancement in photocatalytic degradation of methylene blue by LaFeO3-GO Integrated Photocatalyst-Adsorbents under visible light irradiation. Korean Journal of Chemical Engineering, 35 (2018) 548-556 .

Yahya, N., Aziz, F., Jamaludin, N.A., Mutalib, M.A., Ismail, A.F., Salleh, W.N.W., Jaafar, J.,  Yusof, N., Ludin, N.A., A Review of Integrated Photocatalyst Adsorbents for Wastewater Treatment. Journal of Environmental Chemical Engineering. 2018
Aziz, F., Ismail, A.F., Spray coating methods for polymer solar cells fabrication: A review. Materials Science in Semiconductor Processing 11 (2015) 416-425.
Aziz, F., Ismail, A.F., Aziz, M., Soga, T., Effect of solvent annealing on the crystallinity of spray coated ternary blend films prepared using low boiling point solvents. Chemical Engineering and Processing 79 (2014) 48-55
Aziz, F., Ismail, A. F., Preparation and characterization of cross-linked Matrimid (R) membranes using para-phenylenediamine for O2

/N

2

separation. Separation and Purification Technology 73 (2010), 421-428.

Ismail, A.F., Aziz, F., Chemical cross-linking modifications of polymeric membranes for gas separation applications. Membrane Modification, Edited by NidalHilal, Mohamed Khayet, Chris J. Wright, 06/2012: pages 363-383; CRC Press.