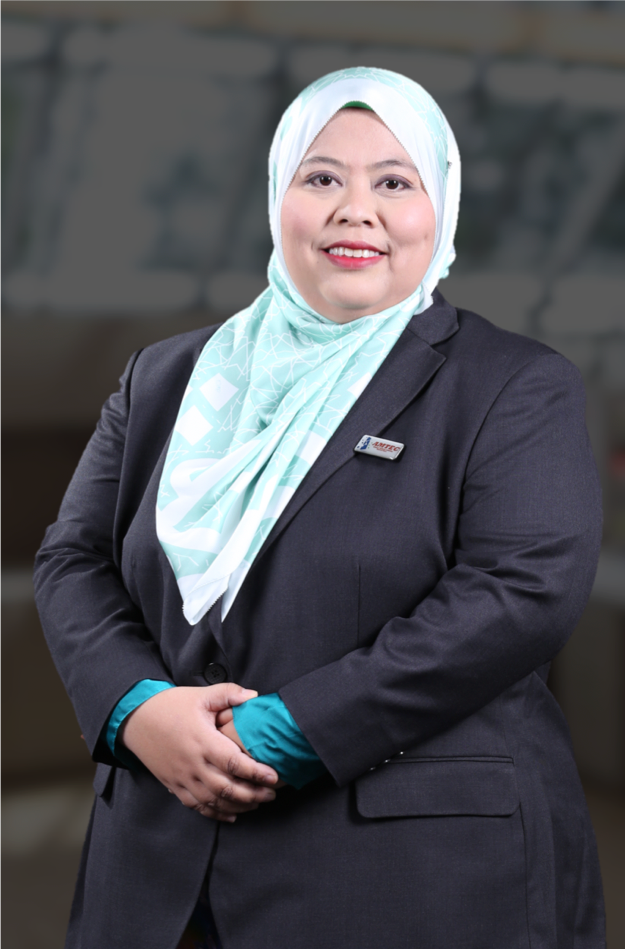 Dr. Hasrinah Hasbullah
BEng (Chem. Eng.), MSc (Chem. Eng.) (UTM), PhD (Chem. Eng.) (Imperial College London)
Contacts: hasrinah@utm.my; (+6)07-553 5582
Hasrinah has been an academic family member of the Department of Gas Engineering since July 2003 and one of the principal researchers in a dynamic research group and centre, AMTEC. This Kuala Lumpur born lecturer has just recently (2012) completed her PhD in the area of membrane technology (polymeric membrane for gas separation) from Imperial College London. Prior to these, she graduated with a B.Eng. (Chemical Engineering) from Universiti Teknologi Malaysia in 2002 and followed by M.Sc. in (Chemical Engineering) from Universiti Teknologi Malaysia in 2006.
Upon joining the faculty, lots of research door have opened for her, especially in the field of Membrane Science and Technology as well as Advanced Material Technology. She is the Head of Service Laboratory that include the faculty workshop, analytical laboratory and heavy work laboratory.  Besides that, she has been actively involved in the faculty and department task force and events. She was a committee for faculty assets and facility as well as equipment technical and tender task forces. She is also involved with the students activities like  the committee of Creativity and Innovation Festival (UTMost), Undergraduate First Year Experience program and facilitator of 'How To get Yourself Employed (HTGYE)'. Hasrinah is currently the acting Postgraduate Office Manager for Faculty of Petroleum and Renewable Resources Engineering.
Hasrinah is also an active member of professional bodies local and international including the Institution of Engineers Malaysia, American Chemical Society (ACS), Institution of Chemical Engineers (ICHEME UK),Asia -Pacific Chemical, Biological & Environmental Engineering Society (APCBEES) . She is recently appointed as Director of Outreach Program for ACS – Malaysian Science Chapter.
Dr. Hasrinah is actively writing for scientific publication with high impact factor in international and national journals. She has successfully published a number of papers in high impact factor international indexed and non-indexed journals such as Journal of Membrane Science, Chemical Engineering Transaction and etc.Due to her active involvement in writing, she was appointed as the Editorial Board for Jurnal Teknologi: Special Edition – Sustainable Membrane technology for Energy, Waste and 
Environment,Future Tech: International Journal of Science and Technology and International Association Of Scientific Innovation And Research (IASIR). She was also appointed as reviewer for numerous publication related to conferences like Jurnal Teknologi-Special Issue, Malaysian Journal of Fundamental and Applied Sciences, International Graduate Conference On Engineering, Science And Humanity (IGCESH 2014), 6th International Conference on Process Systems Engineering and International Conference on Chemical and Process Engineering (ICheap).
She is now active participating in scientific research and development. She has received research grants sponsored by the university and government bodies. Currently, she is leading three research grants of in total over RM300k.  In addition, she is the member for 14 research projects in various fields besides membrane technology including energy and advance materials. These include the Fundamental Research Grant Scheme (FRGS) which was awarded by MOHE related to Biofuel Production and Biodegradable Materials.
She is also  extensively continuing to improve the membrane material for separation technology by identifying product performance and commercialization potentials and hindrance as well as developing strategies to overcome them. She is also investigating the potentials of turning waste into wealth by employing biodegradable polymeric waste or material as the raw base for membrane fabrication. In addition, Hasrinah is currently venturing into liquid separation applications including membrane haemodialysis and wastewater treatment processes.