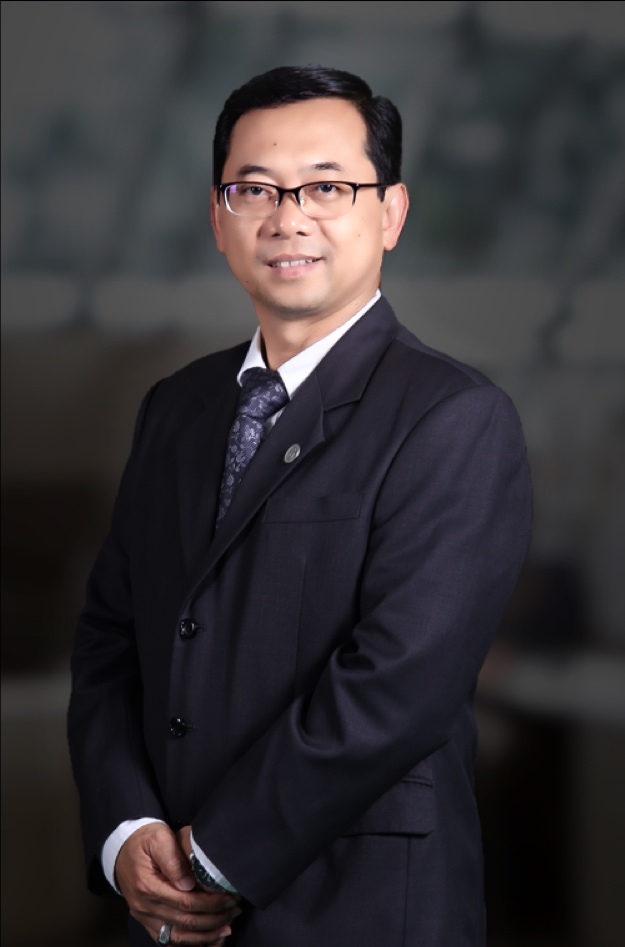 Prof. Datuk Ts. Dr. Ahmad Fauzi Ismail
BEng (Petroleum Eng.), MSc (Chemical Eng.) (UTM), PhD (Strathclyde)
 Professor Datuk Ts. Dr. Ahmad Fauzi Ismail is the Founder and First Director of Advanced Membrane Technology Research Centre (AMTEC). His research interest are in the development of polymeric, inorganic and novel mixed matrix membranes for water desalination, waste water treatment, gas separation processes, membrane for palm oil refining, photocatalytic membrane for removal of emerging contaminants, development of haemodialysis membrane and polymer electrolyte membrane for fuel cell applications. Professor Datuk Fauzi obtained a PhD. in Chemical Engineering in 1997 from University of Strathclyde and MSc. and BSc. from Universiti Teknologi Malaysia in 1992 and 1989 respectively.
He is the author and co-author of over 550 journal articles. He has authored 6 books, 50 book chapters and 8 edited books. He is the owner/co-owner to 6 patents with 14 patents pending. His h-index is currently 67 (SCOPUS) and 58 (Web of Science). His publications had been cited 19,348 times in SCOPUS and 13,493 times in Web of Science.
He have won more than 130 awards both at national level and international level. Among the prestigious awards won are the Merdeka Award for the Outstanding Scholastic Achievement Category on 4th September 2014, three times Malaysia's Rising Star Award (2016, 2017, 2018). He also the recipient of Innovative Action Plan for Human Capital Development Tertiary Level award at 2013 by The Ministry of Education. He has been awarded Malaysia Young Scientist Award in 2000; ASEAN Young Scientist Award in 2001; the National Intellectual Property Award twice in (Patent Category), 2009 and (Product Category), 2013; Two times National Innovation Award for (Waste to Wealth Category), 2009 and (Product Category), 2011. He also won National Academic Award (Innovation and Product Commercialization Category) in August 2013 and Malaysian Toray Science and Technology Foundation Award, on 28 November 2013. He was recognized as one of the most cited researchers in Chemical Engineering by Shanghai Academic Ranking of World Universities 2016.
He is a Fellow of The Academy of Sciences Malaysia, Chairman of the ASM Southern Region Chapter since 2016, President of Malaysia Membrane Society (MyMembrane) since 2018,  Chartered Engineer in the UK (CEng) and a Fellow of the Institution of Chemical Engineers (FIChemE). Professor Datuk Fauzi also served as the Editorial Board Members of Journal of Membrane Water Treatment, Chief Editor Journal of Applied Membrane Science & Technology, Editor Board Member of Separation and Purification Technology, Jurnal Teknologi, Journal of Membrane Science and Research, Journal of Membrane and Separation Technology, Advisory Board Members of Desalination Journal and the Advisory Editorial Board member of Journal of Chemical Technology and Biotechnology.
He involved extensively in R&D&C for national and multinational companies related to membrane-based processes for industrial application and currently owns two spin off companies.  He is the founder of Advanced Membrane Technology Research Center (AMTEC) which is now recognized as Higher Institution Centre of Excellence (HICoE). Currently Professor Datuk Fauzi is the Vice Chancellor of Universiti Teknologi Malaysia.
.
Recent Research Publication
Titah, H. S., Purwanti, I. F., Tangahu, B. V., Kurniawan, S. B., Imron, M. F., Abdullah, S. R. S., & Ismail, N. I. (2019). Kinetics of aluminium removal by locally isolated Brochothrix thermosphacta and Vibrio alginolyticus. Journal of environmental management, 238, 194-200.

Akther, N., Lim, S., Tran, V. H., Phuntsho, S., Yang, Y., Bae, T. H., … & Shon, H. K. (2019). The effect of Schiff base network on the separation performance of thin film nanocomposite forward osmosis membranes. Separation and Purification Technology, 217, 284-293.

Hubadillah, S. K., Othman, M. H. D., Matsuura, T., Rahman, M. A., Jaafar, J., Ismail, A. F., & Amin, S. Z. M. (2018). Green silica-based ceramic hollow fiber membrane for seawater desalination via direct contact membrane distillation. Separation and Purification Technology, 205, 22-31.

Nasir, A. M., Goh, P. S., & Ismail, A. F. (2019). Highly adsorptive polysulfone/hydrous iron-nickel-manganese (PSF/HINM) nanocomposite hollow fiber membrane for synergistic arsenic removal. Separation and Purification Technology, 213, 162-175.

Ismail, N. A., Abdullah, N., Noor, M. H. M., Lai, P. S., Shafie, M. S., & Nor, F. M. (2019). Accuracy and reliability of virtual femur measurement from CT scan. Journal of forensic and legal medicine, 63, 11-17.

Pahlevanzadeh, F., Bakhsheshi-Rad, H. R., Ismail, A. F., Aziz, M., & Chen, X. B. (2019). Development of PMMA-Mon-CNT bone cement with superior mechanical properties and favorable biological properties for use in bone-defect treatment. Materials Letters, 240, 9-12.

Al-Husaini, I. S., Yusoff, A. R. M., Lau, W. J., Ismail, A. F., Al-Abri, M. Z., Al-Ghafri, B. N., & Wirzal, M. D. H. (2019). Fabrication of polyethersulfone electrospun nanofibrous membranes incorporated with hydrous manganese dioxide for enhanced ultrafiltration of oily solution. Separation and Purification Technology, 212, 205-214.

Jamil, S. M., Othman, M. H. D., Rahman, M. A., Jaafar, J., Ismail, A. F., Honda, S., & Iwamoto, Y. (2019). Properties and performance evaluation of dual-layer ceramic hollow fiber with modified electrolyte for MT-SOFC. Renewable Energy, 134, 1423-1433.