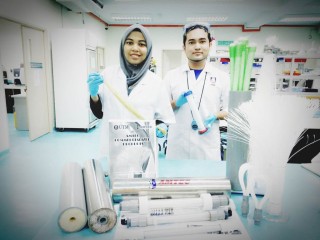 Membrane Technology: A Sustainable Environmental and Industrial Solution
Membrane-based separation is a sustainable and dignified technology that offers immense benefits to the mankind. Membrane filtration systems combine the innovative system designs and engineered high performancemembranes for a wide spectrum of fluid separation applications ranging from desalination and wastewater treatment to greenhouse gas removal. Advanced Membrane Technology Research Centre (AMTEC), Universiti Teknologi Malaysia (UTM) is one of the leading research centres that has constantly engaged with its indigenous and advanced research and development of membrane technology to provide ultimate solutions to the current environmental and industrial problems, particularly in petrochemical and vegetable oil refinery industries.
The followings are some AMTEC's products ranging from membrane modules, membrane fabrication machines, to pilot scale systems.