JOHOR BAHRU, August 14 – Membrane technology, the golden goose egg of AMTEC are getting more and more recognition from national and international level for its promising potential for the prosperity of humanity. Recently, as reported by the Malaysian mainstream media UTUSAN newspaper, AMTEC research team consists of Assoc. Prof. Dr. Hafiz and members have successfully produce a clean drinking water extracted from seawater by using their special membrane distillation system.
The efforts of converting seawater to a safe clean water for human consumption have been conducted scientist worldwide since decades however facing the obstacle of the nature of seawater itself which high in salt content. However, the desalination technique invented by AMTEC have proven to bear a fruitful result in not only converting seawater to a fresh water but also producing it in large scale. The low-cost project has attracted global giant in water industries for collaboration including Korea, Japan, United Kingdom and Arab Saudi.
'Seafresh' is the name of the converted seawater conversion have been utilized by locals in the area of need. With the capability of producing 11000 liter of drinking water daily, the system is expected to continue supplying clean water in near future. The system currently is deployed in rural area of eastern coast of Malaysia to supply clean water for approximately 1000 people in nearby villages.
According to the project leader, Dr Hafiz Dzarfan explained that there are few more improvements to be investigate in term of the material used for the membrane and the most important is to explore the natural technological approach for the membrane system to increase the green footprint of the membrane technology. Currently, they are looking at the promising substitute material for the membrane which is silica produced form the rice husk. As part of the two- pronged strategy, AMTEC is plan on utilizing rice husk as the most abundant waste in Malaysia to be incorporated into the membrane for improvement, ultimately becoming an environmentally friendly technology. The system will be more suitable for use in any example in the middle of the sea. HICOE's AMTEC has been a national and global reference especially in the field of wastewater treatment by various industries.
The advantages of Sil-RH Membrane Distillation: From Seawater to Freshwater
– Low cost green technology
– Can produce drinking water from seawater compared to conventional technology
– Uses low energy and low temperature to operate
– Requires very high pressure to filter water compared to reverse osmosis membrane technology
– It is expected to benefit the community especially during natural disasters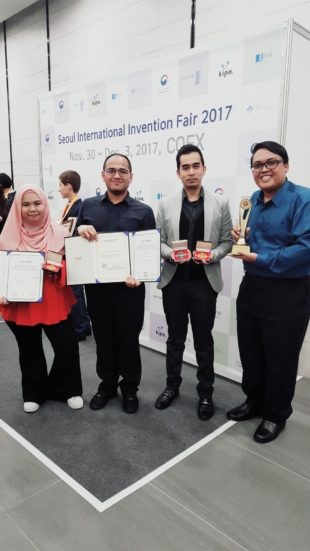 Assoc. Prof. Ts. Dr Mohd Hafiz Dzarfan (two from left) with his group members presented the awards and medals won at Seoul International Invention Fair (SIIF) 2017 held in COEX, Seoul, South Korea.
More economical cost
Projects which starting around year 2015 have been completed at the laboratory level. Researchers have conducted preliminary tests on the filtered water using this system and compared it with drinking water produced by several local and international companies such as Desa, Spritzer and Evians.
Each unit of the distillation membrane system has a capacity of producing 0.55 cubic meters per day (145 gallons per day). The estimated cost is between RM15,000 to RM20,000.
"Since this technology is still new in Malaysia, it is very important for Malaysia. In addition, the cost of technology we create is reduced by almost 70 percent of the existing technology."
Source : Utusan Malaysia (Mega Sains) – Air Laut Untuk Minum – Rabu , 14 August 2019
Article creditted to Laupa Junus
Picture creditted to https://news.utm.my/