The Regional Congress on Membrane Technology 2020 (RCOM2020) and Regional Conference on Environmental Engineering 2020 (RCEnvE2020) was collaboratively organized by the Advanced Membrane Technology Research Centre (AMTEC), University Teknology Malaysia and the ASEAN University Network/Southeast Asia Engineering Education Development Network (AUN/SEED-Net). This event was held virtually on 16th – 17th of January 2021 and was officiated by YB. Datuk Seri Dr. Noraini Ahmad, the Minister of Higher Education of Malaysia.
The main theme of the conference is "Enhancing Translational Research Towards Sustainable Environmental Technology". The participation of over 100 local and international scientific professionals has made this a fruitful event which encourages expertise sharing and networking. Special thanks to all the organizing committees and collaborators especially the Ministry of Higher Education, the Frontier Materials Research Alliance (FMRA) and MyMembrane Society in making this conference a success.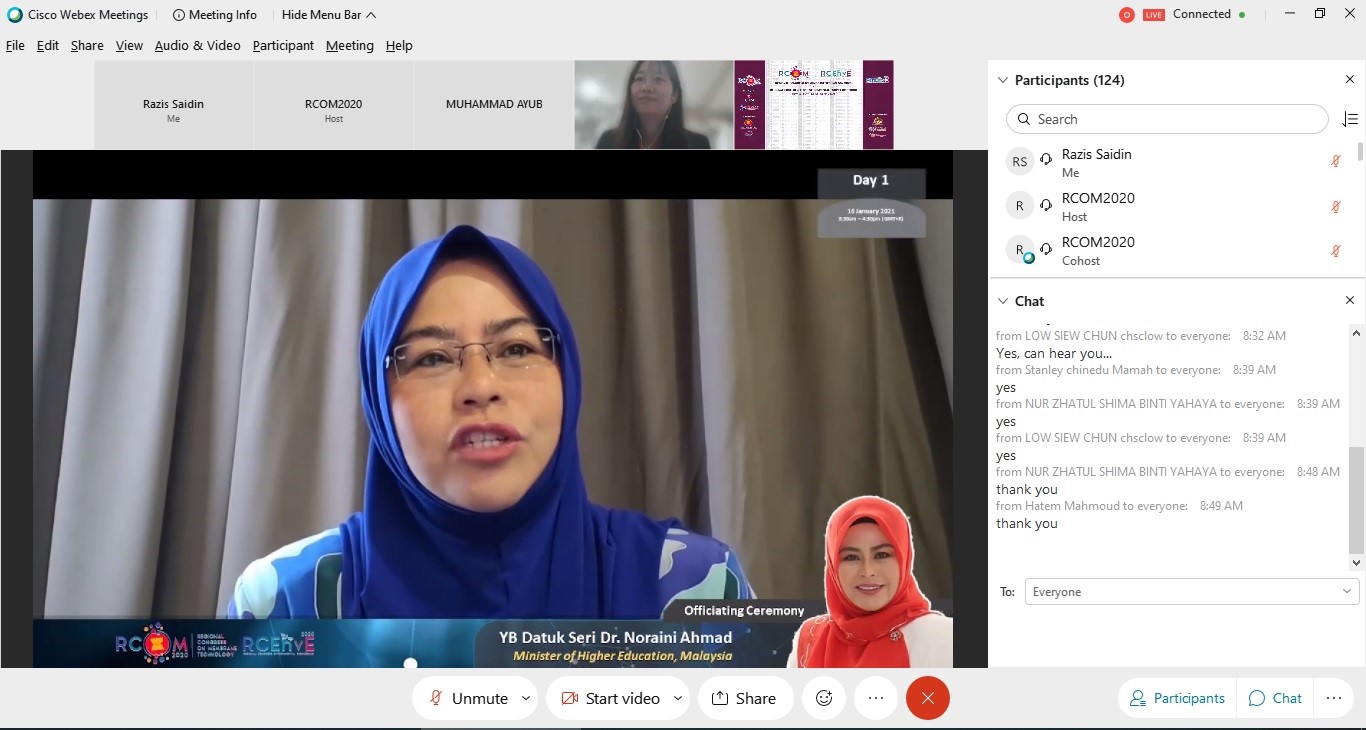 YB. Datuk Seri Dr. Noraini Ahmad, the Minister of Higher Education of Malaysia officiating RCOM2020 & RCEnvE2020
RCOM2020 & RCEnvE2020 has reached its goal of becoming a platform for establishing networks among professionals and researchers worldwide to discuss current technology development in different field and the strategies employed in maintaining the sustainability of the environment specifically in the scope of:
Environmental Engineering
Membrane Technology
Advanced Separation Technology
Absorption & Adsorption Technology
Catalyst and Photocatalytic
Other Separation Technology
Biotechnology
Nanotechnology
Materials and advanced Materials
Water and Wastewater Treatment
Air pollution control
Renewable Energy and Energy Efficiency Materials
Other Energy applications
Speeches by Chair of RCOM2020 & RCEnvE2020 (Assoc. Prof. Ts. Dr. Juhana Jaafar), AUN/SEED-Net representative (Ms. Sirin Chakamanont), Vice-Chancellor of Universiti Teknologi Malaysia (Prof. Datuk Ts. Dr. Ahmad Fauzi Ismail) and plenary speakers (Prof. Dr. Bunsho Ohtani and Dato' Norhalim bin Yunus)

The confirm journals for special issues include:
Asean Engineering Journal

IOP Conference Series: Material Science and Engineering

Journal of Environmental Chemical Engineering

Materials Today: Proceedings
Snapshots of conference talks and presentations

In conjunction to the RCOM2020 & RCEnvE2020, AMTEC also organized an Electrospinning Workshop 2021: Research & Development & Commercialization of Nanofibers on 18th January 2021. This workshop is one of the Workshop Series under HICOE Program of AMTEC. The target of this workshop is to disseminate the recent activities in nanofibers R&D&C carried out by researchers in AMTEC as well as to provide the platform of knowledge and technology sharing from the industries towards commercialization of nanofibers products, and thirdly to create and enhance the professional networking among academia and industries.

Recaps from the virtual Electrospining Workshop 2021

Thank you to our patron Prof. Datuk Ts. Dr. Ahmad Fauzi Ismail, RCOM2020 & RCEnvE2020 advisors, Prof. Dr. Madzlan Aziz and Assoc. Prof. Ts. Dr. Mohd Hafiz Dzarfan Othman, our chairperson, Assoc. Prof. Ts. Dr. Juhana Jaafar, invited speakers, organizing committees and last but not least, all participants who have ensure the smooth running of the conference and workshop.

Buckle up for our upcoming events!

Follow the link below to view the update by AUN/SEED-Net regarding this event:
https://www.facebook.com/113552298714148/posts/3615461941856482/?d=n