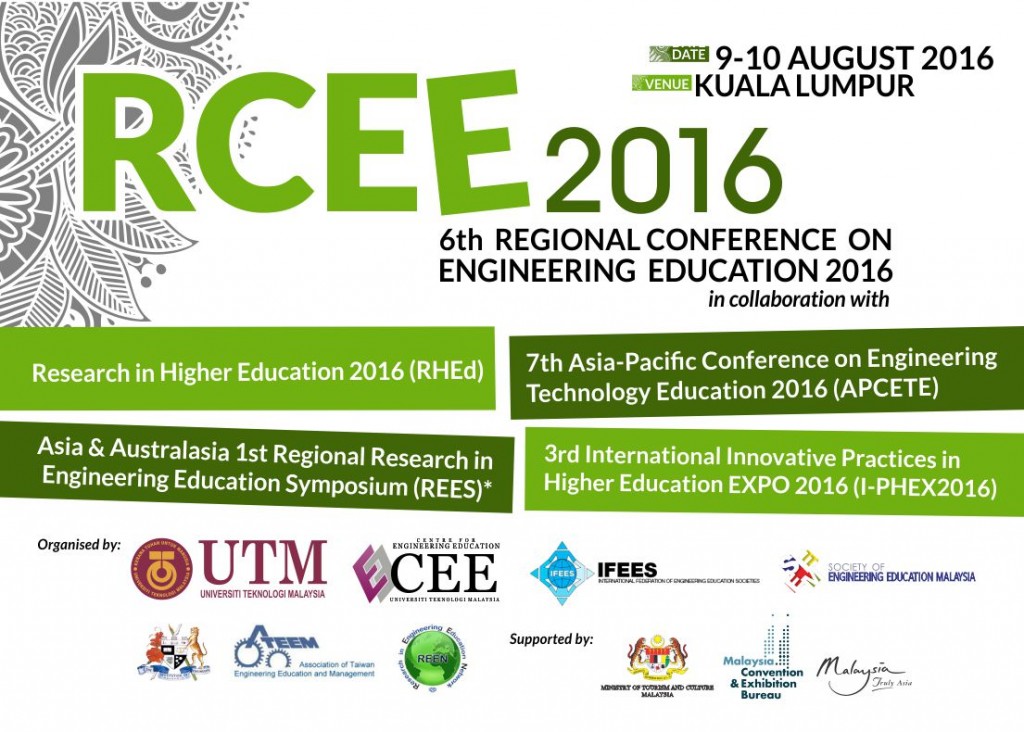 CONFERENCE: CALL FOR PAPERS (CLOSED)
RCEE 2016 aims to provide an independent, international and inclusive forum to advance scholarly discourse in engineering education as well as build a global community of scholarly practitioners & researchers in the area.
The conference will be held in Universiti Teknologi Malaysia (UTM) International Campus, Kuala Lumpur on the 9-10th August 2016.
Submission of Abstracts:
Submission of abstracts in all aspects of engineering education and research in higher education, including but not limited to the following areas:
Global engineers
Educational technology, software and tools
Student-centred teaching and learning
Professional skills development
Rigorous research in engineering education
Outcome-based education and accreditation
Assessment and evaluation
Leadership and governance
University-industry collaboration
Service learning
Faculty development
Laboratory and industrial training
Distance learning
Continuous professional development
Student support activities
Sustainable education system
Sustainable development in education
Engineering ethics
Women in engineering education
Grand challenges in 21st century
Diversity in engineering education
Other related areas
Selected papers will be published in indexed journals*
*Papers have to be extended by at least 30% of the conference paper.
*Journals:
1. International Journal of Engineering Education (ISI & Scopus) – 20 papers
2. Jurnal Teknologi (Scopus) – 60 papers
3. ASEAN Journal for Engineering Education (Non-indexed) – 40 papers
4. International Journal of Technology and Engineering Education (Non-indexed) – 8 papers
5. Malaysian Journal of Learning and Instruction – Special Issue (Scopus)
6. Education for Chemical Engineers – Special Issue (Scopus) – 10 papers
7. Journal of Technical Education and Training (Scopus) – 10 papers
IMPORTANT DATES
Deadline for abstract submission : 13 March 2016 27 March 2016 (CLOSED)
Notification of abstract acceptance : 1 April 2016 10 April 2016 (CLOSED)
Deadline for full paper submission : 15 May 2016 25 May 2016 (CLOSED)
Notification of paper acceptance : 15 June 2016 (CLOSED)
Early Bird Conference Registration : Before/on 25 June 2016 (CLOSED)
Deadline for camera-ready paper submission: 8 July 2016 13 July 2016
Conference : 9 – 10 August 2016
Further information about this event, please go to the links provided:
1. RCEE 2016 Committee Members
2. RCEE 2016 Participation Fees
3. RCEE 2016 Submissions
For further questions, please do not hesitate to contact us.