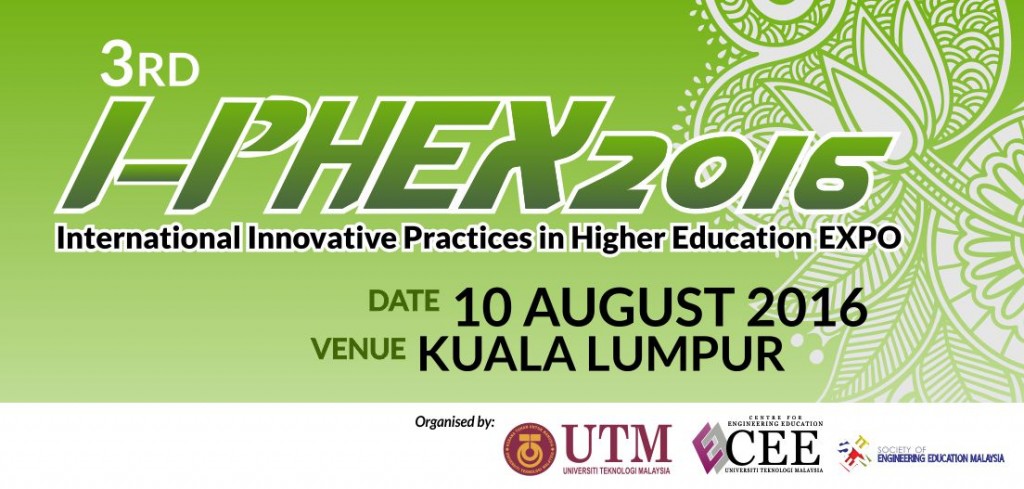 Extended Abstract Template
Thank you for your interest in joining I-PHEX2016.
All extended abstracts must be submitted using the template provided below. Once you have completed the abstract, please reconfirm your submission by filling in the online registration form and emailing the .doc file to Ms Faizah Jaffri (faizah-sps@utm.my) or Ms Wan Akmal Izzati (wa.izzati@utm.my).
Confirmation of your registration will be done after both items are submitted.
Please download the Template and Instructions for Formatting I-PHEX Extended Abstract here.
Online Registration (CLOSED)
For registration, please click here
Information regarding I-PHEX2016 can be found by clicking the links below:
1. I-PHEX2016 Fees
2. I-PHEX2016 Judging Criteria
3. I-PHEX2016 Rules and Regulations
4. I-PHEX2016 Submissions
5. I-PHEX2016 Poster Template
For more information, kindly contact us at +607 561 0225 (Centre for Engineering Education)