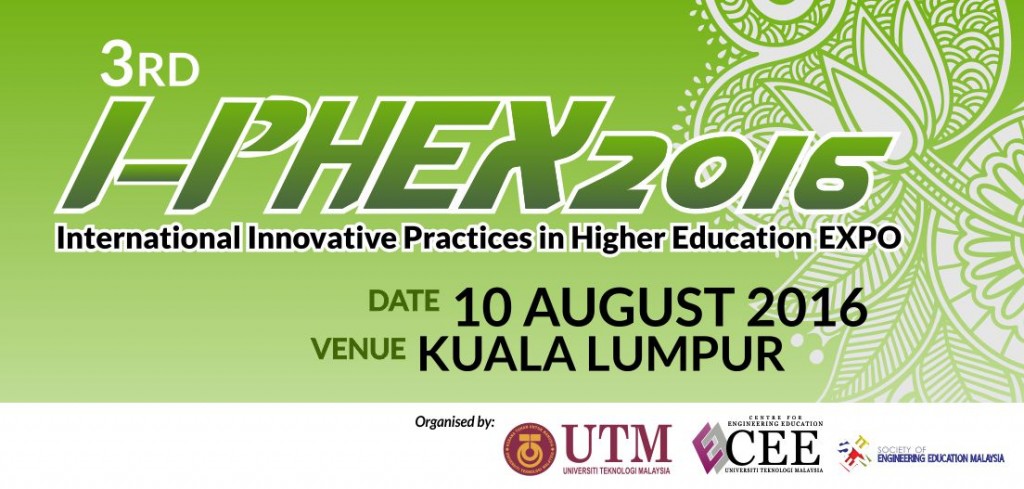 EXHIBITION: CALL FOR PARTICIPATION
Innovative Practices in Higher Education Expo is a platform to showcase innovative practices that can be shared and emulated among academics in higher education worldwide. This is the third time I-PHEX is being organised as an international level exhibition.
The purpose of the exhibition is to recognise and award efforts to improve higher education.
I-PHEX 2016 is jointly organised by the UTM Centre for Engineering Education (CEE) and the Society for Engineering Education Malaysia (SEEM), and will be held in Universiti Teknologi Malaysia (UTM) International Campus, Kuala Lumpur on the 10th August 2016.
Academics from all over the world are invited to submit a minimum of 1000 words extended abstract.
Submissions must be practiced and implemented in higher education for at least two (2) academic semesters. Abstract of accepted submissions will be published in a book with ISBN.
Categories
Participants may choose only one category.
a. Laboratory / Hands-on Learning
b. Curriculum Innovation
c. Innovative Assessment
d. Teaching and Learning Resources (with or without Technology)
e.Innovative Student Supervision (Undergraduate or Postgraduate)
f. Multidisciplinary Learning (e.g.: co-curriculum, service learning, etc.)
g. Special Academic Support Programs
h. Education for Sustainable Development
i. Innovative Student Centred Learning Approaches
j. Others
For more information regarding I-PHEX, please refer to the links in our website to see previous exhibitions and winners.
IMPORTANT DATES
I-PHEX Abstract submission date: 15 April 2016 3 May 2016
Notification of acceptance: 25 April 2016 15 May 2016
Re-submission of final abstract: 30 May 2016
I-PHEX 2016:10 August 2016
Information regarding I-PHEX2016 fees can be found by clicking the links below:
1. I-PHEX2016 Fees
2. I-PHEX2016 Judging Criteria
3. I-PHEX2016 Submissions
4. I-PHEX2016 Poster Template
Further information about this event will be updated from time to time. Stay tuned!
For further information, please do not hesitate to contact us.